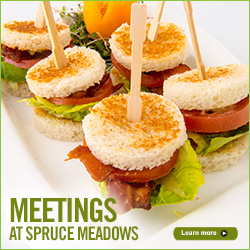 Media Releases
Conor Swail and Lansdowne Triumph in $400,000 Spruce Meadows 'Pan American' Grand Prix
2013-07-14
Conor Swail and Lansdowne Triumph in
$400,000 Spruce Meadows 'Pan American' Grand Prix

Reed Kessler Tops $25,000 G&C Farm Riders' Cup Series;

Shane Sweetnam and Cyklon 1083 Excel in
$40,000 Friends of the Meadows Parcours de Chasse
For Immediate Release
Lauren Fisher for Jennifer Wood Media, Inc.
Calgary, AB – July 14, 2013 – Five weeks of world-class competition wrapped up at Spruce Meadows on Sunday afternoon with a fantastic win for Ireland's Conor Swail and Lansdowne in the $400,000 Spruce Meadows 'Pan American' Grand Prix. The final event of the summer featured a five-horse jump-off with a win for the Irish, Colombia's Daniel Bluman and Sancha LS in second and fellow Irishman Cameron Hanley and Antello in third.

Canada's Peter Grant set the track on Sunday with 33 entries contesting the first round course. Five combinations jumped clear to advance to the jump-off and the tight time allowed kept three others out of the running with just one time fault. It was a great demonstration of skill, power, and speed as the top competitors raced against the clock in the second round, but no one jumped clean. In the end, the four-fault round of Conor Swail and Lansdowne earned top prize with a time of 42.18 seconds.

Conor Swail and Lansdowne. Photos © Spruce Meadows Media Services.
All but one of the riders in the jump-off had the same red skinny jump down – the one that also got the best of Swail and Lansdowne. Daniel Bluman and Sancha LS had four faults at the skinny and finished second with their time of 46.80 seconds. Cameron Hanley and Antello were clear until the last fence and finished on four faults in 47.59 seconds to place third. Both Brianne Goutal and Tiffany Foster had two rails down, including the red skinny and the last fence. Goutal and Remarkable Farms' Onira finished on eight faults in 41.46 seconds to place fourth. Foster and Artisan Farms' Verdi III incurred eight faults in 41.99 seconds to place fifth.

Owned by Susan and Ariel Grange, the ten-year-old Dutch Warmblood stallion Lansdowne (Guidam x Wolfganag) has had a fantastic circuit showing at Spruce Meadows this summer. In last week's 'North American' Tournament alone, Lansdowne was second in the $200,000 ATCO POWER Queen Elizabeth II Cup, finished fourth in the $35,000 Progress Energy Canada Cup 1.50m and placed sixth in the $33,000 AON Cup 1.50m. He also jumped double clear for the Irish team in the $100,000 Furusiyya FEI Nations Cup™ during June's 'Continental' Tournament. Rider Conor Swail could not be happier with the horse's progress and ultimate victory to wrap up the circuit.
"It is wonderful," he smiled. "Already I have had an amazing show. All of my horses have been amazing, but to top it off with Lansdowne winning is just fantastic."

"He is a real cool horse," Swail described. "He is very laid back and he has a real swagger. He definitely works off of confidence. He has had a fabulous tournament here and I think it has really helped him grow. To me, he is a much better horse the last week than he was the first week. He has put in some fabulous rounds throughout and there is so much confidence there and scope and carefulness. He is a joy to ride. It was easy for me to have such good quality."
Swail and Lansdowne went third in the jump-off and did not get to watch the first two rounds of Goutal and Foster. He knew they did not go clear, but he stuck to his plan knowing that Bluman and Hanley were still to follow.

"I knew Brianne and Tiffany both had faults and I knew there were two good riders behind me too, so it was sort of immaterial to be honest," Swail stated. "I think I had to go in and put in a good round and hopefully it was going to be enough. Thankfully, even though we had a mistake, it still was enough."

Swail and Lansdowne have known each other for quite some time and have started to form a great partnership after being reunited last year.

"I bought him as a seven-year-old and then rode him for his eight-year-old year and he was absolutely exceptional," Swail explained. "I sold him to Sue and he was away for three or four months and then I got him back just in the beginning of last year. It is really starting to come together. Honestly, it looks like he is a world-class horse now, which is what I had always hoped he would be, so it is very exciting."
"I think it is important also to mention my owners," he added. "Without them this isn't possible, so it is great to have Sue and Ariel and their family there supporting me and enjoying the sport as much as I do. Without it I would be standing there watching like everyone else. These classes don't come so often, so it is nice to be able to enjoy it whenever we get the chance."

Lansdowne now has a busy schedule coming up as he flies to Europe on Monday night and will compete on the Irish team for the Furusiyya FEI Nations Cup™ in Dublin, followed by the European Championships and then back to Spruce Meadows for the 'Masters' Tournament in September.
"He is still busy and there are some big events coming up, so it could not have worked out any better the way he has finished up here," Swail acknowledged. "I am really happy with him and I am looking forward to September, especially with him and the way he is going. Hopefully he will have a nice chance there for the $1 million."

Tom Heathcott presents the Pan American Cup to grand prix winner Conor Swail. Photo © Spruce Meadows Media Services.
In addition to the grand prix festivities on Sunday, the 2013 G&C Farm Riders' Cup Series concluded and awarded $25,000 in bonus money to the top competitors of the summer. The bonus is presented to the top three FEI riders who showed in the 1.50m and 1.60m divisions held during the Spruce Meadows Sumer Series. The athlete accruing the most points at the 'National', 'Continental', 'Canada One', 'North American', and 'Pan American' Tournaments was awarded the championship bonus.

Following a very consistent circuit with top placings throughout all of the tournaments, 19-year-old U.S. rider Reed Kessler was awarded the championship prize of $15,000. In second place, Beezie Madden (USA) earned a $7,000 bonus, and in third, McLain Ward was awarded $3,000.

On winning the series, Kessler smiled, "I am thrilled. I was thinking when I had that rail down today that I had blown it and I knew I was leading the bonus, but I got a little lucky. I have had a pretty consistent Spruce and all of the horses have jumped great. My whole team has worked really hard for me, so it's great to walk away as the most consistent rider. Spruce is always on our map every year, whether it is the summer series or the 'Masters'. It's a fantastic destination, so it is a big honor to be the leading rider here."

Reed Kessler and Cylana in the championship presentation for the $25,000 G&C Farm Riders' Cup Series
with Spruce Meadows President and CEO Linda Southern Heathcott. Photo © Spruce Meadows Media Services.
Kessler acknowledged how her top horses have developed throughout the series and learned from their experiences this summer. She has a big European tour planned for the remainder of the summer and feels confident moving ahead.

"Cylana is pretty seasoned now but she has always loved it here," the rider stated. "It is huge and she loves to work hard. I also had a new, greener horse in Wolf and I am very fortunate to have brought him here. I think he has come out of the circuit like a totally new horse."
Kessler was aiming for the G&C Farm bonus all summer and was quite happy to walk away with the win.

"I had an eye on it," she admitted. "I had been in the lead for most of the time, but I didn't do either of the derbies because I didn't really have a horse for it, so the other riders started to gain ground on me. I thought maybe I wasn't going to win it, but it was nice to bring it home in the end. It's a nice thank you to my whole team and my horses who have been working so hard this whole series."
Final Results: $400,000 Spruce Meadows 'Pan American' Grand Prix
1. LANSDOWNE: 2003 KWPN stallion by Guidam x Wolfgang
CONOR SWAIL (IRL), Ariel & Susan Grange: 0/4/42.18
2. SANCHA LS LA SILLA: 2003 SLS mare by Chin Chin x Polydor
DANIEL BLUMAN (COL), Daniel Bluman: 0/4/46.80
3. ANTELLO: 2003 Zangersheide gelding by Animo Z x Continue
CAMERON HANLEY (IRL), Eleonore Paschoude & Yves Bouvier: 0/4/47.59
4. ONIRA: 1996 KWPN gelding by Nimmerdor x Ramiro Z
BRIANNE GOUTAL (USA), Remarkable Farms LP: 0/8/41.46
5. VERDI III: 2002 KWPN gelding by Hors la Loi III x Cantus
TIFFANY FOSTER (CAN), Artisan Farms LLC: 0/8/41.99
6. DOMINO: 2003 Belgian Warmblood gelding by Thunder Van de Zuuthoeve x Azur Depaulstra
JOS VERLOOY (BEL), Axel Verlooy: 1/89.64
7. ROMANTOVICH TAKE ONE: 2000 KWPN gelding by Numero Uno x Karandasj
CHRISTINE MCCREA (USA), Candy Tribble: 1/89.76
8. JONKHEER Z: 2002 Zangersheide stallion by Jetset D x Skippy II
KARL COOK (USA), Signe Ostby: 1/90.40
9. ROUNDTHORN MADIOS: 2002 Irish Sport Horse gelding by Condios x Clover Hill
LAUREN TISBO (USA), Tequestrian Farms LLC: 4/84.68
10. SIMON: 1999 KWPN gelding by Mr. Blue x Polydox
BEEZIE MADDEN (USA), Abigail Wexner: 4/85.98
11. AMARETTO D'ARCO: 2000 Belgian Warmblood stallion by Darco x Tenor Manciais
SHANE SWEETNAM (IRL), Spy Coast Farm LLC: 4/86.44
12. UCEKO: 2001 KWPN gelding by Celano x Koriander
KENT FARRINGTON (USA), RCG Farm: 4/86.67
Shane Sweetnam and Cyklon 1083 Excel in
$40,000 Friends of the Meadows Parcours de Chasse
Sunday's competition began in the All Canada Ring with a win for Irish rider Shane Sweetnam and Spy Coast Farm LLC's Cyklon 1083 in the $40,000 Friends of the Meadows Parcours de Chasse 1.45m. Jumping a course set by Cristina Larangeiro (POR), 26 entries jumped the track in a faults converted, one-round speed format. Twelve combinations jumped the course without fault, but in the Parcours de Chasse, knock-downs are converted into seconds, making it possible for a very fast horse that has a rail to still finish in the top 12. The top five today were all clear and fast.

Shane Sweetnam had two mounts in the day's competition, going first with Sweet Oak Farm's Fineman and clearing the course in 88.573 seconds to eventually place fourth. Sweetnam changed his plan slightly for his second mount, Cyklon 1083, and the strategy worked with a clear round in 84.866 seconds for the win.
"Lucky enough, I had gone earlier with Fineman and I thought I had gone very fast with him," Sweetnam explained after his round of honor. "There was an option between the skinny and the black vertical and I had done the black vertical with him, which I think lost me two seconds. I knew with Cyklon, if I was to win, I had to do that skinny and it paid off."

Shane Sweetnam and Cyklon 1083. Photos © Spruce Meadows Media Services.
Fellow Irishman Cameron Hanley also had two horses in the top five today. Hanley and Newton du Haut Bois cleared the course in 87.445 seconds to place second. He also guided Player du Quesnoy to fifth place honors with a clear round in 88.668 seconds. Both horses are owned by Eleonore Paschoude & Yves Bouvier.
USA's Rich Fellers and Colgan Cruise, owned by Fellers and Harry Chapman, placed third after jumping clear in 88.499 seconds. Venezuela's Andres Rodriguez and Elatrice, owned by Arao Enterprises LLC, were extremely fast and finished sixth despite a rail on course and four seconds added to their time to finish on 90.558 seconds.

Cyklon 1083, a 12-year-old Swedish Warmblood gelding by Cardento x Cortus, seems to be getting the hang of the natural obstacles and open grass fields at Spruce Meadows. Sweetnam explained that both he and the horse enjoy the fun courses and space to gallop.

"He has gotten better," Sweetnam noted. "He used to jump a little bit too high at times, like last year at the start, but he has definitely improved a lot and he really likes going fast. He has become a bit of a professional at this I think."
"I also like doing classes like this," Sweetnam acknowledged. "You can let loose. You have a plan, but you can really sort of take a free shot at it. There are always chances that if you get away with them, that they will win you the class, so I do enjoy it."

Shane Sweetnam was first with Cyklon 1083 and fourth with Fineman (pictured) in the
$40,000 Friends of the Meadows Parcours de Chasse. Photo © Spruce Meadows Media Services.
Commenting on Cristina Larangeiro's course, Sweetnam described, "It is a good course and it is really good for the spectators because everyone can go really fast. It is not overly big, but there were a few tricky things with the grob and the water jump and the double of ditches. There are a lot of fun things in it that make it fun for the spectators."
Sweetnam has had a great summer competing at Spruce Meadows and looks forward to his next return. "Spruce is great," he smiled. "The Southern Family and the people here really look after you. There are different types of jumping here from big to fast to the derbies, which you don't get everywhere anymore. I have to say, I really enjoy it myself. It is a great place."

Sunday's competition concluded the 2013 'Pan American' Tournament at Spruce Meadows following five weeks of fantastic summer events. The competition will return in September when the best horses and riders from around the world compete for top prize money and international acclaim during the Spruce Meadows 'Masters'. Running September 4-8, 2013, Friday's Mercedes-Benz Evening of the Horse kicks off the weekend with spectacular sport and entertainment. The weekend continues with the BMO Nations' Cup on Saturday and the $1 Million CN International Grand Prix as the exciting finale on Sunday evening. For more information and full results from the summer tournaments, please visit www.sprucemeadows.com.

Final Results: $40,000 Friends of the Meadows Parcours de Chasse – 1.45m
1. CYKLON 1083: 2001 Swedish Warmblood stallion by Cardento x Cortus
SHANE SWEETNAM (IRL), Spy Coast Farm LLC: 0/84.866
2. NEWTON DU HAUT BOIS: 2001 Selle Francais gelding by Cumano x Quat Sous
CAMERON HANLEY (IRL), Eleonore Paschoude & Yves Bouvier: 0/87.445
3. COLGAN CRUISE: 2002 Irish Sport Horse mare by Cruising x Clover Hill
RICH FELLERS (USA), Chapman & Fellers: 0/88.499
4. FINEMAN: 2003 Swedish Warmblood gelding by Feliciano x Beach Boy
SHANE SWEETNAM (IRL), Sweet Oak Farm: 0/88.573
5. PLAYER DU QUESNOY: 2003 Selle Francais gelding by Ogano Sitte x Nabab de Reve
CAMERON HANLEY (IRL), Eleonore Paschoude & Yves Bouvier: 0/88.668
6. ELATRICE: 2004 Belgian Warmblood mare by Toulon x Major de la Cour
ANDRES RODRIGUEZ (VEN), Arao Enterprises LLC: 4/90.558
7. LENNOX LEWIS 2: 1999 Oldenburg gelding by Laureatus x Weizenkorn
LESLIE HOWARD (USA), Peter Howard: 4/90.925
8. WRIGLEY: 2003 KWPN mare by Padinus x Burggraaf
BEEZIE MADDEN (USA), John Madden Sales, Inc: 0/92.646
9. UATA: 2001 KWPN mare by Heartbreaker x Zuidhorn
BRIANNE GOUTAL (USA), Cloverleaf Farms:0/92.902
10. WARISKA DE LA FALIZE: 1999 Belgian Warmblood mare by Darco x Papillon Gage
NICOLAS PIZARRO (MEX): Monica Burrillo Eguia: 0/93.156
11. CANTANDO LYNGRIIS: 2001 Holsteiner gelding by Cassini I x Zarewitsch XX
DANIEL BLUMAN (COL), Ilan Ferder & Kirsten Coe: 0/93.397
12. THE PUGILIST: 2004 Irish Sport Horse gelding by Ard VDL Douglas x Freddie's Star
JOS VERLOOY (BEL), Axel Verlooy: 0/95.152
---
Based in Calgary, Canada, Spruce Meadows is the brainchild of the Southern family who built a Show Jumping complex at the foothills of the Alberta Rocky Mountains. It was in 1976 that the first Spruce Tournaments were held, with annual spectator attendances reaching over 50,000 by the end of the decade. Today, Spruce Meadows boasts one of the greatest outdoor equestrian venues in the world and offers an incredible experience for riders and fans alike. Spruce Meadows focuses on the organization and hosting of show jumping tournaments of unmatched quality for junior, amateur and professional athletes in a manner that reflects basic family values in a clean, green and welcoming envir
nment that celebrates the horse and encourages the breeding and training of quality sport horses and the teaching and development of athletes. For more information on Spruce Meadows, please visit www.sprucemeadows.com.

---
Photos © Spruce Meadows Media Services. They may only be used in relation to this press release and with photo credit.