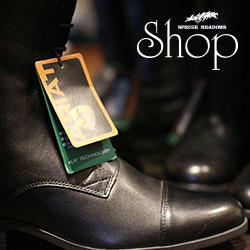 Media Releases
Flood Sales Opportunity
2013-08-16
TELUS Leg-Up Program
TELUS, a founding sponsor of Spruce Meadows is proud to be offering the TELUS 'Leg Up' Program at the Spruce Meadows 'Masters' Equi-Fair trade show (September 4th-8th 2013). This opportunity is to provide retail booth space within the Equi-Fair trade show at no charge to businesses of Southern Alberta who were affected by the severe flooding that took place earlier this summer.
With an average of 250,000 visitors through the gates over the course of the five day tournament, it is the aim of the TELUS 'Leg Up' Program to provide these businesses with an opportunity to display and sell their products. There are 3 exhibit halls, all of which are well visited as they incorporate art, equine products, jewellery, artisans, a kid's zone and International food and wine areas throughout.
Many businesses were negatively impacted and some even displaced by the flooding and the TELUS 'Leg Up' Program at the Spruce Meadows 'Masters' would like help. There is currently a block of 10 booths available (10'x10' dimensions) in the Riding Hall for the 'Leg Up' Program. The exhibits team at Spruce Meadows invites the businesses impacted to contact them if they are interested in this opportunity.
The exhibits team can be contacted by phone: 403.974.4249/403.974.4263 or by email at exhibit.programs@sprucemeadows.com. More information on exhibiting at Spruce Meadows as well as the Equi-Fair at the 'Masters' Tournament can also be found on our website: www.sprucemeadows.com