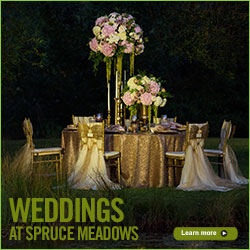 Media Releases
The Names have been selected!
2013-08-28
The Names Have Been Selected!
(SPRUCE MEADOWS, Calgary, AB): After accepting and considering tens of thousands of entries, the names of the CN/Sun media 'Name the Foal' foals of 2013 have been selected.
Congratulations to the winners who put so much thought and care into their entries.
We look forward to introducing these newly-named foals at the 'Masters' tournament, September 4th-8th.
Foal #1: Ideal

Colt- Skyline/Ideal de la Loge, born April 19th, 2013

Terri Anne Fisher, Surrey BC

Foal #2: Ladies First

Filly- Greta/Le Premieur, born May 1st, 2013

Susan Adams, St.John's NL

Foal #3: Lovely

Filly- Silhouette/Le Premieur, born May 20th, 2013

Julie Burger, Stony Plain AB