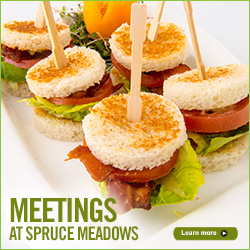 Media Releases
Calgary's Ben Asselin Wins $205,000 Encana Cup 1.60m
2013-09-06
Calgary's Ben Asselin Wins $205,000 Encana Cup 1.60m
at Spruce Meadows 'Masters'
Martin Fuchs and Conte Della Caccia Clear 1.95m to Win
ATCO Electric 'Circuit' (Six Bar)
For Immediate Release
Jennifer Wood Media, Inc.
Calgary, AB, Canada – September 6, 2013 – Speed and power described the two competitions on the schedule today at the Spruce Meadows 'Masters'. Opening up the evening was the $205,000 Encana Cup 1.60m, and the fastest in the jump-off was Calgary's own Ben Asselin on Makavoy. The $75,000 ATCO Electric Six Bar featured four rounds of thrilling jumping as Martin Fuchs (SUI) cleared 1.95m for victory on Conte Della Caccia. The Spruce Meadows 'Masters' Tournament hosts the best show jumpers in the world through Sunday, September 8. The highlight events of the week are the $350,000 BMO Nations' Cup on Saturday and the $1 Million CN International, part of the Rolex Grand Slam of Show Jumping, on Sunday.
There were 23 entries in the $205,000 Encana Cup, but only three were able to advance to the jump-off in driving rain. First to return was Christian Ahlmann (GER) on Taloubet Z. They had a rail at fence 15, an oxer off a right-hand rollback, for four faults and finished with a time of 46.73 seconds. Francois Mathy (BEL) and Espadon van de Kranenburg also had four faults, but with a slower time of 55.08 seconds.
Watch an interview with Ben Asselin!
Last in, Asselin and Makavoy were efficient through the turns and as they cleared the final oxer, the crowd burst into cheers when the scoreboard flashed #1. They posted a time of 53.94 seconds for the win. "We originally had [planned] a pretty fast track to try to have a clear round, but when I walked up everyone told me that both riders had four faults. I took a bit of a risk going so slow in the jump-off because if I had a rail down, I probably would have been third, but Makavoy was just unbelievable. He didn't want to touch any rails," Asselin explained.
Staying cool as the last in the ring was something Asselin had to accomplish. "I really had to work on keeping myself cool around the entire track. Even coming down to number one, my heart was racing. Coming down to the last fence I really had to stay cool. When I landed from that last fence all those emotions just let go," he revealed.

Ben Asselin and Makavoy. Photo © Spruce Meadows Media Services.
He said of his partner Makavoy, a 10-year-old Dutch Warmblood gelding by Hors La Loi II x Ahorn, "He's quite a little horse, but he has a huge heart. He has a ton of power and has a lot of motor. He's quite sensitive to ride. He gives you a lot of confidence on that size track. He really takes you down to the jumps and always wants to get to the other side of the jumps. It's a really fun horse to ride. He's really quick and he has his own style over the top of the jumps, but he gets himself over them."
Asselin is just 19 years old, and this was his first win in the International Ring. "It's surreal," he said with a huge grin. "I've been dreaming about winning in the International Ring forever, let alone in the 'Masters' Tournament. The caliber of horses and riders is spectacular all week. I really came into this division as a true rookie. I haven't done that many tracks this height. I had no plan on winning anything. I have an incredible horse and he showed me he could do it."

Ben Asselin shares a moment with Makavoy. Photo © Spruce Meadows Media Services.
Final Results: $205,000 Encana Cup 1.60m
1. MAKAVOY: 2003 Dutch Warmblood gelding by Hors La Loi II x Ahorn
BEN ASSELIN (CAN), Attache Stables: 0/0/53.94
2. TALOUBET Z: 2000 Dutch Warmblood stallion by Galoubet A S.F. x Polydor
CHRISTIAN AHLMANN (GER), Judy Ann Melchoir and Christian Ahlmann: 0/4/46.73
3. ESPADON VAN DE KRANENBURG: 2004 Belgian Warmblood gelding by Kimball x Quito Fleur Z
FRANCOIS MATHY (BEL), Jacques Leterme: 0/4/55.08
4. CORNET D'AMOUR: 2003 Westphalian gelding by Cornet Obolensky x Damiani
DANIEL DEUSSER (GER), Stephex Stables & Double H Farm: 1/77.69
5. DENVER VAN'T GOEMANSHOF: 2003 Belgian Warmblood gelding by Vigo D'Arsouilles x Heartbreaker
OLIVIER PHILIPPAERTS (BEL), Stal de Kalvarie: 1/78.25
6. QUISMY DES VAUX HDC: 2004 Selle Francais mare by Dollar de la Pierre x Super de Bourriere
KEVIN STAUT (FRA), Haras des Coudrettes: 4/69.72
7. HALLMARK ELITE: 2000 Zangersheide gelding by Lord Barron Z x Renville
DERMOTT LENNON (IRL), Keonan Stables Ltd: 4/73.01
8. OHLALA: 2003 Swedish Warmblood mare by Orlando x Cardento
LAUREN HOUGH (USA), Lauren Hough: 4/73.97
9. SIMON: 1999 KWPN gelding by Mr. Blue x Polydox
BEEZIE MADDEN (USA), Abigail Wexner: 4/74.24
10. BLUE ANGEL: 2002 AES mare by Luidam x Ascendant
KENT FARRINGTON (USA), Robin Parsky: 4/74.24
Martin Fuchs Clears 1.95m To Win ATCO Electric Six Bar
As the only rider to clear 1.95m, 21-year-old Martin Fuchs of Switzerland took the victory in the $75,000 ATCO Electric Six Bar competition with Conte Della Caccia. It was his second Six Bar win in 2013; he has shown three horses in four Six Bar competitions this year. "It's cool; I like it a lot," he smiled.

Martin Fuchs and Conte Della Caccia. Photo © Spruce Meadows Media Services.
Joining Fuchs in the fourth and final round, but unable to clear the fences remaining, were Eugenie Angot (FRA) and Pirate Adalou, Lars Nieberg (GER) and Galippo 5, and Shane Breen (IRL) with Touch of Chilli. They tied for second place.
Fuchs has ridden Conte Della Caccia, a 10-year-old Holsteiner stallion by Canturo x Corrado I, for a year and a half, and they have moved up to the 1.60m level. Fuchs will compete for Switzerland in tomorrow's BMO Nations' Cup and Sunday's $1 Million CN International.

Martin Fuchs in his winning presentation with Carla and Sett Policicchio, President, Capital Projects Division at ATCO Electric.
Photo © Spruce Meadows Media Services.
He noted, "I took him here to Spruce Meadows to do his first five-star Nations' Cup and grand prix. I think he's my future horse. He's not so experienced yet, but I hope to be good tomorrow."
Fuchs felt that tonight's Six Bar was great preparation for the weekend. "I knew after the first round that he was in top form and he likes it. With the crowd that really supported me and him, it really helped and he wanted to go bigger and bigger," he said. "It was a good exercise for him. He's a really strong horse and he wants to go to the jump. Here he started waiting and in the last round I could give some pressure for the last jump, which I usually cannot do. I think it's good for tomorrow; he's waiting and he did some gymnastics today!"

Martin Fuchs and Conte Della Caccia in their victory gallop. Photo © Spruce Meadows Media Services. (1860)
While Fuchs had a fantastic third place finish in the International two years ago, but this was his first win and experience in a winner's presentation at Spruce Meadows. He said, "I'm really happy and proud. The people stay for the prize giving and stay to watch you. In Europe, in the prize giving you're alone and you're looking for the people and nobody's there to cheer for you. It's really special for us to come here and to do an extra round and they keep screaming and clapping. It's really something special."
Final Results: $75,000 ATCO Electric Six Bar
1. CONTE DELLA CACCIA: 2003 Holsteiner stallion by Canturo x Corrado I
MARTIN FUCHS (SUI), Optimum Finanz AG: 0/1.95m
2. PIRATE ADALOU: 2003 Selle Francais gelding by Nabab de Reve x Unknown
EUGENIE ANGOT (FRA), SARL F.B.S. & M. Phillippe Mallenec: 4/1.95m
2. GALIPPO 5: 2001 Hanoverian gelding by Giorgio x For Pleasure
LARS NIEBERG (GER), Lars Nieberg: 4/1.95m
2. TOUCH OF CHILLI: 2004 Irish Sport Horse gelding by Out of Touch x Diamond Chin
SHANE BREEN (IRL), Linda Buchanan and Breen Equestrian Ltd: 4/1.95m
5. BAVI: 2005 Oldenburg mare by Balou du Rouet x Caretino
ROBERT SMITH (GBR), Robert Smith: 4/1.85m
6. WILLIAMS: 2003 Dutch Warmblood gelding by Koriander x Cavalier
ANDRES RODRIGUEZ (VEN), Robert Jornayvaz: ret/1.85m
7. VAQUERO: 1996 Thoroughbred gelding by Imagoodcatch x Touchy Subject
CARLA DIEWERT (CAN), Carla Diewert: 4/1.75m
7. NEVER LAST: 2004 Oldenburg gelding by Napels x Ramiro
WERNER MUFF (SUI), Werner Muff: 4/1.75m
10. DEPARDIEU VAN'T KIEZELHOF: 2003 Belgian Warmblood gelding by Thunder van de Zuuthoeve x Latano
GUY WILLIAMS (GBR), Lindsay Doran: 4/1.65m
---
The Spruce Meadows 'Masters' continues tomorrow with the $125,000 Suncor Winning Round 1.50m and the $350,000 BMO Nations' Cup. For full results and more information, please visit www.sprucemeadows.com.
Based in Calgary, Canada, Spruce Meadows is the brainchild of the Southern family who built a Show Jumping complex at the foothills of the Alberta Rocky Mountains. It was in 1976 that the first Spruce Tournaments were held, with annual spectator attendances reaching over 50,000 by the end of the decade. Today, Spruce Meadows boasts one of the greatest outdoor equestrian venues in the world and offers an incredible experience for riders and fans alike. Spruce Meadows focuses on the organization and hosting of show jumping tournaments of unmatched quality for junior, amateur and professional athletes in a manner that reflects basic family values in a clean, green and welcoming environment that celebrates the horse and encourages the breeding and training of quality sport horses and the teaching and development of athletes. For more information on Spruce Meadows, please visit www.sprucemeadows.com.


Photos © Spruce Meadows Media Services. They may only be used in relation to this press release and with photo credit.