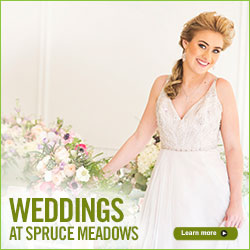 Media Releases
Congratulations and Best of luck!
2013-09-25
Go Canada Go!
Spruce Meadows would like to extend best wishes to all of the Canadian Riders representing Canada in two exciting international events over the next few weeks.
The Furusiyya FEI Nations Cup™ Jumping Final will be taking place in Barcelona, Spain from September 26th-29th2013. Jonathan Asselin (Calgary), Eric Lamaze (Ontario), Tiffany Foster (Ontario), Mac Cone (Ontario), and Yann Candele (Ontario) will be representing Canada with Chef d'Equipe, Mark Laskin.
In Porto Alegre, Brazil the second Nations Cup will be taking place. This time it will be Calgary's Ben Asselin and Kelly Koss-Brix who will be representing Canada alongside teammates Angela Covert (Quebec) and Christian Sorensen (Ontario).
Canada is fortunate to have such great athletes and we wish them the best of luck in these upcoming events.
Go Canada Go!