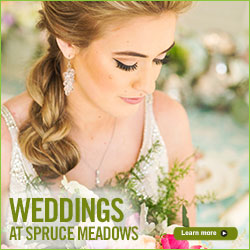 Media Releases
February Classic II Update
2014-02-14
February Classic II - Update
The team at Spruce Meadows is delighted with the huge entry we have received from athletes wishing to attend the February Classic II. Thank you for your support.
The February Classic I was an unqualified success. Competitions ran well in the Equi-Plex and in Hall E and the days were of a very manageable length. The overarching response to the facilities at the February Classic I was overwhelmingly positive. Hall E proved to be a great addition to the Spruce Meadows Indoor Classic competitive rings. Its intimate atmosphere lent itself well to the lower divisions, while still maintaining the high standard of footing, jumps and course design competitors have come to expect from Spruce Meadows.
Now that we have received the entries for the February Classic II, we have been able to make the schedule. With the versatility the addition of Hall E gives us we have been able to condense the competitions into two days: Saturday and Sunday. As with the February Classic I, the 0.5M – 0.8M divisions will be held in Hall E and the 0.9M – 1.3M divisions will be held in the Equi-Plex.
The North Meadows Office will be open at 12:00 p.m. until 5:00 p.m. for move in and starts.
If you have any questions, please do not hesitate to contact the Tournament Office by phone 403.974.4200 or email tournaments@sprucemeadows.com