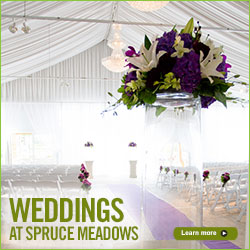 Media Releases
May Classic
2014-04-16
Welcome to the May Classic!
As we look out the window today at the fresh covering of snow, spring seems a lot further away than the calendar indicates!
We are thrilled with the number of athletes who are planning to join us for the May Classic and to that end would like to assist with your preparations.
The Spruce Meadows Team wants to offer you the fantastic experience of jumping on Spruce Meadows grass rings (barring a huge storm) - we intend to embrace this wonderful spring Mother Nature has given us!
The Chinook grass ring will be divided into two competition rings; we will use the main sand ring for the ponies and the beautiful Meadows on the Green ring is designated for the 1.20 m, 1.30 m and 1.40 m.
Riders and trainers since we will be competing on grass, please ensure that your horses' shoes are equipped for corks. Also, please remember, you will be required to provide a current, negative coggins on all horses competing in our outdoor tournaments.