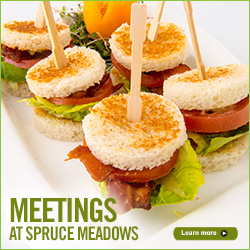 Media Releases
April Classic Update
2014-04-25
April Classic Update
The 'April Classic' Tournament (April 26-27) is going ahead as scheduled outside with both the Main Sand Ring and Chinook Sand Ring hosting competitions. With the current weather forecast, the organizing committee is prepared to adjust the schedule depending on the weather so continue to check the website, Facebook and Twitter for updates. Covered viewing areas and heaters will be placed around the competition rings to help fight the cool temperatures, so please dress accordingly, your weather attire is most acceptable. The Riding Hall will be set with jumps for those wishing to warm up inside. Time Faults Pub (located on the Main Sand Ring) will be open for both food and drink starting at 8:00am throughout the tournament weekend.
Spruce Meadows is also hosting the Calgary Pet Expo this weekend, so as a reminder please keep all dogs on a leash while on the property and park both vehicles and trailers in Lot 11 (north of the stabling area).
We look forward to having you join us for a most enjoyable weekend.