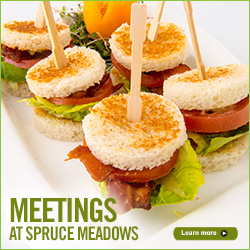 Media Releases
*Status of the 2014 'May Classic' Tournament*
2014-05-05
*ATTENTION COMPETITORS*
STATUS OF 'MAY CLASSIC' TOURNAMENT
AT SPRUCE MEADOWS MAY 10TH & MAY 11TH
Due to the Southern Alberta weather May 3rd and May 4th Spruce Meadows had to postpone the competitions of the 'May Classic'; these events will now be offered on May 10th and May 11th.
Spruce Meadows is thrilled to offer the opportunity to all athletes who wish to post enter for the Saturday and Sunday competitions, with no late entry fees applied. Entry forms can be found on the website: http://bit.ly/1nj681q and submitted via email to tournaments@sprucemeadows.com or by phone 403.974.4270. For your reference a schedule is posted on the Spruce Meadows website.
All of the competitions this weekend will be run on the beautiful grass rings of Spruce Meadows. The courses will be designed by top internationally acclaimed course designers.
Spruce Meadows is asking that all riders send us their intentions of competing this weekend in writing by Thursday May 8th to tournaments@sprucemeadows.com
Spruce Meadows will monitor the participation of this weekend's competitions and once the May Classic is completed May 11th Spruce Meadows will determine if a prorated refund policy is in order for the competitions.
We look forward to seeing you this weekend for great jumping at our beautiful outdoor rings of Spruce Meadows.