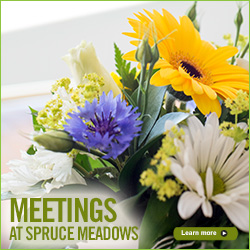 Media Releases
May Welcome
2014-05-20
WELCOME SERIES – MAY
The Spruce Meadows Welcome Team is pleased to be hosting another Welcome Series on Wednesday, May 21st. The weather forecast is set to be spectacular and we are looking forward to spending the afternoon with you!
Due to the long weekend, we will be accepting pre-purchase orders until 10:00am on Wednesday. The pre-purchase price for tickets is $15.00 each and $30.00 for a stall. After 10:00am the tickets will cost $20.00 and a stall $40.00. Please call Lisa at 403-974-4263 to pre-purchase tickets or a day stall.
We will be located in the Chinook Sand Ring; jumping will start at 1:00pm with the 1.10M and go up to 1.20M. We expect to start the 0.5M at approximately 4:00pm and follow that with the 0.6M, 0.7M, 0.9M and 1.0M. Please feel free to call 403-974-4215 to get a progress update on the day.
Please be sure to bring your current 2014 AEF membership and a copy of your current Coggins. As we are outside now, a current negative Coggins is required for all horses coming onto the property.
Day stalls will be located at the North End of F barn. Please access the grounds via Tournament Lane and the Lot 11 entrance. The North American gates and access via barns A, B and C is closed as we are currently paving in that area.
There will be a Whoa Cart concession available from 12:00pm – 7:00pm – we look forward to seeing you!