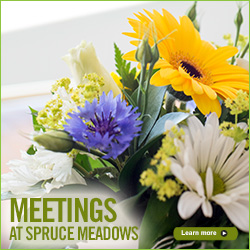 Media Releases
Spruce Meadows' "Horses Jump to Give a Leg Up" Program Part of Consistent Community Outreach
2014-05-28
Spruce Meadows' "Horses Jump to Give a Leg Up" Program Part of Consistent Community Outreach
For Immediate Release
Lauren Fisher for Jennifer Wood Media, Inc.

Calgary, AB – May 12, 2014 – As Spruce Meadows prepares to host its summer tournaments featuring five weeks of competition on June 4 through July 13, 2014, the organization has come together with the surrounding community and many local charities to assist in recovery efforts from last summer's devastating floods.

Southern Alberta is still in the process of healing from the impact of last year's severe flooding. Additionally, numerous not-for-profits are also feeling the pinch because of funding diversions. In response to this, Spruce Meadows is introducing the "Horses Jump to Give a Leg Up" program to assist those in Southern Alberta who repeatedly help others and are now themselves in need of support.

Out of 58 charities that applied, 20 Not-for-Profits have been selected to create an innovative design on a life-sized fiberglass horse. All of the horses will be introduced on Media Day, June 3, and then will be on display throughout the Spruce Meadows tournament season, concluding at the 'Masters' Tournament on September 10 -14.
These life-size fiberglass horses will be decorated by 20 different
not-for-profits from Calgary and surrounding communities.
The 20 organizations chosen are: Wood's Homes, KidSport Calgary, Seniors Secret Service Society, Habitat for Humanity Southern Alberta Foothills Chapter, Youth Central, Heaven Can Wait Animal Rescue Foundation, Opening Gaits Therapeutic Riding Society, Aventa, Treatment Foundation for Women, The SHARP Foundation, Bowness Community Association
Special Olympics Calgary, Boys and Girls Club of Diamond Valley & District, The Alex, Calgary Counselling Centre, Literacy for Life, CanLearn Society for Persons with Learning Difficulties, NeighbourLink Calgary, Bragg Creek Community Association, Foothills Special Needs Association for Parents & Siblings, and Calgary Family Services.

The concept is to help bring awareness to the organizations in need and the great outreach programs that these organizations have. The horses will be up for sale, and Spruce Meadows will continue throughout the season to try and raise significant funds for each organization.

During the 'National' Tournament on June 4 – 8, the horses will be on display throughout the grounds and will be judged on their creativity, spirit, and originality. On Saturday, June 7, all of the horses will be a part of the Parade of Nations. First prize for the most creative and innovative will win $10,000; second place will gallop away with $7,000; third place will win a $3,000 prize. All 58 charities that applied will receive $1,000. Of the 20 selected charities, the 17 remaining charities that do not place in the top three will be awarded with an additional $1,000 for their participation in the program.

One organization that is excited to be a part of the "Horses Jump to Give a Leg Up" program is Foothills Special Needs Association for Parents and Siblings (SNAPS). Foothills SNAPS is a community support network for families with a vision for Inclusive, supportive, social, recreational, school and work communities. They provide impactful community-based assistance for all infants, children, adults and their families with all disabilities in rural Alberta south, south west and south east of the Calgary City limits, to Claresholm. They currently serve 1,920 individuals in 480 families in more than 15 communities, informing, educating, advocating and networking.

Commenting on Spruce Meadows' initiative and community involvement, Denis Tetreau, President, SNAPS Board, stated, "We at Foothills SNAPS are thrilled to embrace this opportunity so generously offered by Spruce Meadows. We are very aware of the Southern family's community mindedness through the Telus Leg Up program. We are also extremely aware of the personal interest that the Southern family have taken with certain horse related projects that promote inclusion and other values that our organization espouses."

The floods impacted Foothills SNAPS hugely, and Tetreau recounted the effects that the damage has had on their organization, including the loss of their entire office space, the hardship on their staff, and the great increase in the number of people who need their services.

"We have seen a 200% increase in requests for help and a 300% increase in time spent doing family support work," he stated. "The floods created unprecedented demands, and there is no time limit on emotional recovery from natural disasters. As a small, growing, non-profit organization we had little reserve funds to re-build. With our local fundraising support hit hard by the floods, all new funding assistance is a blessing. Thank you to Spruce Meadows for reaching out and providing support in assisting us to assist others!"

Orvella Small, Executive Director, Foothills SNAPS, explained the great opportunities that the "Horses Jump to Give a Leg Up" program gives this organization.

"This program gives us two opportunities," Small stated. "One, to express the work of Foothills SNAPS to the public in a medium we have never had opportunity to do before in art, and two, the opportunity to ensure awareness of Foothills SNAPS and the number of families served in the area. The more we are able to share this mission, the better chances we have to ensure families become aware of the organization and the assistance that families can access."

Spruce Meadows looks forward to welcoming members of the community, including the many local organizations that will be participating in these fantastic programs. The Spruce Meadows 'National' CSI 5* runs June 4-8. That is followed by the 'Continental' CSIO 5* on June 12-15, the 'Canada One' CSI 4* tournament on June 26-29, the 'North American' CSI 5* tournament on July 2-6, and the 'Pan American' CSI 5* tournament on July 10-13. The 'Masters' CSIO 5* runs September 10-14.

For more information click here.
---

About Spruce Meadows

Based in Calgary, Canada, Spruce Meadows is the brainchild of the Southern family who built a Show Jumping complex at the foothills of the Alberta Rocky Mountains. It was in 1976 that the first Spruce Tournaments were held, with annual spectator attendances reaching over 50,000 by the end of the decade. Today, Spruce Meadows boasts one of the greatest outdoor equestrian venues in the world and offers an incredible experience for riders and fans alike. Spruce Meadows focuses on the organization and hosting of show jumping tournaments of unmatched quality for junior, amateur and professional athletes in a manner that reflects basic family values in a clean, green and welcoming environment that celebrates the horse and encourages the breeding and training of quality sport horses and the teaching and development of athletes. For more information on Spruce Meadows, please visit www.sprucemeadows.com.