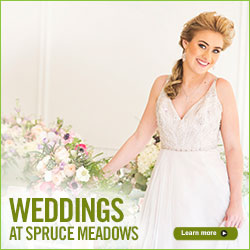 Media Releases
Spruce Meadows Summer Series Starts with Media Day and New Improvements
2014-06-03
(SPRUCE MEADOWS, Calgary, AB): The Spruce Meadows Summer Series begins competition tomorrow with the 'National' Tournament presented by Rolex, which runs through Sunday, June 7. More than $1 million in prize money will be awarded in the best show jumping competition in the world. Athletes from 15 countries and more than 1,000 horses have come to Calgary to compete in top sport, including the highlight of the week, the $400,000 RBC Grand Prix presented by Rolex, on Saturday, June 7. More than 50 media representatives were on hand to find out about this year's tournaments for the annual Spruce Meadows Media Day.
As Spruce Meadows begins it's 39th year of competition in "The Year of the Horse," Spruce Meadows President Linda Southern Heathcott reflected on what Ron and Marg Southern started nearly 40 years ago, and what it means to the venue and the local community.
"We are students of their work ethic, their dedication to our sport, and their commitment to Spruce Meadows, as well as their commitment to Calgary, to Alberta, and to Canada," Southern Heathcott expressed. "Our team has worked very hard to really honor what they have built, in every way, in every aspect. What you'll see this year is a beautiful facility, still continuing to grow and ever-changing to make it better for all of our visitors, whether it's media, athletes, corporate sponsors, or the fans. We want to be a venue for each and every person, from every walk of life."
One of the largest capital improvement projects for the coming year is the construction of Founders' Plaza, which will be unveiled in 2015. This new upgrade will allow people to better enjoy competition in the All Canada Ring and will give an opportunity for Spruce Meadows to thank and honor those that have been supportive of Spruce Meadows for decades. Among those include Canadian Pacific, the new title sponsor of the $1.5 Million CP International during this year's 'Masters' Tournament; the many corporate sponsors that have been a part of the Spruce Meadows family for years; those athletes that have come to compete from the beginning, like Ian Millar and Rich Fellers; and the Lord Strathcona's Horse (Royal Canadians) Mounted Regiment, which has brought pageantry and majesty to Spruce Meadows.
Southern Heathcott noted, "Founders' Plaza will be the next phase of our beautification. It will be really special because it's a place to recognize those that have helped us over the years. They believed in our team. We have many corporate sponsors that have been here for 40 years, and there are not many venues that can say that."
Canadian Olympic Gold Medalist Eric Lamaze welcomed media into his stable for interviews.
Further capital improvements include an improved and larger Vendors Village, a new venue for the Spruce Meadows Tack Shop, and upgraded footing in the North American sand schooling ring, all of which are completed and ready for the start of the 'National' Tournament presented by Rolex.
Along with information on competition, the 20 life-sized fiberglass horses designed by local non-profits for the "Horses Jump to Give a Leg Up" program were unveiled. Each horse is a unique and creative example of what the non-profit does for the community. Voting for the top three horses has begun, and the winners will be announced on Saturday, June 6. All of the horses will be on display throughout the Spruce Meadows tournament season, concluding at the 'Masters' Tournament on September 10 -14.
Southern Heathcott said, "It's a way to bring together all of the communities of Calgary. Spruce Meadows was built for people of Calgary. This place is a place for you, and for people to take a moment, reflect, and enjoy."
The 'National' Tournament presented by Rolex is the first of five in the Summer Series and this week's top classes include: the 210,000 CNOOC Nexen Cup 1.50m Derby on Sunday, June 8, the $85,000 ATB Financial Cup 1.55m held Wednesday, June 4, and the $85,000 Spectra Energy Cup 1.55m on Thursday, June 5.
Following this week's 'National' Tournament, the 'Continental' CSIO 5* Tournament will run the following week from June 12-15, featuring the $125,000 Furusiyya FEI Nations Cup™ presented by Scotiabank on Friday, June 13, and the $210,000 CP Grand Prix on Sunday, June 15. The $85,000 Husky Energy Classic 1.50m will be featured on Thursday, June 12, and the $85,000 Talisman Energy Cup 1.50m will be the highlight on Saturday, June 14.
The summer competition continues with three more weeks following a break after the 'National' and 'Continental' Tournaments. The 'Canada One' CSI 4* Tournament is next on the schedule on June 26-29, featuring the $125,000 ESSO Imperial Oil Challenge 1.55m competition on Sunday, June 29.
The 'North American' CSI 5* Tournament will be held July 2-6, featuring the $210,000 ATCO Queen Elizabeth II Cup on Saturday, July 5. The $210,000 Cenovus Energy Classic 1.50m Derby will be the highlight on Sunday, July 6. There will also be the $85,000 Sun Life Financial 'Reach for the Sun' 1.55m competition on Wednesday, July 2, and the $85,000 Progress Energy Cup 1.55m on Thursday, July 3, as well as the $85,000 TD Cup 1.50m on Saturday, July 5, and the $85,000 Enbridge Cup 1.50m on Sunday, July 6.
Concluding the summer tournaments, the 'Pan American' CSI 5* Tournament will run July 10-13, featuring the $400,000 Pan American Cup presented by Rolex on Sunday, July 13.
Based in Calgary, Canada, Spruce Meadows is the brainchild of the Southern family who built a Show Jumping complex at the foothills of the Alberta Rocky Mountains. It was in 1976 that the first Spruce Tournaments were held, with annual spectator attendances reaching over 50,000 by the end of the decade. Today, Spruce Meadows boasts one of the greatest outdoor equestrian venues in the world and offers an incredible experience for riders and fans alike. Spruce Meadows focuses on the organization and hosting of show jumping tournaments of unmatched quality for junior, amateur and professional athletes in a manner that reflects basic family values in a clean, green and welcoming environment that celebrates the horse and encourages the breeding and training of quality sport horses and the teaching and development of athletes. For more information on Spruce Meadows, please visit www.sprucemeadows.com.
Photos © Spruce Meadows Media Services. They may only be used in relation to this press release and with photo credit.