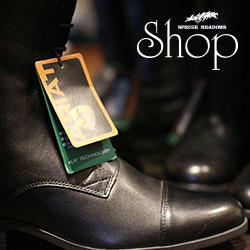 Media Releases
Conor Swail and Martha Louise Victorious in $85,000 Husky Energy Classic 1.50m
2014-06-12
For Immediate Release

Calgary, AB, Canada – June 12, 2014 – The second week of the Spruce Meadows Summer Series, the 'Continental' Tournament, hosted the $85,000 Husky Energy Classic 1.50m with Conor Swail (IRL) and Martha Louise, owned by Susan and Ariel Grange, winning the first FEI competition.
The 'Continental' CSIO 5* Tournament features the $125,000 Furusiyya FEI Nations Cup™ presented by Scotiabank on Friday, June 13, the $85,000 Talisman Energy Cup 1.50m on Saturday, June 14, and the $210,000 CP Grand Prix on Sunday, June 15.
There were 63 entries in the $85,000 Husky Energy Classic 1.50m, and they contested a course set by Anthony D'Ambrosio of the United States. Nine were clear and moved on to the jump-off, with the pacesetter, McLain Ward (USA) and Sagamore Farm's Rothchild, posting a time of 42.33 seconds.
Swail deliberately finished schooling early so that he could go and watch Ward on his first horse in the jump-off. Seeing his pace and path, Swail knew what he needed for the win. He and Martha Louise, a 10-year-old Swedish Warmblood mare by Maloubet de Pleville x Wolfgang, sped through the short course in 39.74 seconds to take the lead.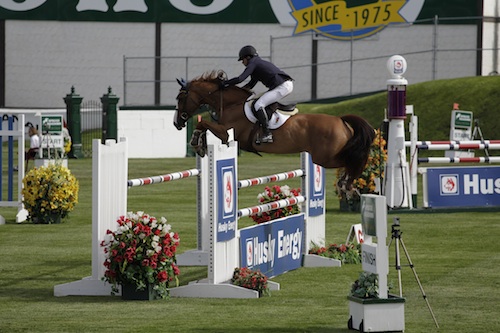 Conor Swail and Martha Louise

Swail commented, "The big help for me was that McLain was before me. Obviously he wants to win as well. I made sure to watch him. It gives me great indication on pace, especially since he had a good round and was fast and clear. When I went in, I knew I wouldn't be far away. But I knew he was going again, and Kent, other top class riders as well. You just have to hope you can hang on, and thankfully I did."
A late bid came from Kent Farrington (USA) and Voyeur, owned by Amalaya Investments. They were close in 40.56 seconds, but had to settle for second place.
Swail had two third place finishes last week with Martha Louise and was happy to get the win with her and for her owners, who he thanked for their support. "It's always great to win here because it's very hard. Or I find it hard, anyway," he remarked. "The mare was fantastic. For me, I had a little luck maybe, but you need a little luck sometimes. She just makes such a good effort every time you go in the ring. It's a pleasure to ride her."
Crediting Martha Louise's big step, scope, and carefulness, Swail said she isn't difficult to ride. "If you give her a good ride at all, you're never going to be far away," he said. He added that her attitude is what helps too. "In the parade she was eating grass, and she'll plod out like she was out for a hack," he smiled. "That's what makes her a good horse. She has a great attitude towards it."
The mare had an incredible record at last year's Spruce Meadows Summer Series, placing in 12 of 14 classes, and she is well on her way to another great year. Swail feels that the big competition rings at Spruce Meadows suit her. "In these arenas, you really need to cover the ground, and she does that easily. I think when I'm going quick, it doesn't take much out of her. In that respect, I can really let the canter loose and it's still very relaxed and calm," he said. "That really helps me with going quickly, and consistently doing that."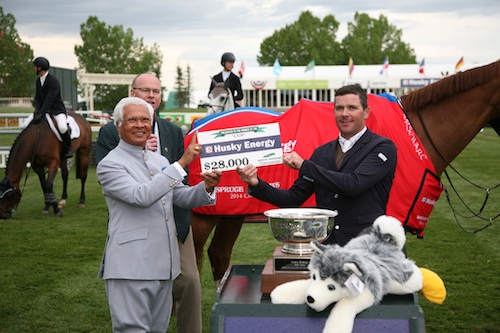 Conor Swail raises his winning check with Asim Ghosh, President & CEO of Husky Energy.

Final Results: $85,000 Husky Energy Classic 1.50m
1. MARTHA LOUISE: Swedish Warmblood / M / 10 Maloubet de Pleville x Wolfgang
CONOR SWAIL (IRL), Susan & Ariel Grange: 0/0/39.74
2. VOYEUR: Dutch Warmblood / G / 12 Tolaro Vant Riethof x Goodwill
KENT FARRINGTON (USA), Amalaya Investments: 0/0/40.56
3. ROTHCHILD: Warmblood / G / 13 Artos Z x Unknown
MCLAIN WARD (USA), Sagamore Farm: 0/0/42.33
4. NAVALO DE POHETON: Selle Francais / G / 13 Cumano x Double Espoir
SCHUYLER RILEY (USA), Wolfstone Stables & Sales Inc.: 0/0/48.16
5. LILLYFEE: Holstein / M / 11 Limbus x Carthago
SUSAN HORN (CAN), Kingsfield Farm: 0/0/49.32
6. HH CARLOS Z: Zangersheide / G / 12 Chellano Z x Voltaire
MCLAIN WARD (USA), Double H Farm: 0/4/42.37
7. HH DARK DE LA HART: Belgian Sport Horse / S / 11 Kashmir van Schuttershof x Nonstop
QUENTIN JUDGE (USA), Double H Farm: 0/4/43.21
8. AMIGO: Zangersheide / G / 10 Coriano Z x Silvester
ANGEL KAROLYI (VEN), Hollow Creek Farm: 0/8/46.66
9. LEAP OF JOY: Holstein / G / 13 Lovari x Silbersee
CHARLIE JACOBS (USA), Deeridge Farms: 0/12/41.90
10. WITH WINGS: Dutch Warmblood / G / 11 Larino x L Rinald
KAREN POLLE (JPN), Karen Polle: 1/86.86
11. HEROS DE PAPIGNIES Z: Zangersheide / S / 10 Heartbreaker x Ahorn Z
KIRSTEN COE (USA), Paillot Equine Consulting: 1/87.33
12. CZARDAS 30: Hanoverian / S / 11 Contendro x Grannus
KIRSTEN COE (USA), Ilan Ferder: 1/87.90
The 'Continental' Tournament continues on Friday with the $40,000 AltaGas Cup 1.45m, followed by the $125,000 Furusiyya FEI Nations Cup™ presented by Scotiabank. For more information and full results, please visit www.sprucemeadows.com.

Based in Calgary, Canada, Spruce Meadows is the brainchild of the Southern family who built a Show Jumping complex at the foothills of the Alberta Rocky Mountains. It was in 1976 that the first Spruce Tournaments were held, with annual spectator attendances reaching over 50,000 by the end of the decade. Today, Spruce Meadows boasts one of the greatest outdoor equestrian venues in the world and offers an incredible experience for riders and fans alike. Spruce Meadows focuses on the organization and hosting of show jumping tournaments of unmatched quality for junior, amateur and professional athletes in a manner that reflects basic family values in a clean, green and welcoming environment that celebrates the horse and encourages the breeding and training of quality sport horses and the teaching and development of athletes. For more information on Spruce Meadows, please visit www.sprucemeadows.com.

Photos © Spruce Meadows Media Services. They may only be used in relation to this press release and with photo credit.