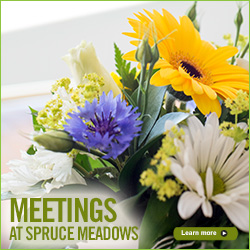 Media Releases
Timing Observations from the ATCO Structures and Logistic Cup.
2014-06-08
"Spruce Meadows can confirm the following, in response to recently posted timing observations from the ATCO Structures and Logistic Cup. In fact, the Spruce Meadows Organizing Committee immediately addressed its similar concern to the FEI ( International Sports Federation) officials at which time the jury immediately reviewed its official scorecard, the electronic data and the handheld timing backing up each athlete's results. Each of these supported the decision and result that was posted.
It was further confirmed that both handheld "back up" timers were within 2/10 of a second of the electronically "pulsed" time. That said, we recognize that officiating in sport is not an exact science, and mistakes can, on rare occasions, be made. As an Organizing Committee we are completely at arm's length from the appointment of officials and the decisions they make and uphold under Federation rules.
It should also be noted that video replay review is not allowed under the International Sports Federation Rules (FEI) to alter or change a competitive result or ruling."