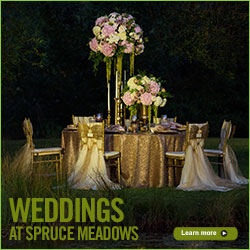 Media Releases
McLain Ward and HH Carlos Z Win $33,500 Ashcor Technologies Cup 1.55m at Spruce Meadows
2014-07-11
For Immediate Release

Calgary, AB, Canada – July 11, 2014 – The 'Pan American' Tournament CSI 5* continued at Spruce Meadows on Friday with an exciting showdown between two of the world's top riders in the $33,500 Ashcor Technologies Cup 1.55m. In a two-horse jump-off in the Meadows on the Green, McLain Ward (USA) and HH Carlos Z came out on top against Kent Farrington (USA) and Uceko.
The $15,000 CIBC Junior/Amateur Jumper 1.40m competition was also featured on Friday with a win forLucas Porter (USA) and Mill's Georgia. The 'Pan American' Tournament runs July 10-13, featuring the $400,000 Pan American Cup presented by Rolex on Sunday, July 13.
Uliano Vezzani of Italy set a difficult track for the 24 competitors vying for Friday's Ashcor Technologies Cup. Just two entries were able to clear the first round course without fault, leaving McLain Ward and Kent Farrington to battle it out over the short course. Farrington went first with RCG Farm's Uceko, but had a rail down with a time of 39.46 seconds. Ward and Double H Farm's HH Carlos Z followed with the winning clear round in 40.97 seconds.
McLain Ward and HH Carlos Z
Ward and the 12-year-old Zangersheide gelding (Chellano Z x Voltaire) had the fastest time in Thursday's jump-off for the $33,500 G&C Farm Cup 1.50m, but dropped an unlucky rail in the short course to finish seventh. Today, the pair was out for redemption.

"It was really unlucky yesterday. He jumped great," Ward recalled. "The horse is on fire. He was first, second, and had one class with a time fault last week. Yesterday he jumped brilliant. It was kind of a shame of a rail because he had a very good round and he really didn't do anything wrong. I thought today was really difficult when I walked it and obviously the results proved it. I'm just thrilled with the way this horse is going."

"The course was very big," Ward noted. "He (Vezzani) used a lot of the twelve-foot poles and even ten-foot poles, which obviously are lighter than the 14-footers. I thought it was just a very legitimate 1.55m track and the results showed that."

When Farrington had a rail down in the jump-off, Ward just needed the clean round to win, but he still had to keep the time in mind.

"I wanted to be fast enough at least until deep into the course," he explained. "When you are in that situation, you want to always try to win two ways. If you go in and you go very slow and you have a fence down, you lose the class. If you go in and you carry pace, not crazy, but carry pace and you have a jump down, you still have a chance to beat them on time as well. Kent wasn't crazy fast either and Carlos is a very fast horse, so my thought was to get through the blue vertical over there neat, and if I was clear, then gear down and jump the last two clean. You're trying to take your risk level out a little bit, but that is normally my strategy in that situation."

The first round course proved difficult for many of the horses in Friday's competition, but two of the most successful and experienced came out on top. It was a great match-up of talent between Uceko and HH Carlos Z in the jump-off, and Ward knew he could count on Carlos to take the challenge.

"Uceko is a proven veteran. He has won some of the biggest grand prixs in the world," Ward acknowledged. "Carlos has had a little bit more of an interesting career, but he has always been a horse thought of as the utmost in quality. We were really, I think in the end, very lucky to be able to purchase him in the beginning of this year. I think with a little luck the next few years are going to be really a lot of fun with this horse because I think he is going to do this week in and week out."

Final Results: $33,500 Ashcor Technologies Cup 1.55m
1 HH CARLOS Z: Zangersheide / G / 12 Chellano Z x Voltaire
MCLAIN WARD (USA), Double H Farm: 0/0/40.97
2 UCEKO: Dutch Warmblood / G / 13 Celano x Koriander
KENT FARRINGTON (USA), RCG Farm: 0/4/39.46
3 SUMAS ZORRO: Irish Sport Horse / M / 10 Ard Vdl Douglas x Unknown
SAMEH EL DAHAN (EGY), Joanne Sloan-Allen & Sameh El Dahan: 4/64.91
4 MARTHA LOUISE: Swedish Warmblood / M / 10 Maloubet de Pleville x Wolfgang
CONOR SWAIL (IRL), Susan & Ariel Grange: 4/68.34
5 ANTON: Warmblood / G / 10 Marlone x Orville
JAIME AZCARRAGA (MEX), Jaime Azcarraga: 4/68.51
6 RAHMANNSHOF BEFORE: Warmblood / M / 8 Tenerife VDL x Matterhorn
SANTIAGO LAMBRE (MEX), Justus Blass: 4/69.45
7 MARK Q: Irish Sport Horse / G / 12 OBOS Quality 004 x Positively
KEVIN BABINGTON (IRL), Kevin Babington: 4/69.49
8 FORTIN: Zangersheide / G / 9 Forsyth x Quinar Z
ANTONIO CHEDRAUI (MEX), Antonio Chedraui: 4/70.73
9 EREGAST VAN'T KIEZELHOF: Belgian Warmblood / G / 10 Thunder van de Zuuthoeut x Lantano
SHANE SWEETNAM (IRL), Spy Coast Farm, LLC: 5/72.59
10 PEKIN ST DENIS: Selle Francais / G / 11 Eyken des Fontenis x Quatubet du Rouet
CLAUDIA LORENZA O FARRILL (MEX), Terranova Kohima SL: 5/73.54
11 ALBERTO II: Holstein / G / 11 Acorado x Cassini I
KARA CHAD (CAN), Stone Ridge Farms LLC: 8/69.03
12 WOKLAHOMA: Dutch Warmblood / M / 11 Sheraton x Unknown
ROBERTO TERAN (COL), ARK Partners LLC: 8/69.08

Lucas Porter and Mill's Georgia Top $15,000 CIBC Junior/Amateur Jumper 1.40m

The final competition in the Meadows on the Green on Friday was the $15,000 CIBC Junior/Amateur Jumper 1.40m, which saw a great jump-off that gave 16-year-old Lucas Porter (USA) of Bartonville, TX, the win aboard Sleepy P Ranch LLC's Mill's Georgia. Uliano Vezzani (ITA) set the track for 49 competitors in the first round of competition and yielded eight clear rounds for the jump-off with three riders from USA and five from Mexico. A tight time allowed kept 10 others from advancing with just one time fault.

Over the short course, three jumped clear, where the first time was set by Chloe Reid (USA) and Shalanno Farms LLC's Absie in 40.70 seconds to finish third. Antonio Chedraui (MEX) and Corcega la Silla upped the pace with the next clear in 39.79 seconds, but were bested in the end by Lucas Porter and Mill's Georgia, last to go in 37.83 seconds.
Lucas Porter and Mill's Georgia

Porter has had the 11-year-old Swedish Warmblood mare (Iowa x Moulin) for a little over two years now and trusted her speed and accuracy in the jump-off. Things got a little tricky at the skinny jump, but it did not fall, and he and Mill's Georgia raced on.
"She is a very fast horse. I mainly use her as a speed horse, but this week we decided to step her up a bit and put her in this big class," Porter stated after his win. "The jump-off was super fast. Antonio was very fast before me. I knew that I could have the fastest time, but I had to really take time to the skinny because that is a really careful jump. I kind of chipped the jump actually, so I didn't follow that plan, but I got really lucky there. Then she lost a shoe, but her natural pace is just so fast that I was able to beat the time."

"She is careful enough that she takes a little look at the jump, but she's not spooky, so that really helps in classes like these where you have to gallop to a vertical for the last jump," Porter added. "They have to be really careful there."

Porter has had a lot of success with Mill's Georgia, including recent wins abroad, but for the summer at Spruce Meadows this was his first win.
"Actually this is my only win here," he said. "We just came for three weeks this year and the past few classes I have been knocking on the door a bit. I was second yesterday and second last Sunday. I really wanted to win today because this is my last class here and I finished off with a win, which makes me really happy."

Porter is now headed home to Texas for a couple of days before flying to Lexington, KY, to represent Zone 7 at the North American Junior/Young Rider Championships where he hopes to have an equally great performance. He acknowledged the great sponsorship of CIBC for Friday's competition.

"It's really great for juniors and amateurs to have classes with a lot of prize money because it gives us practice before we go into the professional divisions," Porter stated. "At Spruce Meadows, I like how they combine the juniors and amateurs because sometimes the amateurs are better than the juniors, but it makes us better. It makes us try harder and it makes us hungrier. I would like to thank CIBC for sponsoring this class and also my trainer, John Roche, and my whole team."

Lucas Porter and Mill's Georgia in their winning presentation with Tom Weber, Alberta Region Head, CIBC

The 'Pan American' Tournament at Spruce Meadows will continue on Saturday with the $83,000 Investors Group Cup 1.50m in the Meadows on the Green. For more information and full results, please visit www.sprucemeadows.com.

Final Results: $15,000 CIBC Junior/Amateur Jumper 1.40m
1 MILL'S GEORGIA: Swedish Warmblood / M / 11 Iowa x Moulin
LUCAS PORTER (USA), Sleepy P Ranch LLC: 0/0/37.83
2 CORCEGA LA SILLA: Holstein / M / 10 Casall la Silla x Candillo
ANTONIO CHEDRAUI (MEX), Antonio Chedraui: 0/0/39.79
3 ABSIE: Belgian Warmblood / M / 14 Corland x Heartbreaker
CHLOE REID (USA), Shalanno Farms LLC: 0/0/40.70

4 VADUZ: Warmblood / S / 12 Matterhorn x Risertha
ANDRES AZCARRAGA RIVERA TORRES (MEX), Jaime Azcarraga: 0/4/40.38
5 ETOILE VAN DAN BISSOHOP: Belgian Warmblood / M / 10 Caretano x Kashmir van Schuttershof
CLAUDIA LORENZA O FARRILL (MEX), Victor Hugo O Farrill: 0/4/41.13
6 BAGNI DI LUCCA: Belgian Warmblood / G / 13 Clinton x Gibramino
JORGE CANEDO (MEX), Mario Onate: 0/4/41.18
7 QUADAM: Hanoverian / S / 8 Quite Easy I x Stakkato
RICHARD NEAL (USA), Richard Neal: 0/4/41.27
8 ZALERNO: Dutch Warmblood / S / 12 Berlin x Espri
JAIME AZCARRAGA (MEX), Jaime Azcarraga: 0/4/42.73
9 VERONA: Holstein / M / 9 Levisto x Helena L
ALEX CROWN (USA), Alex Crown: 1/76.14
10 CHADOLAN: Oldenburg / G / 7 Chacco Blue x Widolan
LUIS ALEJANDRO PLACENSIA (MEX), Mario Onate: 1/76.18
11 ZAMIRO 16: Brandenburg / G / 14 Zenturio x Landstreicher
KARA CHAD (CAN), Stone Ridge: 1/76.35
12 LITTLE GANCHO: Swedish Warmblood / G / 10 Cagancho x Irce Mema
JACKSON BRITTAN (USA), Sigognini Sabrina: 1/76.42
Based in Calgary, Canada, Spruce Meadows is the brainchild of the Southern family who built a Show Jumping complex at the foothills of the Alberta Rocky Mountains. It was in 1976 that the first Spruce Tournaments were held, with annual spectator attendances reaching over 50,000 by the end of the decade. Today, Spruce Meadows boasts one of the greatest outdoor equestrian venues in the world and offers an incredible experience for riders and fans alike. Spruce Meadows focuses on the organization and hosting of show jumping tournaments of unmatched quality for junior, amateur and professional athletes in a manner that reflects basic family values in a clean, green and welcoming environment that celebrates the horse and encourages the breeding and training of quality sport horses and the teaching and development of athletes. For more information on Spruce Meadows, please visit www.sprucemeadows.com.

Photos © Spruce Meadows Media Services. They may only be used in relation to this press release and with photo credit.