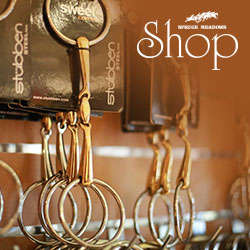 Media Releases
Farrington and Uceko Win $400,000 Pan American Cup Presented by ROLEX
2014-07-13
For Immediate Release

Calgary, AB, Canada – July 13, 2014 – The 'Pan American' Tournament CSI 5* at Spruce Meadows concluded on Sunday with a fantastic win for Kent Farrington (USA) and Uceko in the $400,000 Pan American Cup presented by ROLEX. The pair set an uncatchable pace in the jump-off that left McLain Ward (USA) and Rothchild to finish second. Egypt's Sameh el Dahan and Suma's Zorro concluded a great summer series with a third place finish.
International course designer Uliano Vezzani (ITA) set the track for the summer's final grand prix with 33 entries and six to advance to the jump-off where four riders jumped double clear rounds over the short course. Farrington and RCG Farm's Uceko were first to clear the jump-off course, and set the unbeatable pace of 35.33 seconds to win.
Sameh el Dahan and Suma's Zorro, owned by el Dahan and Joanne Sloan-Allen, were next to jump clear in 37.29 seconds to earn third place honors. Next to go, Ward and Sagamore Farm's Rothchild jumped into second in 36.66 seconds. Jumping last, Quentin Judge (USA) and Double H Farm's HH Copin van de Broy were clear in 37.40 seconds to finish fourth.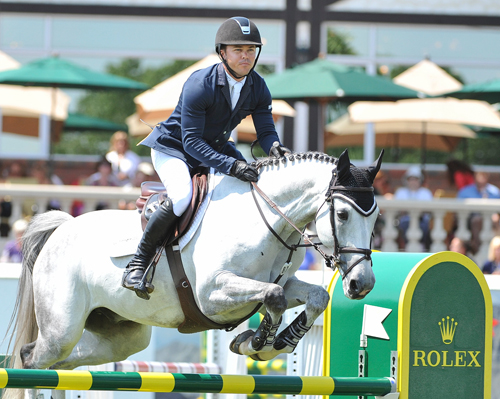 Kent Farrington and Uceko

With the winners share of $132,000, Farrington joined Spruce Meadows' million dollar club for career earnings. In the jump-off, the rider hoped to be fastest, but knew the win was not certain with the riders that were still to follow.

"McLain has been beating me all week. I think he has won every class," Farrington noted. "I hate sitting there and having to wait for him and the other riders to come after me. That's not really my favorite thing. I would prefer to go last and know that it was over."

Farrington's finish was over one second faster than Ward this time, and Uceko got his second big win of the summer after nearly six months off from competition. The 13-year-old KWPN gelding (Celano x Koriander) never skipped a beat.
"I am thrilled with him. He took a long break," Farrington stated. "He has always gone great here at Spruce Meadows and my plan all along was to build him up and jump him in the last grand prix. Last week he had a good win in the big class. He actually was ready to go a little bit sooner than what I thought. He feels great. He feels better than he even did last year, and I look forward to him for the rest of the summer as well."
"I think like any partnership with a rider over time, I know the horse better, and he knows me better," Farrington said of his relationship with Uceko. "I know his strengths and his weaknesses, which helps me strategize my jump-offs or even my first round plan. I think that over time you have better success, or more consistent success, with a horse as you know them better."

Speaking about his strategy on Sunday, Farrington detailed, "I thought the courses this week have been excellent - very difficult. I thought the 1.50m yesterday was a real test as well. It was careful, but at the same time scopey. Today for the grand prix he wanted a few clear rounds so there would be a jump-off. I think if you asked him before the class, he would have told you he wanted six or seven clear, and that is exactly what he got."

With back to back wins this week, including a jump-off against Uceko on Friday, Ward went as fast as he could with Rothchild, but had to settle for second place today.

"Catching Kent is always difficult," Ward admitted. "We have an ongoing battle that I think we both love and hate. I knew his horse had a bigger stride than mine did today. He got me with his stride last week in a big class, so I was a little bit concerned. My horse bucks a little bit, particularly when you try to go fast. He bucked after the China oxer and I didn't get the vertical I wanted and ended up adding a stride to the last fence. For sure in the plan you would like those things to go a bit smoother and maybe it would have been a little bit closer. The horse performed great. I am certainly a little disappointed not to win, but this is a worthy victor and if I am going to lose to anybody, I would want to lose to him."
"The last couple of years have been remarkable," Ward said of Rothchild's step to the next level. "He has always been a very good horse for me. We know each other very well. Kent spoke about how important the relationship is. I asked more of this horse in the last two years and not only has he handled it, but he is really starting to shine. I really enjoy this horse. I think he has a lot of heart and he gives me a lot, so I am going to try to continue it the same way."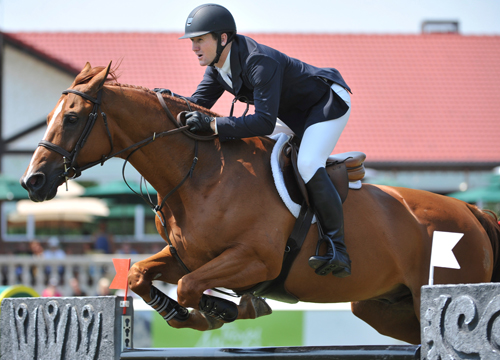 Mclain Ward and Rothchild

Sameh el Dahan was very happy to be in the company of two of the world's top riders with his third place finish aboard Suma's Zorro. The rider from Egypt moved to Europe three and a half years ago to further his career and has had a great season.

"This year especially, I have had so many wins and I could not be happier with a good finish to the tour," el Dahan stated. "I had a good summer season here. My horses jumped fantastic the whole time."

"This mare I have ridden since she was seven and we have kind of grown up together," the rider said of Suma's Zorro. "We at Sycamore Stables normally don't push our young ones so much, so she didn't do a lot as a seven and eight-year-old, and then last year we pushed her a little more as a nine-year-old."

"Since last week she has been jumping the bigger tracks and she has always been in the prize givings," el Dahan said. "She has a heart of gold and she is all that you can ask for in a horse - lots of heart, very careful, and always fights for you. She fights at every fence. I am very happy to have her."

Course designer Uliano Vezzani had a great week building courses at Spruce Meadows for the first time, and concluded his time, declaring, "Fantastic results, fantastic riders. This is my first experience at Spruce Meadows and the arena and the fences are all tops. I am very happy."
Wrapping up a wonderful summer series, Farrington summed things up nicely.

"I just want to say on behalf of all the riders, a special thank you to the Southern Family and Spruce Meadows, and to ROLEX," he acknowledged. "It really brings the sport here in North America to a new level and it helps us stay on par with the best riders in the world. I think that this really is one of the best tournaments in the world."
Kevin Babington and Goodwins Loyalty Land a Derby Win
The $33,500 Friends of the Meadows Cup 1.45m Derby was held in the All Canada Ring in the morning with a win for Ireland's Kevin Babington aboard Goodwins Loyalty. Twenty-eight entries jumped the track set by USA's Anthony D'Ambrosio with ten clear trips in the one round competition. Babington and the ten-year-old Irish Sport Horse mare (OBOS Quality 004 x Candle King) jumped the fastest clear round in 105.94 seconds.
Nick Dello Joio (USA) and Nathalie de Gunzburg's Fiego van de Zonnenweide stopped the clock in 109.28 seconds for a second place finish. Will Simpson (USA) and Monarch International's Axl-Rose finished a close third in 109.90 seconds.

Sunday's win marked Babington's first victory at Spruce Meadows. This year was his first time competing at the summer series, and he had a fantastic time riding in the last three weeks of competition, concluding with a great finish on Goodwins Loyalty. The mare was sent from England last year for Babington to sell, but had a setback with an injury. She is now getting back into top form and showing a lot of quality.

"I had her jumping really well up until the summer last year and then she had a sprain behind," Babington explained. "I ended up giving her the whole winter off. I just didn't think I would have her quite up and running for Florida, so she ended up having a good break. Maybe even longer than planned, but it worked out. The first two weeks here I was really working on her fitness. I would have loved to have done the big derby last week, but I didn't feel like she was quite up to it, so this was a nice way to finish the circuit up here. I feel like she's up and ready to go for the rest of the summer."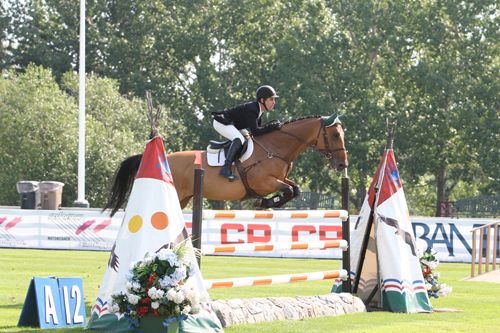 Kevin Babington and Goodwins Loyalty
Goodwins Loyalty has had some derby experience previously jumping at the famous Hickstead Derby with Irish rider David Simpson. She was also ridden by Shane Breen of Ireland. For Babington, the challenging obstacles of the derby take him back to his earlier days as a rider.

"I was an event rider before I got into show jumping," Babington explained. "I really only got into show jumping sort of halfway serious at 18. I did a little bit of steeple chasing too, so I'm well used to galloping."

That experience played to his advantage on course along with his horse's scope and speed on Sunday.

"She has a nice big stride," Babington stated. "When I walked the course, I just thought I could take advantage of staying in a nice rhythm and not chasing her. I was able to do one less stride from jumps one to two. I thought if I could stay on that rhythm it might work out, and it did."
Sunday's competition concluded Spruce Meadows' Summer Series. The world's top international riders return September 10-14 for the 'Masters' Tournament CSIO 5*. For more information and full results, please visit www.sprucemeadows.com.
Final Results: $400,000 Pan American Cup, presented by ROLEX
1 UCEKO: Dutch Warmblood / G / 13 Celano x Koriander
KENT FARRINGTON (USA), RCG Farm: 0/0/35.33
2 ROTHCHILD: Warmblood / G / 13 Artos Z x Elegant de l'Ile
MCLAIN WARD (USA), Sagamore Farm: 0/0/36.66
3 SUMA'S ZORRO: Irish Sport Horse / M / 10 Ard Vdl Douglas x Unknown
SAMEH EL DAHAN (EGY), Joanne Sloan-Allen & Sameh El Dahan: 0/0/37.29
4 HH COPIN VAN DE BROY: Belgian Warmblood / S / 12 Darco x Brown Boy
QUENTIN JUDGE (USA), Double H Farm: 0/4/37.40
5 UTOPIA: Dutch Warmblood / M / 13 Ircolando x Notaris
JOHN PEREZ (COL), John Perez: 0/4/38.75
6 CHILL R Z: Zangersheide / S / 11 Chellano Z x A Lucky One
CHARLIE JAYNE (USA), Alex R Jayne: 0/4/39.86
7 ANTARES: KWPN / G / 9 Manhattan x Cavalier
PABLO BARRIOS (VEN), Stal Thijssen: 4/83.79
8 DYNAMO: Belgian Warmblood / G / 11 Skippy II x Veritas
MEAGAN NUSZ (USA), Amalya Investments: 4/84.02
9 DIXSON: Belgian Warmblood / G / 11 Vigo d'Arsouilles x Olisco
IAN MILLAR (CAN), Susan & Ariel Grange: 4/84.06
10 WOKLAHOMA: Dutch Warmblood / M / 11 Sheraton x Calvados
ROBERTO TERAN (COL), ARK Partners LLC: 4/84.15
11 NAVALO DE POHETON: Selle Francais / G / 13 Cumano x Double Espoir
SCHUYLER RILEY (USA), Wolfstone Stables & Sales Inc: 4/84.21
12 MARTHA LOUISE: Swedish Warmblood / M / 10 Maloubet de Pleville x Wolfgang
CONOR SWAIL (IRL), Susan & Ariel Grange: 4/84.37
Final Results: $33,500 Friends of the Meadows Cup Derby 1.45m
1 GOODWINS LOYALTY: Irish Sport Horse / M / 10 OBOS Quality 004 x Candle King
KEVIN BABINGTON (IRL), Kevin Babington: 0/105.941
2 FIEGO VAN DE ZONNENWEIDE: Belgian Warmblood / G / 9 Quidam de Revel x Darco
NICK DELLO JOIO (USA), Nathalie de Gunzburg: 0/109.288
3 AXL ROSE: Warmblood / G / 14 Ti Amo van het Lambroeck x Forever
WILL SIMPSON (USA), Monarch International: 0/109.909
4 VICKY VAN HET GEINSTEINDE: Belgian Warmblood / M / 16 Skippy II x Lurano
LUIS ALEJANDRO PLACENSIA (MEX), Mario Onate: 0/111.404
5 BARBARO: Oldenburg / G / 8 Balou du Rouet x Carthago
NICOLAS PIZARRO SUAREZ (MEX), Nicolas Pizarro Suarez: 0/111.625
6 WORLDS JUDGEMENT: Dutch Warmblood / M / 11 Judgement x Farmer
LISA CARLSEN (CAN), Alycia Hayes: 0/115.367
7 LAPACCO: Holstein / G / 15 Lavaletto x Grundyman
WESLEY NEWLANDS (CAN), Weslands Farm: 0/115.405
8 NLF FAVORITE: Belgian Warmblood / M / 9 Action Breaker x Indoctro
EIRIN BRUHEIM (NOR), Nordic Lights Farm: 0/119.823
9 WISTFUL: Dutch Warmblood / M / 11 Grand Star x Polydor
TAYLOR ALEXANDER (USA), Alexander LLC: 0/121.209
10 REUS DE LA NUTRIA: Selle Francais / M / 9 Zandor Z x Kannan
ALBERTO SANCHEZ COZAR (ESP), Ricardo Romero: 0/121.818
11 ARIANA: Dutch Warmblood / M / 13 Oklund x Damiro
CONOR SWAIL (IRL), Susan Grange: 4/106.411
12 REVENGE: Swedish Warmblood / G / 13 Quite Easy x Robin Z
SHELLEY FELLERS (USA), Shelley Fellers: 4/108.565
Based in Calgary, Canada, Spruce Meadows is the brainchild of the Southern family who built a Show Jumping complex at the foothills of the Alberta Rocky Mountains. It was in 1976 that the first Spruce Tournaments were held, with annual spectator attendances reaching over 50,000 by the end of the decade. Today, Spruce Meadows boasts one of the greatest outdoor equestrian venues in the world and offers an incredible experience for riders and fans alike. Spruce Meadows focuses on the organization and hosting of show jumping tournaments of unmatched quality for junior, amateur and professional athletes in a manner that reflects basic family values in a clean, green and welcoming environment that celebrates the horse and encourages the breeding and training of quality sport horses and the teaching and development of athletes. For more information on Spruce Meadows, please visit www.sprucemeadows.com.
Photos © Spruce Meadows Media Services. They may only be used in relation to this press release and with photo credit.