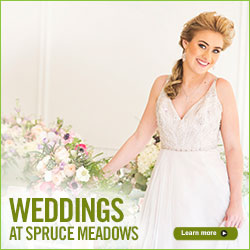 Media Releases
Limited Booth Space is Available!
2014-08-08
Limited Booth Space is Available!
Looking for a great way to get your product into the lucrative Calgary Marketplace? The Spruce Meadows Exhibits Program at the 'Masters' Tournament is the perfect platform! The 'Masters' Tournament, September 10 – 14 is slated to bring over 220,000 spectators to the grounds to enjoy top calibre show jumping competitions, special entertainment and ceremonies, and to explore the plaza and vendor space that will be open during the Tournament.
Limited booth space is available, starting at just $1,250 for five days of the tournament, and includes complimentary parking and admission for exhibitors. Available booth space includes booths for equine-related products in the Equi-Fair portion of the exhibit space (now in its 31st year of operation), special artist booths highlighting artists and their artwork, unique non-equine related products in our Gallery on the Green building and Hockers, as well as vendors in our outdoor space.
Don't miss out on your opportunity to be part of the 'Masters' Tournament! For more information, contact our Exhibits Department via email at exhibit.programs@sprucemeadows.com or phone at 403-974-4263/403-974-4249.