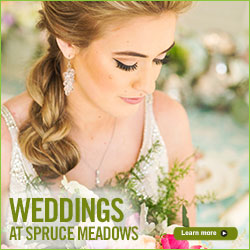 Media Releases
Art is Alive!
2014-08-29
Art is Alive at Spruce Meadows!
Everyone knows that the 'Masters' Tournament at Spruce Meadows plays host to international level show jumping;
where fans can see Olympic and World Champions competing for national pride and high stakes. Discerning
shoppers know that there are many treasures to be found at the Shops at Spruce Meadows during the five days
of the 'Masters'.

One of the true treasures of the 'Masters', is the Art Gallery located in the centre of the Equi-Plex. Visitors will find a wide variety of artwork ranging from glass to bronze, oils to photography in the Gallery. There are many options to accent your walls or rooms! Take some time to peruse – there is sure to be something that speaks to you!

Two mini-galleries, Expressions of Nature and Wild Horses & Wearable Art, are located in the Lower Plaza. One mini-gallery, Diane Williams Art is located in the Upper Plaza near the demo ring. These satellite galleries are a must see during your Spruce Meadows art experience.

The variety of work from these extremely talented, award winning artists is not to be missed.