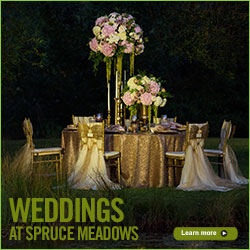 Media Releases
William Whitaker Records First Spruce Meadows Victory in $210,000 Tourmaline Cup 1.60m
2014-09-12
For Immediate Release
Calgary, AB, Canada – September 12, 2014 – Competition continued at the Spruce Meadows 'Masters' with two great competitions for show jumping on the Friday schedule. William Whitaker (GBR) became the fifth rider in the Whitaker family to record a victory at the Spruce Meadows 'Masters' Tournament. He and Upper Class were the fastest of three double clears to win the $210,000 Tourmaline Cup 1.60m. The $125,000 ATCO Electric 'Circuit' Six Bar had a large starting field of 23 entries, and it was Kyle King (USA) on Quigley and Olivier Philippaerts (BEL) with Faustino de Tili who tied in the final round for first place.
The Spruce Meadows 'Masters' runs through Sunday, September 14, with Saturday's $300,000 BMO Nations' Cup and Sunday's $1.5 Million CP International, presented by Rolex – the second leg of the Rolex Grand Slam of Show Jumping – as the feature competitions of the week.
Watch highlights from Friday's competition at the 'Masters'!
The $210,000 Tourmaline Cup 1.60m had 54 entries, and five were clear to advance to the jump-off. The fastest of the three double clears were William Whitaker and Upper Class, a 13-year-old Dutch Warmblood gelding by Concorde x Indoctro owned by Elisan AB, with a time of 46.01 seconds. Marc Houtzager and Sterrehofs Uppity jumped into second place with a clear round and a time of 46.64 seconds. Lauren Hough and Ohlala had another top finish this week with third place in 47.10 seconds.
This is Whitaker's first time competing at Spruce Meadows, and his first victory here. "It's something I've dreamt of as long as I can remember," he expressed. "It's a show that's always been on my bucket list. To come and win a big class like that in my first time here is fantastic."

William Whitaker and Upper Class
Whitaker has been riding Upper Class for three years, having taken over the ride from his girlfriend. "He's a great horse. He's been on really good form this year and won two grands prix. I'm really privileged to have a horse that can come to such an impressive place like Spruce Meadows, and I know I can go to work with him straight away. He's a really good addition to my string."
Going into the jump-off, Whitaker had a plan. "He's quite a naturally quick horse anyway. I knew the areas where I had to take my time and where I could make up a little bit of time," he explained. "It was quite big out there, so I thought not to take too many risks, but I needed to be fast enough to get the pressure on the others."

William Whitaker and Upper Class in their presentation with Mike Rose, Director & Chairman, President & CEO, Tourmaline Oil Corp.
King and Philippaerts Tie for Six Bar Victory
In the largest starting field in memory for the ATCO Electric 'Circuit' Six Bar competition, 23 horses and riders attempted one of the most popular events at the Spruce Meadows 'Masters'. Excelling through five rounds of competition, the final two riders settled for a tie for first place when both had a refusal at the final jump in a row, an imposing vertical standing at 2.14m, which would have been a competition record. To reward the riders who participated, the prize money for the competition was increased by $50,000 to $125,000.

Kyle King and Quigley
Kyle King and Quigley, an 11-year-old Oldenburg gelding by Quidams Rubin x Argentinus owned by Paul Politeski, went first in the final round. Second to go was Olivier Philippaerts and Faustino de Tili, a nine-year-old Belgian Warmblood stallion by Berlin x Darco owned by De Liebri BVBA.
Both King and Philippaerts wanted to give their best for the hardy crowd that stayed to cheer them on during the cold and rainy weather. "He wasn't going to quit, so neither was I," King said.

The two winners pose in front of the final 2.14m vertical.
This was the first six bar for Quigley and only the second that King has done. "My horse is very spooky in general," he revealed. "This is our second year coming to Spruce. He struggles a little bit in the evening with the shadows. I was a little concerned. I thought if I could get through it the first time, the horse has amazing ability, it would be great. I was really happy to spend that amount of time in the International Ring. I think it was very good for my horse."
Philippaerts has ridden Faustino de Tili in two previous six bar competitions in Belgium and jumped 2.14m before but faulted at the fence. "I expected it to be very big at the end. When it comes to 2.14m, you never know what the horse is going to do. He tried very hard the rest of the time," he said.

Olivier Philippaerts and Faustino de Tili
Going for the record was something both riders wanted to accomplish. Philippaerts noted, "I think they were improving every round of jumping. When I jumped it, I was hoping not to jump another round because it got really big. But then he jumped a clear and I said, 'We'll try once more.' It would be nice to break the record, so we gave it a try," he remarked.

Kyle King and Olivier Philippaerts raise the trophy with Sett Policicchio, President Transmission Division, ATCO Electric.
Tomorrow's schedule includes the $125,000 Suncor Winning Round 1.50m followed by the $300,000 BMO Nations' Cup, where eight top teams will vie for winning honors.
Final Results: $210,000 Tourmaline Oil Cup 1.60m
1 UPPERCLASS: Dutch Warmblood / G / 13 Concorde x Indoctro
WILLIAM WHITAKER (GBR), Elisan AB: 0/0/46.01
2 STERREHOFS UPPITY: Dutch Warmblood / G / 13 Guidam x Epilot
MARC HOUTZAGER (NED), Stoeterij Sterrehof: 0/0/46.64
3 OHLALA: Swedish Warmblood / M / 10 Orlando x Cardento
LAUREN HOUGH (USA), The Ohlala Group: 0/0/47.10
4 FIRST CLASS VAN T ECCKELGHEM: Warmblood / G / 9 Balou du Rouet x Fainschnitt
DANIEL DEUßER (GER), Stephex Stables: 0/4/44.28
5 FYLOE VH CLAEYSSENHOF: Belgian Warmblood / G / 9 Burggraaf x Unknown
DANIEL DEUßER (GER), Stephex Stable and Double H Farm: 0/8/47.07
6 HH COPIN VAN DE BROY: Belgian Warmblood / S / 12 Darco x Brown Boy
QUENTIN JUDGE (USA), Double H Farm: 1/87.15
7 CORNADO II: Westphalian / S / 9 Cornet Obolensky x Acobat
CHRISTIAN AHLMANN (GER), Antonius Schulze Aueidiek: 1/87.25
8 MYSELF DE BREVE: Selle Francais / M / 14 Quidam x Grd Veneur
MARIE HECART (FRA, Eurl Top Stallions Compagny: 1/87.40
9 TALOUBET: Dutch Warmblood / G / 14 Baloubet de Rouet x Quidam de Revel
PAULO SANTANA (BRA), Paulo Sergio Mateo Santana, Filh: 4/83.56
10 BLUE ANGEL: Warmblood / M / 12 Luidam x Ascendent
KENT FARRINGTON (USA), Robin Parsky: 4/84.06
11 CARLITO C: Belgian Warmblood / G / 12 Kannan x Unknown
OLIVIER PHILIPPAERTS (BEL), Frans Jens: 4/84.87
12 CORTEZ: Belgian Warmblood / G / 12 Quick Star x Quito de Baussy
NICOLA PHILIPPAERTS (BEL), Philippaerts & Stal Lenses: 4/85.05
For full ATCO Electric 6-Bar results and more information, please visit www.sprucemeadows.com.
For further information on the Rolex Grand Slam of Show Jumping, please visit www.rolexgrandslam.com.
Based in Calgary, Canada, Spruce Meadows is the creation of the Southern family who built a Show Jumping complex at the foothills of the Alberta Rocky Mountains. It was in 1976 that the first Spruce Tournaments were held, with annual spectator attendances reaching over 50,000 by the end of the decade. Today, Spruce Meadows boasts one of the greatest outdoor equestrian venues in the world and offers an incredible experience for riders and fans alike. Spruce Meadows focuses on the organization and hosting of show jumping tournaments of unmatched quality for junior, amateur and professional athletes in a manner that reflects basic family values in a clean, green and welcoming environment that celebrates the horse and encourages the breeding and training of quality sport horses and the teaching and development of athletes. For more information on Spruce Meadows, please visit www.sprucemeadows.com.

Photos © Spruce Meadows Media Services. They may only be used in relation to this press release and with photo credit.