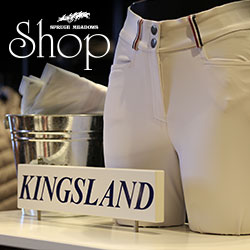 Media Releases
Horses Jump and Take Flight to New Homes
2014-09-15
For Immediate Release
After a summer of residing at Spruce Meadows, the twenty model horses that make up the herd for the "Horses Jump to Give a Leg Up" program will now disperse to their new homes.
Introduced to the public during Spruce Meadows Media Day in June, the distinctively designed horses have drawn the attention of hundreds of bids in a multi week on line auction that concluded during the Spruce Meadows 'Masters'.
In partnership with the Calgary Sun and Conoco Phillips, Spruce Meadows created this initiative to assist select Calgary and area charities and non-profit groups with their ongoing community objectives. The goal was to raise $100,000.
When the auction closed during the final weekend of the Spruce Meadows outdoor season a total of $138,300 had been raised to distribute to a host of charities active in the community. The on line auction attracted bids from across Canada with an average price of just over $2,100. The highest bid was $6,000, with proceeds going to CanLearn Society.
"I am continually amazed with our community spirit and desire to give back," said Spruce Meadows president, Linda Southern Heathcott. "There is no better example than that of the organizations that participated in this program, those that bid on these spectacular works of art and our partners, that recognized the need to help these organizations that do such great great work in our community."
Throughout their time grazing at Spruce Meadows the horses were featured in literally thousands of photographs taken by both media and visitors to the grounds. The horses will be departing Spruce Meadows in the next few days to their new pastures with Pegasus themed horse, created by Opening Gates Therapeutic Riding Society taking flight to live in southern Ontario.
Based in Calgary, Canada, Spruce Meadows is the creation of the Southern family who built a Show Jumping complex at the foothills of the Alberta Rocky Mountains. It was in 1976 that the first Spruce Tournaments were held, with annual spectator attendances reaching over 50,000 by the end of the decade. Today, Spruce Meadows boasts one of the greatest outdoor equestrian venues in the world and offers an incredible experience for riders and fans alike. Spruce Meadows focuses on the organization and hosting of show jumping tournaments of unmatched quality for junior, amateur and professional athletes in a manner that reflects basic family values in a clean, green and welcoming environment that celebrates the horse and encourages the breeding and training of quality sport horses and the teaching and development of athletes. For more information on Spruce Meadows, please visit www.sprucemeadows.com.
For more information, please contact Spruce Meadows Senior Vice President, Ian Allison at (403) 540-5522.

Photos © Spruce Meadows Media Services. They may only be used in relation to this press release and with photo credit.