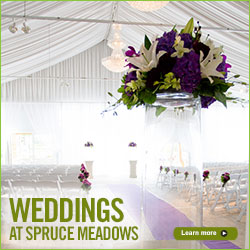 Media Releases
UPDATE - Oktoberfest Tournaments I & II
2014-10-07
Oktoberfest Tournaments I & II - Update
Thank you to everyone who has entered the Oktoberfest Tournaments at Spruce Meadows.
Spruce Meadows is thrilled with the number of entries received from athletes wishing to attend the Oktoberfest I Tournament, October 15 – 19 & Oktoberfest II Tournament, October 22 – 26. Based on the nominations received, and in an effort to offer you the best possible tournaments, the Spruce Meadows team has reworked the schedule and is now offering a full day of competition on Wednesday, October 15.
The scheduling changes will primarily affect those nominated in the 0.70m, 0.80m and 1.0m divisions. Please note that nominations and starts for competitions on Wednesday, October 15 are due by 4 pm on Tuesday, October 14, and nominations for the rest of the week may be changed up to 4 pm on Wednesday, October 15, as per the Prize List.
The Spruce Meadows team understands that these scheduling changes may affect your ability to participate in the Oktoberfest I Tournament. Our efforts have been focused on ensuring that all competitions will be held in the Equi-Plex under this schedule.
Spruce Meadows continues to be committed to providing you with the best show jumping experience possible and we look forward to welcoming you in October for our last tournaments of the 2014 season. If you have any questions, please do not hesitate to contact Linda Southern-Heathcott via email at linda.heathcott@sprucemeadows.com or phone at 403.974.4216.