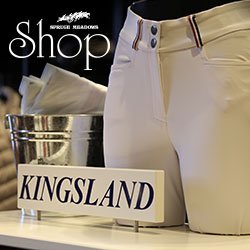 Media Releases
Gypsy Vanners Have Arrived!
2014-10-24
The Gypsy Vanners Have Arrived!
Team Spruce Meadows is proud to announce the arrival of two new recruits – Lioness, a 15 year old mare and Tully, a 9 year old gelding – both of which are beautiful Gypsy Vanner horses.
You may recognize Tully as he competed at Spruce Meadows in the TELUS Battle of the Breeds at the 2014 'Masters' Tournament during which he and his team of fellow Gypsy Vanner horses won 'Fan Favourite.' The Gypsy Vanner horses were such incredible competitors, and beautiful horses, that Spruce Meadows President & CEO, Linda Southern-Heathcott thought they would be the perfect addition to the Spruce Meadows Equine Team.
The Gypsy Vanner horses were originally bred by the Romani of Great Britain to pull the waggons in which they lived and travelled. The horses were often sold or traded numerous times in their lives, and the parentage of most of the Gypsy Horses horses was passed along only by spoken word, with only recent written records available for most. The Gypsy Vanner breed was only recently recognized in North America, with the name coined by Dennis Thompson who first imported them to the United States in 1997.
Lioness, a beautiful mare, born on January 1, 1999, was hand-picked from a herd of over 100 horses at Clononeen Farm in the United Kingdom. She arrived in Canada in 2008, and her partner, Tully, also originally from Clononeen farm, arrived in Canada in 2009. They were trained and raised by the dedicated team at North Fork Gypsy Cobs, and under their careful training, the pair have become a tremendous driving team.
We are so excited to welcome these beautiful horses to the Spruce Meadows family. They will be making appearances throughout the grounds, and will be available for visits in the stables. Please stay tuned for locations and times that you can come and visit Lioness and Tully.
And if that weren't exciting enough, Lioness is in foal, and is due to have her foal in May 2015. We have been told that few things in life are cuter than a Gypsy Vanner foal, so we cannot wait to meet the little colt or filly!
Follow us on our website, Facebook, Twitter, Pinterest and Instagram for updates and all of the most up-to-date information on our newest recruits!