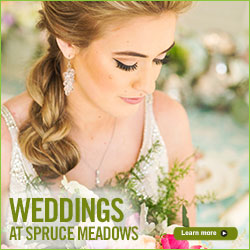 Media Releases
Canada's Premier Christmas Market
2014-12-16
Experience Canada's Premier International Christmas Market!
The 14th Annual Spruce Meadows International Christmas Market presented by TELUS is just around the corner! The 3 weekend Market will run November 14 – 16, November 21 – 23 and November 28 – 30 this year.
Five indoor halls and an outdoor courtyard provide space for over 250 vendors showcasing diverse and unique wares from around the world and right here in Alberta. A perfect place to find that special gift for friends and family this Christmas; the Spruce Meadows International Christmas Market has so much to offer. You will be tempted with a wonderful array of merchandise from renowned artists, craftsmen and international vendors, as well as one-of-a-kind home decorations, jewelry, art, clothing, seasonal cuisine and much more.
A feast of sights, sounds and smells awaits visitors. Carollers fill the crisp air with seasonal songs; roasted chestnuts, steaming mugs of hot chocolate; cider and mulled wine tantalize the senses with the rich, spicy smells and tastes of Christmas. Thousands of strands of lights festoon the trees and buildings adding festive colour to a magical place. Entertainment can be found throughout the Market: Dancers and singers perform on the Main stage in the Equi-Plex, roaming carollers delight with favourite tunes. New 'International' Entertainment this year includes a smashing Yeti band located in Candy Cane Lane and the Miniature band of the Grenadier Guards performing in the Riding Hall – they are guaranteed to delight and amaze!
The Spruce Meadows International Christmas Market presented by TELUS is a regular stop for Santa's Reindeer. Stop by Reindeer Alley to see them in their stalls or outside in the Riding Hall Circle. There is a petting farm in Reindeer Alley giving the children or the 'Child at Heart' an opportunity to interact with piglets, lambs and bunnies.
Tickets can be purchased online or at the gate. There is complimentary parking and for those who prefer to leave the car at home and sit back and let someone else do the driving, complimentary Red Arrow buses run from the Somerset/Bridlewood LRT daily throughout the Market - check the schedule on the website
So much to experience – and it is all yours to enjoy at the Spruce Meadows International Christmas Market presented by TELUS!