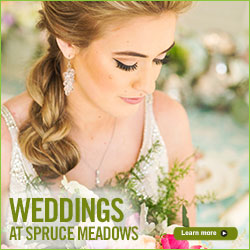 Media Releases
Playground Relocation
2014-11-03
The Real Canadian Superstore Playground
2015 will be a very special year for Spruce Meadows. It marks the 40th Anniversary for Spruce Meadows, and the entire team is excited to celebrate this important milestone.
Part of this celebration is the redevelopment of the Plaza Terraces, which are located in the heart of Spruce Meadows – opposite the International Ring and behind the All Canada Ring where the Terraces formerly existed.
Construction has already started on this project, and will continue into 2015. Some of the familiar mainstays of Spruce Meadows which existed in the Terraces, have now been relocated to other locations on the property. The Real Canadian Superstore Playground, which is available 365 days per year, has been relocated to the area by Lot 4, across the parking lot from the pond. This new location as outlined on the map below, will be the new, permanent home of the Playground, so please head to the new location if you are looking to enjoy the Playground.
Please stay tuned for more updates on the progress of the Plaza redevelopment. We look forward to welcoming you in 2015, and celebrating the 40th Anniversary with all of us at Spruce Meadows.
If you have any questions on this Media Release, or any other questions, please visit www.sprucemeadows.com, email us at information@sprucemeadows.com or call us at 403.974.4200.