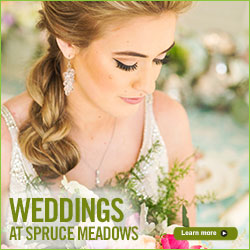 Media Releases
Christmas Lights at Spruce Meadows
2014-12-05
For Immediate Release:
(SPRUCE MEADOWS, Calgary, AB): Beginning this evening, December 5th 2014, Spruce Meadows invites you and your family to enjoy the festive season with Christmas Lights at Spruce Meadows, presented by Scotiabank, Bennett Jones, ATCO Group and AKITA Drilling Ltd. The lights are scheduled to be on each evening from 5:00 to 10:00pm and will be running until January 4th, 2015.
Through the generous support of our corporate partners, Christmas Lights at Spruce Meadows is complimentary, for everyone to enjoy! From the warmth of your car, drive our 2km signed route complete with nearly 75km of colorful Christmas lights and festive snow globe displays. If you prefer, you can also walk the route, and enjoy the beautiful colours up close. Fill your hearts with festive cheer as the sights and sounds of the holidays transport you to a magical winter wonderland.
Keeping with tradition of the season, Spruce Meadows offers one of the best outdoor skating rinks in Calgary. For a romantic evening, park in lot 4 and surprise your sweetie with a dreamy skate under the moonlight. Or, bring your buddies, skates and sticks, for a good ol' game of Shinny. Bon Fire pits are set around the rink to warm spirits and even the rosiest of cheeks
After an amazing season of top sport in show jumping and a successful International Christmas Market, presented by TELUS, Spruce Meadows is delighted to begin December by presenting this annual holiday masterpiece with fun and games for all!
Merry Christmas and Happy Holidays, from all of us at Spruce Meadows.
---
For a complete tournament schedule, visit the Spruce Meadows website at www.sprucemeadows.com.