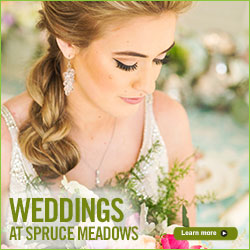 Media Releases
Spruce Meadows Shop
2014-12-17
Spruce Meadows Shop – Online Orders & Holiday Hours
Please note that today, December 17th, 2014 is the last day to place orders on our online store, if you would like them shipped in 2014. Any orders that are placed between December 18th, 2014 and January 12th, 2015 will be shipped on January 13th, 2015. Please note that this does not apply to the Tournament Packages – they will be available right up until December 24, 2014 and will be immediately available for download once they are purchased.
For a full summary of our Tournament Packages, please click: http://shop.sprucemeadows.com/shop/product-category/tournament-packages/. For all other items on our online store, please click: http://shop.sprucemeadows.com/shop/.
The Spruce Meadows Tack Shop will be open until December 23rd, 2014, and will then be closed until January 5th, 2015, so please be sure to visit us either before the 23rd of December, or after the 5th of January.
Thank you so much – if you have any questions, or if you would like any additional information, please do not hesitate to contact us at 403.974.4200.
Wishing you and yours a very Merry Christmas, from all of the staff at Spruce Meadows.