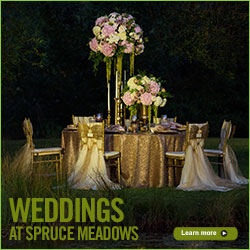 Media Releases
40th Anniversay Commemorative Poster
2015-02-02
For Immediate Release
Calgary, AB, Canada – Monday, February 02, 2015 - For the first time in 40 years, Spruce Meadows invites fans, artists and horse lovers from throughout Canada, to help celebrate 40 years of excellence in the sport of Show Jumping.
Since 1975, when Spruce Meadows officially opened, fans, athletes, media and corporate partners from across Canada and around the world have contributed in countless ways to a truly one of a kind experience - the Spruce Meadows experience. Whether you're the ultimate equine enthusiast or just enjoy a walk around the grounds, for many people, Spruce Meadows is a very special place.
This year, we invite those who have loved and supported Spruce Meadows throughout all or part of the past 4 decades, to share their very own Spruce Meadows visual story in the form of a commemorative 40th Anniversary Poster.
You are invited to let your creative juices flow, and submit your vision for a Spruce Meadows 40th Anniversary image. The poster designs may be of any medium (photography, drawing, painting, sculpture etc.)
Invitations for submissions began January, 30th 2015 at 9:00AM. The set deadline for creative submissions is March 20th, 2015 at 11:59:59PM (MST). Once the creative has been submitted, the selected piece will not only be chosen to represent the commemorative 40th anniversary poster and adorn other possible Spruce Meadows publications and initiatives; but its creator will also receive a $5,000.00 cash reward and four complimentary weekend passes to the Spruce Meadows 'National' Tournament - June 3-7th 2015. Five runners-up will also be awarded with two complimentary weekend passes to the 'National' Tournament.
Spruce Meadows invites you to be a part of our 40th anniversary celebrations, please visit our website, at www.sprucemeadows.com/poster.jsp for Rules and Regulations, and to download the entry form. Please be sure to read the rules and regulations carefully for important submission information and specifications.
We look forward to receiving your creative submissions celebrating 40 years of excellence!
---