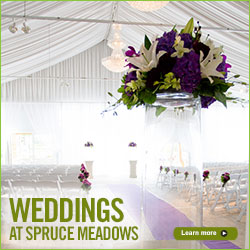 Media Releases
North America's Sweetheart
2015-02-19
Spruce Meadows – NORTH AMERICA'S SWEETHEART
(SPRUCE MEADOWS, Calgary, Alberta) Has once again been recognized by The North American Riders Group (NARG), as the #1 facility in the sport of Show Jumping, across the continent! This prestigious award has recognized each of Spruce Meadows' FEI tournaments, the 'National', 'Continental', 'Canada One', 'North American', 'Pan American' and 'Masters' as all of the leading North American events in our sport. This 2014 NARG recognition, marks the 5th consecutive year that Spruce Meadows has been awarded with this distinction.
The North American Riders Group is a board of high performance athletes and owners representing Canada, the United States and México. The board is a collective known for its years of experience in the sport of show jumping and its commitment to quality and high standards in sport. The NARG Top 25 has become a benchmark assessment, implementing an important and credible standard to approximately 1300 North American show jumping tournaments that are eligible for evaluation.
The NARG Top 25 evaluation matrix is divided into specified criteria including: footing in the competition rings, prize money, stabling, atmosphere, hospitality, attendance, course design, technical infrastructure, media facilities and coverage.
"Now in our 40th anniversary season, Spruce Meadows has endeavoured to offer high performance sport in North America," says President, Linda Southern Heathcott.
"When hosting international tournaments, gaining long-term confidence and trust requires tremendous amount of hard work and execution. Each year Spruce Meadows invests into each of its stakeholder's experiences– the athletes, the corporate, the fans and the media – and does its utmost to enhance the entire experience at Spruce Meadows.
"Spruce Meadows takes this award, the NARG critique and suggestions for improvement, very seriously."Southern-Heathcott continues. "Since 1975 Spruce Meadows has been committed to a standard of excellence with more than just words. It is important for us to continue to improve each year to provide athletes from around the globe the chance to experience the very best of sport, for top prize money and important FEI World Ranking points, all in a quality and distinctive environment.
"Spruce Meadows would like to thank our corporate supporters, the athletes, volunteers, our fans and the media. Your continued support is both a source of incentive, inspiration and obligation for our future. For it is each of you, in a variety of ways that have built Spruce Meadows and we once again dedicate this award to you."