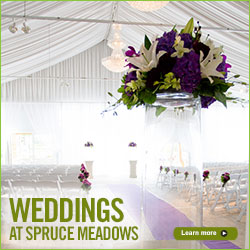 Media Releases
Winter Farewell Tournament
2015-03-05
This morning marks opening day of the 'Winter Farewell' Tournament at Spruce Meadows. This four day series will test hundreds of Horse/Rider combinations over levels ranging from 0.70m to 1.40m.
The weekend weather looks to be promising and there's no better way to spend it than enjoying the beautiful sights and delights of Spruce Meadows. The 'Winter Farewell' Tournament is an event hosted within our indoor competition stadium, the Equi-Plex.
A delicious hot lunch buffet will be available in the Equi-Plex Friday, Saturday and Sunday from 11:00am to 2:00pm. The menu features, Mojo Chicken with bacon Mac and Cheese and fresh vegetables, Salisbury Steak with buttered veggies and mashed potatoes on Saturday, finishing Sunday with Swedish Chicken Meatballs or Bison Perogies with stir fried vegetables and rice pilaf.
Saturday of the 'Winter Farewell,' be sure to stop by the Spruce Meadows Shop for our Customer Appreciation Day and Spring Fashions debut! Located in the Riding Hall, the Spruce Meadows Shop will be hosting Information Sessions from 9:00am to 11:00am from our valued representatives, including helmet measurements and fittings from Diana Whitaker of Charles Owen, and an information station on 'How to maintain healthy hooves' by Kevin Bacon's Horse Care representative Andrew Carruthers. We are also excited to welcome Sara Vosburgh of Asmar who will be assisting with products and fittings, as well as a representative from Back on Track who will be on hand to discuss their full line of products. Enter your name into our Shop Member Rewards program and be entered for our fantastics Customer Appreciation day giveaways!
If you're unable to join us in person for the 'Winter Farewell' Tournament, be sure to visit www.SpruceMeadows.com for our Online Shop, Live Webcam and Results page, Event Calendars and upcoming tournaments like next weeks' 'Spring Welcome' Tournament!