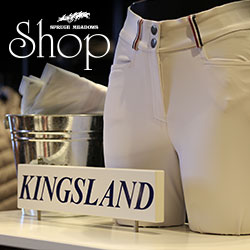 Media Releases
The 'Spring Welcome' Tournament
2015-03-13
Its official, we've rolled our clocks ahead to welcome an early morning sun, a true sign that Spring has finally arrived; and with it, welcomes The Spruce Meadows 'Spring Welcome' Tournament.
Last week at Spruce Meadows, we bid farewell to winter, with what ended up being four days of fantastic sport. For our second March tournament, we warmly welcome spring to the Equi-Plex for another great week of Sport, Commerce and Friendship!
Tulips are in full bloom in the Equi-Plex, Stunning Spring Fashions have arrived to the Spruce Meadows Shop and the Lunch Buffet is sure to be delicious, offered Friday, Saturday and Sunday of the 'Spring Welcome' Tournament.
The Hot Lunch Buffet, served by Great Events Catering, will offer an appetizing selection, including, Shepards Pie with Greek Salad and Rolls on Friday, Schnitzel Parmagiana with Mashed Potatoes and Fresh Vegetables on Saturday and finishing with Mushroom Chicken with Rice Pilaf and vegetables on Sunday.
Join us this weekend at Spruce Meadows, to enjoy the sunshine, the song birds and of course the beautiful horses, jumping March 12 – 15th in the Equi-Plex for the 'Spring Welcome' Tournament. Visit www.sprucemeadows.com for more information including Grounds Maps and Tournament Schedules.