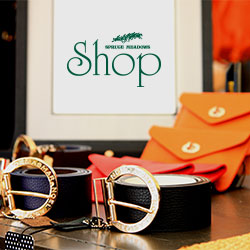 Media Releases
Spruce Meadows Celebrates 40 years!
2015-04-01
Calgary, AB, Canada – Wednesday, April 01, 2015–From very modest beginnings in April of 1975, Spruce Meadows today officially launched its 40th Anniversary season with a day long program that encompassed the past, present and future. An invited audience of nearly 1000 guests celebrated the remarkable Spruce Meadows Story that has been authored over the last 40 years at the world famous show Jumping facility just outside of Calgary, Alberta. Guests in attendance included representation from all of the founding constituents that have been vitally important in Spruce Meadows becoming a globally recognized icon in international sport. Those constituents included corporate partners, media, officials, volunteers, and athletes, many of whom traveled great distances to celebrate the occasion designed to pay special tribute to Spruce Meadows Founders, Ron and Marg Southern.
The Spruce Meadows 40th Anniversary project team designed and executed the event as a surprise celebration for the Founders, with a special focus on what has happened, against all odds, on this 550 acre former cattle feedlot.
"It has been an amazing day for us here at Spruce Meadows," said Spruce Meadows President Linda Southern Heathcott. "The horse is really what has made all of this possible. The horse spans all cultures, all walks of life, and brings people together like nothing else. When Spruce Meadows first started I think my parents recognized that while the horse was no longer used, as it was in former times, for agricultural and military purposes, it still had a place in our lives. That has certainly been proved out over the last 40 years here at Spruce Meadows. Today was really rather emotional for all of us to realize not only what has happened, but also who has made it happen."
Since Spruce Meadows opened, athletes from 57 nations have competed before nearly 10 million fans. Through the decades those athletes have been awarded more than $110 million in prize money made available through the commitment and support of its corporate partners, many of which have been involved with Spruce Meadows since 1975.
Spruce Meadows recognized from the start that in order for the venue to be more than a regional entity television would play an important role. Indeed it has since the very beginning. Starting with 12 minutes of television from the first Spruce Meadows tournament in June of 1976, today more than 130 hours of production is distributed around the world.
Spruce Meadows, and its long time domestic and host broadcast partner CBC Sports, used today to announce the continuation of their decades long partnership. "Having worked with the professionals at CBC Sports for more that 2 decades, we could not be happier. We are proud to be able to continue our relationship and bring our viewers across Canada and around the world the very best in championship show jumping," said Ian Allison, Senior Vice President of Television and Media for Spruce Meadows. "For more than twenty years CBC Sports has set the standard for the production and presentation of this sport for the entire world. We look forward to continuing to work together with creative and innovative ideas for the horse sports."
"CBC Sports is proud of our long-standing relationship with Spruce Meadows and the equestrian community in Canada and around the world," said Jeffrey Orridge, Executive Director, CBC Sports Properties. "We relish our role as storytellers of the elite caliber equestrian events and championships that happen at Spruce Meadows and look forward to continuing to connect Canadians and international fans with the coverage."
Spruce Meadows has a full slate of 40th Anniversary initiatives that it will be announcing over the next few weeks in advance if the 2015 season of international sport.
---