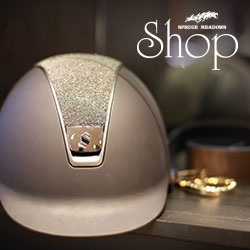 Media Releases
Spruce Meadows Run Series: Charity Profile #RunSM
2015-04-13

"THEY NEED TO PLAY, THEY NEED TO WORK, AND THEY NEED SOME LOVE!" – Diane Allard

Meet Diane Allard and her support dog Zircon, the four year old golden lab from Alberta Guide Dogs. The pair was united two years ago when Zircon was assigned to Diane as her canine service dog for her hearing and visual condition called Usher syndrome. Based on their personalities and activity level, Zircon and Diane were a perfect match and have enjoyed every day together since then.

Losing the majority of her eye sight 16 years ago, Diane has not been slowed down by any obstacles in her life. She is the secretary of a book club, is on the champion committee with the CNIB, and volunteers every week at a nursing home. She is also an advocate speaker for Alberta Guide Dogs where she helps with fundraising and auction events.

Zircon assists Diane with her daily routine including trips to the gym, grocery store and of course the dog park. Diane praises Zircon for his affection, dedication and intelligence. When at the gym, Diane remarks that "Zircon knows where the washroom is and he knows where the locker room is. We don't always go to the same locker, but when he brings me back it is to the same locker every time! It's pretty cool".

Alberta Guide Dogs offer adult and youth training programs, helping place guide dogs with clients as early as age 13. Trish Lund, Manager, Development and Communications for Alberta Guide Dogs said, "Our goal is to have 220 working dogs graduate in BC and Alberta by the year 2020. Right now we have graduated 109 guide dogs and 32 Autism Support Dogs."

Alberta Guide Dogs is working with a full wait list where it could take a couple of years to receive a service dog. "I remember waiting 9 months for my dog" said Diane, "9 months isn't long time for most people, some people wait years, and I thought 9 months was tough."

However, Trish is happy to report that the breeding program is thriving! It takes two years from when a puppy is born, raised and trained to be ready to be placed with a client. The intensive process takes time, but Alberta Guide Dogs continues to build their capacity to get more puppies in training.

"Zircon is perfect for me. He is better than chocolate! And I love chocolate." – Diane Allard

The Spruce Meadows Pawsitively Fun Run on June 21 at 9:00AM is partnering with and supporting Alberta Guide Dogs. Register to walk or run in the 2K/5K event to show your support! For fundraising and donation information visit,
www.sprucemeadows.com/runseries
#SpruceMeadows #RunSM #DogJog #Run

Alberta Guide Dogs – a division of BC Guide Dogs – provides professionally trained Guide Dogs to individuals who are blind/visually-impaired, and Autism Support Dogs to children (ages 4-10) and their families living with moderate to severe autism. Alberta Guide Dogs relies on the generosity of donors and volunteers to provide dogs to recipients free of charge. It takes two years and costs up to $35,000 to breed, raise and train one dog, including free follow-up care and training throughout the dog's working career. You can make a difference. You can help someone who is blind or visually impaired, or the family of a child with autism, increase their safety, regain their independence and improve their sense of well being and belonging. Support Alberta Guide Dogs today and make a visible difference in someone's life tomorrow!