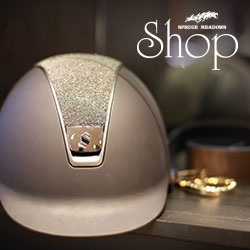 Media Releases
Spruce Meadows Spotlight
2015-04-28
Spruce Meadows Spotlight
PUREFORM Supplements – 'Performance One'
Spruce Meadows is proud to be carrying the Canadian product line of PUREFORM Equine Health Supplements.
PUREFORM supplements, created by Science Pure Nutraceuticals Inc., offers a wide variety of supplements catered specifically to Joint Aids, Trauma, Digestive, Performance and All-in-One Concentrates.
'Performance One,' sold in store at the Spruce Meadows Shop, is one of the fantastic All-In-One formulas offered by PUREFORM. This formula, developed for performance horses, delivers a power-packed combination of Glucosamine, MSM and Creatine along with essential amino acids, anti-oxidants and complete vitamin, trace mineral and electrolytes.
The 'Performance One' supplement is found to be palatable to19 out of 20 horses and is an effective drug-free approach to optimal health during intense competition and travel.
When Canadian Olympic Show Jumper, and PUREFORM brand Ambassador Jill Henselwood, was asked, "How has the PUREFORM Supplements changed your show jumping horses?"she stated that "PUREFORM supplements did not change the horse's disposition (some people think that the supplements will make the horses wild). The benefits are seen in the support of their fitness, longevity, suppleness and ability to compete well in show jumping all season long."
This product is ideal for the true sporting equine that relies on speed, stamina, recovery and mental focus.PUREFORM as a Canadian-owned, western-based manufacturer is dedicated to setting new standards in the development of safe alternative nutraceuticals since 1998. Their products are producing results by offering fundamental nutritional supplements along with advanced pharmaceutical grade nutraceuticals.
We encourage you to try out the PUREFORM line, and notice an exceptional difference in your horse. If you already use the PUREFORM Equine Supplements, you'll love the PUREFORM 'Best In Show Enhanced,' an all-in-one pet formula for Dogs and Cats! Find it today in store at the Spruce Meadows Shop.