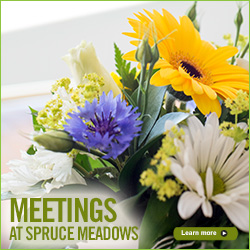 Media Releases
The May Classic II Tournament
2015-05-08
The Spruce Meadows May Classic series continues this morning with action happening not only on the Main Sand Ring located conveniently at Time Faults Pub, but the buzz and excitement has been around the debut of our stunning, newly built Orchard Ring!
Join us this weekend at the 'May Classic II' Tournament and enjoy fantastic sport, enticing shops and delicious pub fare, available each day of the May Classic Series. Visit SpruceMeadows.com for more information on tournament schedules, orders of go and live results.
Don't forget to visit us at the Spruce Meadows Shops – the Main Location, in the historic Riding Hall, will be open all weekend, as will the Tack Shop in Paddock Park (located across from the Pub). Each location features different products, including a great array of tack, featuring a brand new shipment of Dy'on, riding apparel, including a new collection from Animo, Kingsland, Asmar, Struck breeches and more! And Moms – be sure to stop by either location on Mother's Day as we celebrate you with a little giveaway, courtesy of the Spruce Meadows Shops (while quantities last).
Fitting with a beautiful spring and the celebration of Mother's Day, we at Spruce Meadows are overjoyed to welcome the births of the three foals associated with this year's Name the Foal, Presented by TELUS! Keep an eye out for these cuties frolicking in the pastures and clinging close to Mom this tournament season at Spruce Meadows! Follow us on your favorite socials to catch all the fun updates of these adorable three. Stay tuned!
The Orchard Ring

Introducing Foals 1(C), 2(L) and 3(N) of this years Name the Foal, presented by TELUS!