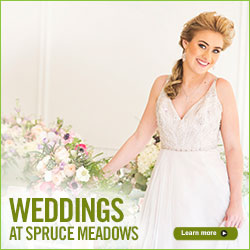 Media Releases
Spruce Meadows Run Series Partners!
2015-05-13


The Spruce Meadows Run Series presented by JLT & Cunningham Lindsey
Celebrating 40 years of excellence, Spruce Meadows is proud to announce our title corporates for the
Spruce Meadows Run Series; JLT & Cunningham Lindsey.
Join us throughout 2015 and lace up for one or all six charity runs. Choose your cause and your distance, and #RunSM!
www.jltcanada.com
One of the world's largest providers of insurance, reinsurance and employee benefits related advice, brokerage and associated services
Driven by a "Client First" approach
Values transparency, communication and collaboration

www.cunninghamlindsey.com
One of the world's largest loss adjusting and claim management companies
Handle domestic and commercial loss adjusting
Take care of catastrophe or major loss claims and management assistance on a global basis
Supporting Partners of the
Spruce Meadows Run Series, presented by JLT & Cunningham Lindsey

Pet Planet
RE/MAX
Flagworks
Great Events Group
Pepsi
Running Room
Blitz Events
Up! 97.7

Register for the "40Km for 40 Years" challenge! A four-part race promotion offering 10km chip-timed races exploring pathways of greenery, rolling foothills and pastures of Spruce Meadows. Spruce Meadows invites competitive road racers, trail runners and new run enthusiasts to test their skills against the clock. CLICK HERE to learn more.



SUNDAY JUNE 21 @ 9:00am
PAWSITIVELY FUN RUN (2K/5K untimed)
supporting ALBERTA GUIDE DOGS
Celebrate the first day of summer with our début running event of the year. The Pawsitively Fun Run invites your whole family including that beloved canine of course! This untimed 2km /5km Father's Day dog jog will be a morning full of wagging tails and smiling faces.

WEDNESDAY JULY 1 @ 8:00am
HEROES BEHIND THE HEROES RUN (2K/5K/10K chip-timed)
supporting MILITARY FAMILIES FUND
The best place to celebrate Canada Day is at Spruce Meadows! Bring the whole family to participate in our first chip-timed race of the Run Series which offers a thrilling 5km race with obstacles. For the more competitive runners, the 10km timed road race without obstacles serves as the first leg of our Spruce Meadows "40Km for 40 Years" challenge. For all ages, a 2km walk option is also available.

SUNDAY AUGUST 16 @ 9:00am
RUN THROUGH THE MEADOWS (5K/10K chip-timed)
supporting ALBERTA FIRE FIGHTERS' BURN CAMP
Take a "Run through the Meadows" and enjoy the beautiful month of August on the paths and trails of Spruce Meadows. Run under the sun, past the flowers and through the green vibrant meadows on the 5km/10km race courses, both chip-timed. The 10km course serves as the second leg of the "40Km for 40 Years" challenge.



SUNDAY SEPTEMBER 6 @ 9:00am
SUMMER'S GONE, RUN ON! (5K/10K chip-timed)
supporting KIDSPORT CALGARY
It's that time of year again, where we say goodbye to the summer holidays and hello to back to school, falling leaves and of course, the Spruce Meadows 'Masters' Tournament. Enjoy the outdoors and last weekend of summer holidays with your friends and family. Walk or run the 5km race, or continue the third leg of the "40Km for 40 Years" challenge by registering for the 10km race.

SATURDAY OCTOBER 3 @ 1:00pm
OKTOBERFEST RUN (5K/10K chip-timed)
supporting CALGARY FOOD BANK
Strap on those Lederhosen and pick up that Stein, nothing sets the mood for autumn like a jolly Oktoberfest Run! This timed 5km run/walk, and competitive 10km run, is our final leg of the Spruce Meadows "40Km for 40 Years" challenge. An indoor beer garden, entertainment and festivities await you at the finish line!



FRIDAY DECEMBER 4 @ 7:00pm
DASHING THROUGH THE GLOW (5K/10K untimed)
supporting SENIORS SECRET SERVICE
The grand finale of the Spruce Meadows Run Series will bring the year to a close with Dashing Through the Glow. Grab your mittens and headlamps, this 2km/5km untimed fun run is at night when Spruce Meadows illuminates the night with our famous winter wonderland and Christmas light displays. An indoor winter celebration with holiday music and hot chocolate are at the finish line! Make Spruce Meadows part of your family's Christmas traditions and register today to be the first to tour through the festive glow.
CLICK HERE FOR REGISTRATION AND DONATION DETAILS
HAVE ANY QUESTIONS? EMAIL TO runseries@sprucemeadows.com