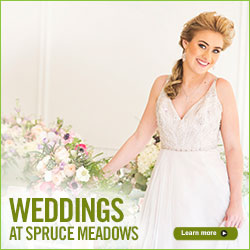 Media Releases
Founders Plaza Dedication
2015-06-02
Founders Plaza Dedication
Celebrating our Founders
This year is the 40th Anniversary at Spruce Meadows and we excitedly celebrated this milestone today with Media Day, and the official start to our Summer Series. Part of the celebration today included the dedication of the newly constructed Founders Plaza, which is located between the All Canada and International Rings.
Founders Plaza is dedicated to Spruce Meadows' founders Marg and Ron Southern, the visionaries behind Spruce Meadows. It is also dedicated to all of the founders who have helped to make Spruce Meadows the special place that it is today, including our corporates, media, fans, athletes and volunteers. Today, we celebrated with the official opening of the Founders Plaza and the dedication of the beautiful life-sized bronze statue of Marg and Ron Southern, which will be placed in the Plaza.
We thank everyone who was able to join us in person, or in spirit, and we look forward to continuing to celebrate 40 years in 2015.