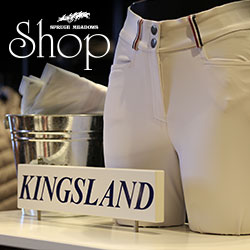 Media Releases
Farrington and Voyeur Excel in $400,000 RBC Grand Prix, Presented by Rolex
2015-06-06
Farrington and Voyeur Excel in $400,000 RBC Grand Prix, Presented by Rolex

Fellers and Colgan Cruise Conquer $60,000 TransCanada Parcours de Chasse

Calgary, AB, Canada – June 6, 2015 – Saturday at Spruce Meadows was packed with excitement and a full house of spectators as two of the highlight events of the 2015 'National' Tournament, presented by Rolex, were held. Continuing a fantastic winning streak, Kent Farrington (USA) raced to victory on top horse Voyeur to win the $400,000 RBC Grand Prix, presented by Rolex. Reed Kessler (USA) finished second with Cylana and Jaime Azcarraga (MEX) placed third aboard Anton. Earlier in the day, Rich Fellers (USA) guided Colgan Cruise to victory in the $60,000 TransCanada Parcours de Chasse.

The 'National' Tournament is the first in five weeks of competition during this year's Summer Series at Spruce Meadows. The week concludes on Sunday with the $210,000 CNOOC Nexen Cup 1.50m Derby.

On Saturday, Italian course designer Uliano Vezzani set the track for the afternoon's feature competition in the $400,000 RBC Grand Prix, presented by Rolex. Twelve out of 50 entries qualified for the jump-off, where fans were on the edge of their seats as many of the world's very best battled it out for a top prize of $132,000. Only five were able to clear the short course without fault as times got faster and faster.
Kent Farrington and Voyeur


Francois Mathy (BEL) was the first competitor to go clear in the jump-off aboard his own and Team Harmony's Polinska des Isles and finished fourth with a time of 46.55 seconds. Jaime Azcarraga jumped next with his family's Anton and earned the third place prize in 44.22 seconds. Reed Kessler upped the speed with her round in 42.69 seconds aboard Kessler Show Stables Cylana, eventually settling for second place. Yann Candele (CAN) and Watermark Group's First Choice 15 then clocked the fifth place time of 47.57 seconds. Last to clear the short course without fault, Kent Farrington notched the winning time of 41.75 seconds with Amalaya Investment's Voyeur.

This win marks Farrington's 24th FEI victory at Spruce Meadows since 2011 and brings his all-time money earnings at the competition to an impressive $1,306,560. The rider has been on a role with Voyeur, a 13-year-old KWPN gelding (Tolano van't Riethof x Goodwill), including their most recent victory in the Longines Global Champions Tour (LGCT) Grand Prix of Hamburg in Germany.

When asked the secret to his success, Farrington simply stated, "The secret is to get really good horses."

"Luckily, I have some great people behind my career," he detailed. "The Nusz family that owns Voyeur have been really supportive of me, and that is why I am able to do it at this level today, because of them and a bunch of other people that have really stepped up to help me get here."

Commenting on his jump-off round, Farrington explained, "I did not see the horse that finished second go. People just told me that it was full speed all the way around. My plan with Voyeur is usually just to match one rhythm and keep him even the whole way. He is a very hot horse, so if you go too hard on him, you will sort of blow his mind a little bit. I would I say I was a more consistent speed throughout the whole course. He has been on form. This is his third big class in a short time, so he is up and running so to speak."
Kent Farrington accepts the winning check from Jeff Boyd,
Regional President, AB and the Territories


When Farrington first got Voyeur almost three years ago, he saw great potential and hoped that the horse would be successful. Voyeur has now turned into his top ride.

"I always have high expectations for the horses that I get. Even when they are young, I try to see their qualities and their best abilities and hope that I can pull it out of them," Farrington said. "It is really more a realization of what I hoped that he could be, but I always thought that he could get there."

Farrington credits jumping at Spruce Meadows as one of the factors that helped Voyeur advance to the top level.

"The jumps here are very big and I think all of the horses, if they can jump a grand prix here, they can jump anything in the world," Farrington acknowledged. "I really think that it helps build a lot of the horses. Especially for a lot of the North American riders that produce horses here, you usually see them go on to do really big things at championships. Horses like Hickstead, and Authentic and Sapphire, they grew up jumping here and I think this field and this jumping really helps bring them to that level."

Second place finisher, Reed Kessler, can attest to the experience that she has gained at Spruce Meadows, especially with her top mount Cylana. The pair finished second in the $1.5 million CP International Grand Prix presented by Rolex at last year's 'Masters' Tournament, and Kessler is thrilled to be back for this year's Summer Series.

"I think I just have the most amazing horse to come here. She loves it here," Kessler stated. "I have the kind of horse that she rises to the occasion when she feels it is really important, so to step through the clock tower and into the International Ring with tens of thousands of fans, that is when she is really at her best. When you jump here and then the pressure is on at any big competition in the world, the horses really learn to step up to the occasion."

Commenting on the jump-off and her final outcome with another second place finish, Kessler admitted, "It is a little frustrating, but I was not too upset because when I came out I really felt like my horse gave me everything and I really gave it everything I had. I think even if I went after Kent I would not have done anything differently. He is an amazing rider and I think everyone in the world would say that he is just about the last person you want to go after you in a grand prix, so I am pretty happy. I think that is one of the fastest jump-offs I have ever ridden."

Jaime Azcarraga returned as the reigning champion of the RBC Grand Prix from 2014 with his mount Anton, but settled for third place this time around.

"The conditions here at Spruce Meadows are always top. I think the horses can really jump at their best when they are in the International Ring," Azcarraga stated. "Anton loves it here too. Last year was the first time that he jumped in the International Ring and when he comes in he is always trying."


Course designer Uliano Vezzani was happy to see many of the top riders in the world excel over his course, and following the competition, Farrington praised Vezzani's efforts.

"I think Uliano is one of the best course designers in the world, if not the best, and that is why he is working all over the world," the rider remarked. "I see him all the time at the LGCT competitions and I think he really has the modern sport down to a science. I thought the grand prix today was excellent. It was intelligently built. It was a great day in Spruce Meadows with beautiful weather and an exciting jump-off."

Fellers Flies to Victory

The $60,000 TransCanada Parcours de Chasse was the first competition to award honors in the International Ring on Saturday with a win for USA's Rich Fellers with Colgan Cruise, a horse he owns in partnership with Harry Chapman.

The Parcours de Chasse is a speed competition in which horse and rider combinations complete a course where faults are converted into time. The course features twisty turns and varied obstacles, including derby-style natural obstacles such as the bank, table top and devil's dyke. One of the final competitors, Fellers and Colgan Cruise were the fastest combination of the day and cleared the course without fault in a time of 86.45 seconds.
Rich Fellers and Colgan Cruise

Sixth to go in the order of 35 entries, Eric Navet (FRA) cleared the course in 87.24 seconds, a time that would hold on for second place aboard Signe Ostby's ASB Conquistador. Leslie Howard (USA) put her experience to good use for the third place prize, clear in 88.80 seconds, with her own and Peter Howard's Lennox Lewis 2.

Fellers had a busy day of riding and also teaching students in other rings and did not get to see any of the competition before he went in the ring. He stuck to his original plan for the course and trusted in the speed and experience of his horse. He has owned Colgan Cruise, a 13-year-old Irish Sport Horse mare (Cruising x Clover Hill), since the horse was five years old.

"I know her so well and I was so busy at the other rings with my junior and amateur students that I did not even watch anyone. I just rode my plan from my course walk," Fellers stated. "My horse is kind of fast on the ground, she is fast in the air, and when she is smooth and she is riding well I know she is going to be right there at the end. I really did not have a beat on where I needed to be, I just felt like I trusted her speed, her instincts and her experience. You can't replace experience."

"She was a winner when we bought her," Fellers noted. "She was third or fourth at the five-year-old world championships for young horses. We bought her after that and she has been a great horse. She did not turn out to be a 1.60m horse, but she has just become a real money machine. In the speed stuff, and the 1.45m, she is very consistent."

Rich Fellers raises the winning trophy with Andrea Jalbert, Vice President Community & Sustainability, TransCanada


Colgan Cruise is by the same stallion as Fellers' longtime champion mount, Flexible, who is still going strong at 19 years of age.

"She is 13 now, which as an Irish horse is still young," Fellers stated. "All I had for years was Irish horses. That is where I bought all my horses. I had a great agent there, Dermot Forde, and I had a lot of luck with the very first Irish horse I bought, McDougal. He won this class in 1998. He was on the trophy and that was the last time I won it. Irish horses are typically very bold, very brave and instinctive about jumping the natural obstacles."

The 'National' Tournament concludes on Sunday featuring the $210,000 CNOOC Nexen Cup 1.50m Derby in the International Ring. The day will also highlight the $40,000 ATCO Structures & Logistics 1.45m.

For a complete tournament schedule and full results, please visit www.sprucemeadows.com.


Final Results: $400,000 RBC Grand Prix, presented by Rolex
1. $132,000 VOYEUR Dutch Warmblood / G / 13 Tolano Van't Riethof x Goodwill
KENT FARRINGTON (USA) WELLINGTON, FL Amalaya Investments: 0/0/41.75

2. $80,000 CYLANA Belgian Warmblood / M / 13 Skippy II x Darco
REED KESSLER (USA) LEXINGTON, KY Kessler Show Stables: 0/0/42.69

3. $60,000 ANTON Warmblood / G / 11 Marlone x Orville
JAIME AZCARRAGA (MEX) MEXICO CITY Jaime Azcarraga & Family: 0/0/44.22

4. $40,000 POLINSKA DES ISLES Selle Francais / M / 12 Diamant de Semilly x Valespoir Malabry
FRANCOIS MATHY (BEL) BELGIUM Team Harmony & Francois Mathy: 0/0/46.55

5. $20,000 FIRST CHOICE 15 Warmblood / G / 12 Unknown x Unknown
YANN CANDELE (CAN) CALEDON, ON Watermark Group: 0/0/47.57

6. $15,000 HH CARLOS Z Zangersheide / G / 13 Chellano Z x Voltaire
MCLAIN WARD (USA) BREWSTER, NY Double H Farm: 0/4/42.46

7. $10,000 TRIPPLE X III Warmblood / S / 13 Namelus R x Catango Z
TIFFANY FOSTER (CAN) SCHOMBERG, ON Artisan Farms, LLC: 0/4/42.48

8. $8,000 DIXSON Belgian Warmblood / G / 12 Vigo D Arsouilles x Olisco
IAN MILLAR (CAN) PERTH, ON Susan & Ariel Grange: 0/4/43.48

9. $7,000 ARMSTRONG VAN DE KAPEL Warmblood / S / 10 Quasimodo Z x Farn
OLIVIER PHILIPPAERTS (BEL) MEEUWEN-GRUITRODE Ludo Philippaerts: 0/4/44.08

10. $6,000 QUINTOL Oldenburg / G / 10 Quintender x Cento
EDUARDO MENEZES (BRA) CARLSBAD, CA Eduardo Menezes: 0/8/46.18

11. $5,000 SIMON Dutch Warmblood / G / 16 Mr Blue x Polydox
BEEZIE MADDEN (USA) CAZENOVIA, NY Abigail Wexner: 0/8/46.86

12. $4,000 JONKHEER Z Zangersheide / S / 13 Jetset D x Skippy II
ERIC NAVET (FRA) ENCINITAS, CA Signe Ostby: 0/12/48.99


Final Results: $60,000 TransCanada Parcours de Chasse

1. COLGAN CRUISE Irish Sport Horse / M / 13 Cruising x Clover Hill
RICH FELLERS (USA) SHERWOOD, OR Chapman & Fellers: 86.449

2. ASB CONQUISTADOR Belgian Warmblood / S / 14 Clinton x Heartbreaker
ERIC NAVET (FRA) ENCINITAS, CA Signe Ostby: 87.235

3. LENNOX LEWIS 2 Oldenburg / G / 16 Loreatus x Weizenkorn
LESLIE HOWARD (USA) DARIEN, CT Peter and Leslie Howard: 88.796

4. CARUSHKA 2 Warmblood / M / 11 Berlin x Continue
EDUARDO MENEZES (BRA) CARLSBAD, CA Eduardo Menezes: 89.503

5. ZANDIGO Warmblood / G / 11 Jumbo Jet x Holland
OLIVIER PHILIPPAERTS (BEL) MEEUWEN-GRUITRODE Ludo Philippaerts: 90.547

6. COSMA 20 Hanoverian / M / 12 Couleur Rubin x Stakkato
ABIGAIL MCARDLE (USA) WELLINGTON, FL David McArdle: 91.211

7. BABEL Warmblood / G / 8 Billy du Lys x High Flyer
PATRICIO PASQUEL (MEX) MEXICO CITY Patricio Pasquel: 91.947

8. MOONDOGGIE Holstein / G / 10 Lord Continuet x South Pacific
LESLIE HOWARD (USA) DARIEN, CT Peter and Leslie Howard: 94.929

9. ZAPRILIA M Dutch Warmblood / S / 11 Chin Chin x Silvio I
RICHARD SPOONER (USA) AGUA DULCE, CA Maxine & Robert Jack: 95.156

10. MELBOURNE Dutch Warmblood / M / 9 Verdi x Zeus
RODRIGO LAMBRE (BRA) MONTERREY Mario Onate: 95.669

11. EMMA Warmblood / M / 10 Thunder van de Zuuthoeve x Glorieux
MCLAIN WARD (USA) BREWSTER, NY McLain Ward: 96.464

12. PROF DE LA ROQUE Selle Francais / G / 8 Kannan x Unknown
NICOLAS PIZARRO SUAREZ (MEX) MEXICO CITY Postage Stamp Farm LLC: 96.790

Based in Calgary, Canada, Spruce Meadows is the creation of the Southern family who built a Show Jumping complex at the foothills of the Alberta Rocky Mountains. It was in 1976 that the first Spruce Tournaments were held, with annual spectator attendances reaching over 50,000 by the end of the decade. Today, Spruce Meadows boasts one of the greatest outdoor equestrian venues in the world and offers an incredible experience for riders and fans alike. Spruce Meadows focuses on the organization and hosting of show jumping tournaments of unmatched quality for junior, amateur and professional athletes in a manner that reflects basic family values in a clean, green and welcoming environment that celebrates the horse and encourages the breeding and training of quality sport horses and the teaching and development of athletes. For more information on Spruce Meadows, please visit www.sprucemeadows.com.

Photos © Spruce Meadows Media Services. They may only be used in relation to this press release and with photo credit.