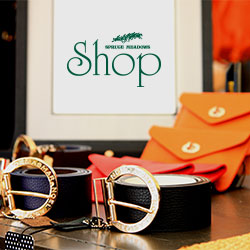 Media Releases
Tiffany Foster and Victor Win $85,000 Husky Energy Classic to Start 'Continental' Tournament at Spruce Meadows
2015-06-11
Calgary, AB, Canada – June 11, 2015 – The 'Continental' Tournament CSI 5* began at Spruce Meadows on Thursday with a big win for Canada's Tiffany Foster and Victor in the $85,000 Husky Energy Classic. Out of 82 competitors, only five were able to go clear over the Anthony D'Ambrosio (USA) designed course in the Meadows on the Green. Margie Engle (USA) and Royce finished second; Brianne Goutal (USA) and Orbetello placed third.

The second week in Spruce Meadows' Summer Series, the 'Continental' Tournament continues through Sunday, June 14. Upcoming highlights include Friday's $126,000 Scotiabank Cup, Saturday's $85,000 Repsol Cup, and Sunday's $400,000 CP Grand Prix.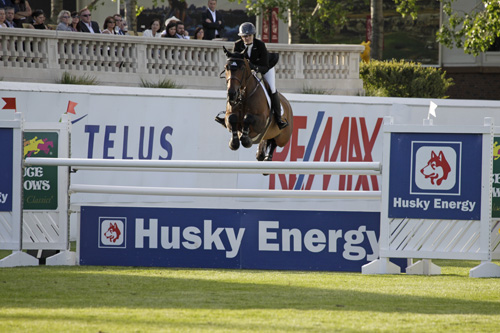 Tiffany Foster of CAN riding Victor

For Thursday's feature event, a challenging course and tight time allowed caused problems for many of the competitors. In addition to the five that made it to the jump-off, six other entries cleared the jumps, but finished on one time fault. A couple of the top horses and riders that made it to the jump-off also had challenges over the short course.

Richard Spooner (USA) was first to jump-off with Chivas Z and ended in fifth place after a fall on course resulted in elimination. Beezie Madden (USA) and Abigail Wexner's Simon had an unfortunate rail at the first jump and placed fourth in 41.99 seconds.

The final three competitors were all clear in round two. Margie Engle clocked in at 38.48 seconds with Elm Rock LLC's Royce, eventually finishing second. Brianne Goutal and Hampton Farms LLC's Orbetello moved up in the order while Victor had a shoe replaced in the warm-up area. Their time of 38.73 seconds took the third place prize. After a slight delay, Tiffany Foster and Victor returned to lay down the winning time of 38.05.

A 13-year-old Dutch Warmblood gelding (Elmshorn x Grandeur) owned in partnership by Torrey Pines Stable & Artisan Farms LLC, Victor had a six-month break from competing over the winter and returned fresh and ready to go this spring. He jumped a few competitions in Europe before coming to Spruce Meadows and has been in excellent form.

"He had a six month break after last summer to refresh and recharge," Foster detailed. "He had been going hard since he was like seven years old, so he got a good break. We were kind of aiming him for this series and he has come out really fresh. Actually, he has been clear in every round he has jumped so far; he has been awesome."

Speaking of the day's competition, Foster noted, "That course was hard. It was a very difficult time allowed. It suited Victor because he is a really quick horse anyway, so you could kind of ride your normal track and still be under the time, but normal horses you were not. If you look at the field in the jump-off, that was mostly grand prix horses in a 1.50m jump-off. That gives you a good indication of how difficult that first round was, but Anthony kind of had to make it tough because it was a big, strong field. One second more on the time allowed would have made it a little easier, but it was fine for me!"

Commenting on her jump-off round, Foster continued, "I lost a shoe and Brianne nicely moved up, so I was able to go last. Victor is a really quick horse, so I did not want to risk too much to the second jump, the vertical, or the double verticals. I probably actually went too slow there and then I had to go fast everywhere else, but it worked out."

Victor will jump again in Friday's $126,000 Scotiabank Cup 1.55m to finish out his competition for the week. He will then return to compete in the last two weeks of the Summer Series.

"He will show a lot here. This is kind of his renaissance," Foster laughed. "It is home turf and he loves it here. We know each other really well. I have had him for a long time and to jump these classes with him is actually a lot of fun."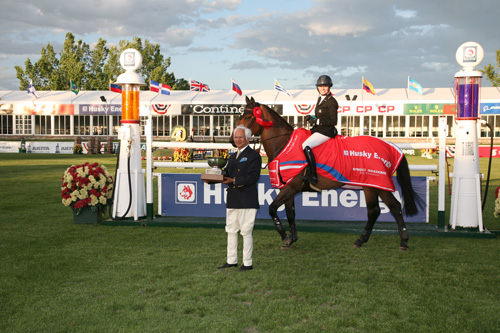 Tiffany Foster and Victor in their winning presentation
with Asim Ghosh, President & CEO, Husky Energy

Also competing in the Meadows on the Green Thursday, Juan Manuel Luzardo (URY) jumped to victory in the $8,000 Wipro Cup 1.45m. A one round speed competition, 51 horse and rider combinations contested the track with 11 clear rounds. Luzardo clocked the fastest clear in 63.08 seconds to earn top prize aboard Mauricio Guerra Colorado's Stan.

Second place went to Antonio Chedraui (MEX) aboard his own Corcega La Silla in 63.17 seconds. Third place honors were awarded to Gonzalo Azcarraga Rivera Torres (MEX) with a time of 64.34 seconds riding Jaime Azcarraga's Quite Nice 5. Nicolas Pizarro Suarez (MEX) rode his own Polasko to fourth place in 64.99 seconds.

The first competition of the day was the $8,000 Friends of the Meadows Cup 1.45m, also held as a speed round, with 52 entries. The winner was Abigail McArdle (USA) aboard David McArdle's Cosma 20. The pair had the fastest of nine clear rounds in 59.77 seconds.

Georgina Bloomberg (USA) finished second in 62.56 seconds riding Gotham Enterprizes LLC's Washington Square. Juan Pablo Gaspar Albanez (MEX) set the early pace in 63.12 seconds with Felipe Gaspar's Puertas So What to eventually finish third. Luis Larrazabal (VEN) was also fast and clear in 63.63 seconds to place fourth riding Gustavo Mirabal's G&C Close Up.

The 'Continental' Tournament continues in the Meadows on the Green on Friday with the $40,000 AltaGas Cup 1.45m followed by the $126,000 Scotiabank Cup 1.55m.

For a complete tournament schedule and full results, please visit www.sprucemeadows.com.

Final Results: $85,000 Husky Energy Classic
1. $28,050 VICTOR Dutch Warmblood / G / 13 Elmshorn x Grandeur
TIFFANY FOSTER (CAN) SCHOMBERG, ON Torrey Pines & Artisan Farms: 0/0/38.05
2. $17,000 ROYCE Oldenburg / S / 11 Cafe au Lait x Grandilot
MARGIE ENGLE (USA) WEST PALM BEACH FL Elm Rock LLC: 0/0/38.48
3. $12,750 ORBETELLO Oldenburg / S / 12 Orlando x Landgraf I
BRIANNE GOUTAL (USA) NEW YORK, NY Hampton Farms LLC: 0/0/38.73
4. $8,500 SIMON Dutch Warmblood / G / 16 Mr Blue x Polydox
BEEZIE MADDEN (USA) CAZENOVIA, NY Abigail Wexner: 0/4/41.99
5. $5,100 CHIVAS Z Zangersheide / G / 16 Cumano x Lord Gotthard
RICHARD SPOONER (USA) AGUA DULCE, CA Richard Spooner: 0/Elim
6. $3,825 MARK Q Irish Sport Horse / G / 13 OBOS Quality 004 x Positively
KEVIN BABINGTON (IRL) IRELAND Kevin Babington: 1/72.15
7. $2,550 GAME BOY D Belgian Sport Horse / G / 9 Winningmood Van De Arenberg x Pavarotti V De Helle
OLIVIER PHILIPPAERTS (BEL) MEEUWEN-GRUITRODE Ludo Philippaerts: 1/73.32
8. $2,125 FLOWER Belgian Warmblood / M / 10 Bon Ami x Randel Z
NINA FAGERSTROM (FIN) CUMERLAND, ON Finca Horses Inc: 1/73.96
9. $1,700 BON JOVI / G / 9 Verdi x Corland
EMANUEL ANDRADE (VEN) WELLINGTON, FL Emanuel Andrade: 1/73.98
10. $1,700 CZARDAS 30 Hanoverian / S / 12 Contendro x Grannus
KIRSTEN COE (USA) ROYAL PALM BEACH, FL Lovsta Stuteri: 1/75.04
11. $850 CARTIER Oldenburg / G / 10 Cartoon x Sheyenne de Baugy
SALVADOR ONATE (MEX) LEON Mario Onate: 1/75.30
12. $850 CABALLITO Oldenburg / G / 13 Contendro x Argentinus
ANDRES RODRIGUEZ (VEN) WELLINGTON, FL Arao Enterprises LLC: 4/68.82

Based in Calgary, Canada, Spruce Meadows is the creation of the Southern family who built a Show Jumping complex at the foothills of the Alberta Rocky Mountains. It was in 1976 that the first Spruce Tournaments were held, with annual spectator attendances reaching over 50,000 by the end of the decade. Today, Spruce Meadows boasts one of the greatest outdoor equestrian venues in the world and offers an incredible experience for riders and fans alike. Spruce Meadows focuses on the organization and hosting of show jumping tournaments of unmatched quality for junior, amateur and professional athletes in a manner that reflects basic family values in a clean, green and welcoming environment that celebrates the horse and encourages the breeding and training of quality sport horses and the teaching and development of athletes. For more information on Spruce Meadows, please visit www.sprucemeadows.com.


Photos © Spruce Meadows Media Services. They may only be used in relation to this press release and with photo credit.