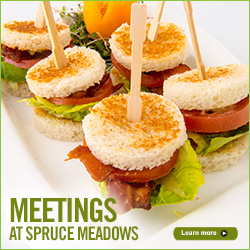 Media Releases
'Canada One' Tournament CSI 4*
2015-06-23
The Spruce Meadows Summer Series Continues
After a week-long break from heated competition, horses and riders from around the world are ready for the next three weeks of the Spruce Meadows Summer Series beginning with the CSI 4* 'Canada One' Tournament. Running June 24th-June 28th, the tournament features over $431,000 in prize money utilizing four of the seven grass arenas at Spruce Meadows. The athletes will return to the arenas rested and ready to take on some of the world's best competition.

This week, 8 FEI sanctioned events will be featured on the Meadows on the Green Ring designed by Canadian level 3 course designer from Calgary, Peter Grant. The weekend's headliner events are the 1.50m CIBC Cup on Saturday June 27, and the 1.55m Imperial Challenge on Sunday June 28.
Nicolas Pizarro Suarez (MEX) & Colasko, winners of the 2014 Imperial Challenge
Recently named to Team Canada Eric Lamaze, Ian Millar, Tiffany Foster, Yann Candele and Elizabeth Gingras will be competing at Spruce Meadows preparing for the Pan American Games in July. Team Canada will continue to train with their top mounts for the remainder of the Spruce Meadows Summer Series under the direction of Chef D'Equipe Mark Laskin.

Team Canada for the Pan American Games to compete at Spruce Meadows. (from left) Elizabeth Gingras, Eric Lamaze, Tiffany Foster, Mark Laskin, Yann Candele & Ian Millar.
The 'Canada One' will also be featuring several Prix Des Nations competitions for junior and amateur riders to experience a Nations Cup format on a national level. From the 1.0m division up to 1.40m, these athletes will have the chance to learn what it's like competing as part of a team. Riders from across Canada, along with international junior/amateur entries, will all be competing with the hopes of one day representing their nation in an FEI Nations Cup.


Name the Foal, presented by TELUS featured on Meadows on the Green Ring Saturday & Sunday of the 'Canada One' Tournament.
The third Y2 Junior Rider Award, sponsored by Bretton and Kara Chad will be presented on Sunday, prior to the start of the Imperial Challenge on the Meadows on the Green Ring. Throughout the Spruce Meadows Summer Series, a total of five junior riders will receive $3,000 each for the further development of their equestrian career. Each tournament winner will receive a cooler, a personal trophy and their name on the Y2 Junior Rider Award perpetual trophy.
The colourful Horses Jump to Give a Leg Up herd is on display bordering the Meadows on the Green Ring. The online silent auction continues as 20 Not-for-Profit organizations await their final result winnings in September at the Spruce Meadows 'Masters' Tournament.

The 'Canada One' tournament offers complimentary seating for all who wish to join, along with complimentary parking in lot #7, accessible from Tournament Lane. For more information about the tournament, along with orders of go and results, please visit our website- www.sprucemeadows.com.