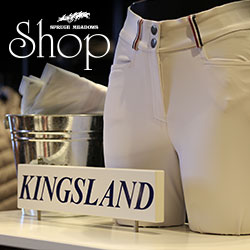 Media Releases
Kent Farrington and Uceko Win $50,000 Lafarge Cup at Spruce Meadows
2015-07-03
Calgary, AB, Canada – July 3, 2015 – The 'North American' Tournament at Spruce Meadows continued on Friday with two feature competitions hosted in the International Ring and a win for USA's Kent Farrington and RCG Farm's Uceko in the highlight $50,000 Lafarge Cup 1.50m. Also competing on Friday, Mario Deslauriers took a big win in the $34,000 Pepsi Challenge 1.45m riding Lisa Deslauriers' Scout de la Cense.

Continuing through Sunday, July 5, the 'North American' Tournament boasts $1.3 million in prize money across 14 FEI events throughout the week. Highlights include the $400,000 ATCO Power Queen Elizabeth II Cup on Saturday and the $210,000 Cenovus Energy Classic Derby on Sunday.


Spain's Santiago Varela continued a successful week of course building with the $50,000 Lafarge Cup Friday evening. The competition saw 33 entries, with seven in the jump-off and three double clear rounds.


Emanuel Andrade (VEN) set the pace with a clear track in 44.39 seconds to place third with his own Bon Jovi. Kent Farrington and Uceko were next to clear the short course in a blistering pace of 42.22 seconds to take the win. Eric Lamaze (CAN) did his best to catch the time with Artisan Farms LLC's Fine Lady 5, but finished just off the mark in 42.35 seconds to finish seconds.


In a very fast jump-off, Farrington knew he had to lay it all on the line with Lamaze coming right behind and three more riders to follow.


"These classes, especially the ones that do not have the most entries, the ones that are good are not just good, they are usually great," Farrington stated. "You have some of the best riders in the world, so it is very difficult to win a class here."


Kent Farrington and Uceko


"The horse is very brave," Farrington said of Uceko. "He has quite a big step, so I think right from the beginning (of the jump-off), fence one to two on his rollback was already pretty aggressive. I did not watch the others, but I would probably guess that he did at least one, if not two less strides on that turn. Then across the middle of the field he also makes up a lot of ground because his stride is so long. I would say those are two places in particular I think he always gets a little bit ahead of the other horses."


Uceko, a Dutch Warmblood gelding (Celano x Koriander), is 14 years old and Farrington has been careful to manage his schedule and choose the appropriate venues to compete in.


"I think that part of being a top rider is also being a top manager of the horses that you have," Farrington noted. "As he gets older, I try to pick the venues where I think he can shine and give him rests where I do not think he is as competitive. I gave him a big break. I hardly ever show him in Florida, and I usually gear him up here and then take him to Europe the rest of the summer."


Kent Farrington celebrates his victory with Jonathan Moser,
Director, Environment & Public Affairs, Lafarge

Speaking of the success that Uceko has had at Spruce Meadows and why the horse excels in this particular venue, Farrington explained, "The jumps are very big here and really impressive, and that suits the horse because he can get a little casual. He is not a naturally fast horse actually, he is a bit slow, so a big field makes him competitive because I can use the length of his stride and turn really short to make him fast out here."


"He has learned to be very fast," Farrington continued. "Over the years he has learned to turn shorter to the fences and watch for them. With his experience, he knows when I open him up on the field that the jumps are going to come up fast, so he starts anticipating the fences and he starts looking for them himself, which over time has made him super competitive."


Deslauriers Leads Pepsi Challenge


A total of 76 entries jumped the first round of the $34,000 Pepsi Challenge 1.45m on Friday, with 19 qualifying for the jump-off and 17 continuing on. The short course saw only five double clear rounds in a very fast race against the clock that put Mario Deslauriers (USA) in the winner's circle.


Eduardo Menezes (BRA) set the challenging pace in 43.53 seconds aboard his mare, Catalina, and held the top spot through most of the jump-off. It was Deslauriers, however, who stole the lead for his first win in the International Ring since 2012. He completed the fastest clear round in a time of 42.35 seconds riding Lisa Deslauriers' Scout de la Cense. Nicola Philippaerts placed third in 44.66 seconds with Ludo Philippaerts' H&M Harley vd Bisschop.


Mario Deslauriers and Scout de la Cense

Originally from Quebec, Deslauriers switched to U.S. citizenship six years ago. Regardless of nationality, a win at Spruce Meadows was still very special to the rider.


"This place has come such a long way; it is amazing. I came here when I was 14 the first time," he noted. "It is always a good feeling (to win here). We have had several young horses the last few years while trying to rebuild our team. We skipped Spruce the last two years and now I am here with my daughter that is 15 and also showed in this competition today. My wife is also here riding. It is fun to be here with the whole family."


During the 'National' Tournament's Omega Alpha Cup in June, it was Menezes who won and Deslauriers who finished second in a two-horse jump-off in the All Canada Ring with Catalina and Scout de la Cense, but this time Deslauriers made sure he was faster.


"It was the same horses, but Eduardo beat me by four seconds!" Deslauriers detailed. "I said, 'Where did you go?' I thought I went pretty fast, but the All Canada Ring is a bit of a slope. This field is flatter and I really went today. The other day in All Canada I went, but not like this. Today, I really went for it."


"It was a good track for me," Deslauriers explained. "My is horse 17.2 hands and he has a very big step, so I knew I could do all the strides. If I got the turn right at the wall, I knew there were seven strides there for me and also seven strides to the last jump. Everybody else was doing eight and eight, and they were all slipping around the wall, but mine did not slip. I got a great turn and he did the job today. I knew I hit every fence right. I was really pushing everywhere. I knew I did not leave too much out there."


Mario Deslauriers raises his winning trophy with Scott Stewart,
Director of Foodservice Canada, Pepsico

Nine-year-old Scout de la Cense is a Selle Francais gelding by Easy Boy x Crazyhorse of Coco. He is one of several promising young horses that Deslauriers is developing, and the rider was happy to get a big win with the horse, especially at Spruce Meadows.


"It is one of the only places in the world that you come for a summer tour and it is really exciting when you come in the ring, even if there are not that many people," he stated. "It is a great place to show. I have won here when there were 50,000 people, and you still have that in the back of your mind. It is always good. For show jumping, it is one of the best places in the world."


The 'North American' Tournament continues on Saturday featuring the $400,000 ATCO Power Queen Elizabeth II Cup as well as the $85,000 TD Cup.


Final Results: $50,000 Lafarge Cup 1.50m

1. $16,500 UCEKO Dutch Warmblood / G / 14 Celano x Koriander
KENT FARRINGTON (USA) WELLINGTON, FL RCG Farm: 0/0/42.22

2. $10,000 FINE LADY 5 Hanoverian / M / 12 Forsyth x Hauptstutbuch
ERIC LAMAZE (CAN) SCHOMBERG, ON Artisan Farms, LLC: 0/0/42.35

3. $7,500 BON JOVI / G / 9 Verdi x Corland
EMANUEL ANDRADE (VEN) WELLINGTON, FL Emanuel Andrade: 0/0/44.39

4. $5,000 BRIGHTON / G / 9 Contendro II x Quick Star
TIFFANY FOSTER (CAN) SCHOMBERG, ON Artisan Farms, LLC: 0/4/48.13

5. $3,000 PLUME DE LA ROQUE Selle Francais / M / 12 Kannan x Adelfos
BEN ASSELIN (CAN) CALGARY, AB Attache Stables: 0/8/43.04

6. $2,250 HH MEMPHIS Irish Sport Horse / G / 9 Armitage x Cruising
QUENTIN JUDGE (USA) WELLINGTON, FL Double H Farm: 0/8/45.55

7. $1,500 PUBLIC VIEW Rheinlander / G / 9 Prado x Landadel
FRANCOIS ESTEVES (BRA) BRA Francois Esteves: 0/12/49.95

8. $1,250 MATADOR Dutch Warmblood / S / 13 Indoctro x Corland
JAIME AZCARRAGA (MEX) MEXICO CITY Jaime Azcarraga & Family: 1/78.22

9. $1,000 SF ARIANTHA Dutch Warmblood / M / 10 Corland x Emillion
ANDRES RODRIGUEZ (VEN) WELLINGTON, FL Olivia Cox-Fill: 1/78.75

10. $1,000 STAR LA TUILIERE Selle Francais / M / 9 Dollar de la Pierre x Quick Star
KARA CHAD (CAN) CALGARY, AB Stone Ridge: 4/73.92

11. $500 BREITLING LS Warmblood / S / 9 Quintero x Accord II
BEEZIE MADDEN (USA) CAZENOVIA, NY Abigail Wexner: 4/74.96

12. $500 G&C CLOSE UP Dutch Warmblood / G / 8 Eurocommerce Wastington x Cobra
LUIS LARRAZABAL (VEN) WESTON, FL Gustavo Mirabal: 4/75.24


Final Results: $34,000 Pepsi Challenge 1.45m

1. $8,500 SCOUT DE LA CENSE Selle Francais / G / 9 Easy Boy x Crazyhorse of Coco
MARIO DESLAURIERS (USA) NEW YORK, NY Lisa Deslauriers: 0/0/42.35

2. $6,800 CATALINA Warmblood / M / 8 Chacco Blue x Converter
EDUARDO MENEZES (BRA) CARLSBAD, CA Eduardo Menezes: 0/0/43.53

3. $5,100 H&M HARLEY VD BISSCHOP Belgian Warmblood / G / 8 Dulf Van Den Bisschop x Coronado
NICOLA PHILIPPAERTS (BEL) GRUITRODE Ludo Philippaerts: 0/0/44.66

4. $3,400 JOLIE LE COER S Oldenburg / M / 9 Joliot x Quattro B
LAURENZ BUHL (GER) HESSEN Gotham Enterprizes, LLC: 0/0/45.46

5. $2,380 CLAPTON Danish Warmblood / S / 10 Clinton I x Triumph
KARRIE RUFER (USA) SACRAMENTO, CA Morning Star Sport Horses: 0/0/45.81

6. $1,870 CORCEGA LA SILLA Holstein / M / 11 Casall la Silla x Candillo
ANTONIO CHEDRAUI (MEX) MEXICO DF Antonio Chedraui: 0/4/43.72

7. $1,360 ZAPRILIA M Dutch Warmblood / S / 11 Chin Chin x Silvio I
RICHARD SPOONER (USA) AGUA DULCE, CA Maxine & Robert Jack: 0/4/44.48

8. $1,020 KS STAKKI Hanoverian / M / 10 Stakkato Gold x Silvio I
REED KESSLER (USA) LEXINGTON, KY Kessler Show Stables: 0/4/44.67

9. $1,020 CELINA Oldenburg / M / 8 Ccentadel x Stellina
RAY TEXEL (USA) SANTA ROSA, CA Jack O Neill: 0/4/45.90

10. $850 BARBARO Oldenburg / G / 9 Balou du Rouet x Carthago
NICOLAS PIZARRO SUAREZ (MEX) MEXICO CITY Nicolas Pizarro Suarez: 0/4/47.66

11. $850 CAROLIEN VH SCHEEFKASTEEL Belgian Sport Horse / M / 13 Perhaps VH Molenvondel x Quito de Baussy
VANESSA MANNIX (CAN) CALGARY, AB Vanessa Mannix: 0/4/49.96

12. $850 ASB CONQUISTADOR Belgian Warmblood / S / 14 Clinton x Heartbreaker
ERIC NAVET (FRA) ENCINITAS, CA Signe Ostby: 0/8/45.96

Based in Calgary, Canada, Spruce Meadows is the creation of the Southern family who built a Show Jumping complex at the foothills of the Alberta Rocky Mountains. It was in 1976 that the first Spruce Tournaments were held, with annual spectator attendances reaching over 50,000 by the end of the decade. Today, Spruce Meadows boasts one of the greatest outdoor equestrian venues in the world and offers an incredible experience for riders and fans alike. Spruce Meadows focuses on the organization and hosting of show jumping tournaments of unmatched quality for junior, amateur and professional athletes in a manner that reflects basic family values in a clean, green and welcoming environment that celebrates the horse and encourages the breeding and training of quality sport horses and the teaching and development of athletes. For more information on Spruce Meadows, please visit

www.sprucemeadows.com

.


Photos © Spruce Meadows Media Services. They may only be used in relation to this press release and with photo credit.