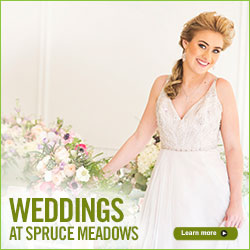 Media Releases
Enjoy the long weekend at Spruce Meadows
2015-09-03
Enjoy the Long Weekend at Spruce Meadows
The first weekend of September is the last weekend before it all starts again. Back to school, falling leaves, and the
kick off before the biggest week in the show jumping calendar, the 40th anniversary Spruce Meadows 'Masters' Tournament!
In advance the public is invited to join us September 3 – 5 for the Champions' Welcome. The North American and All Alberta Ring host a variety of outdoor junior/amateur competitions which attract a top entry from throughout North, Central and South America.
The weekend also welcomes the best horses and riders from around the world. Over 70 horses are scheduled to board the Boeing 747 400 in Liège Belgium and travel over 7,300km to Spruce Meadows. After the flight to YYC Airport, the horses will be transported by trailer to their comfortable stalls to rest and prepare the week ahead.
The Spruce Meadows grounds are open to the public form 9am – 6pm daily including Labour Day! There will be food concession stands open for the Champions' Welcome; parking and admission are complimentary.
Sunday September 6th Summer's Gone, Run On! 5K/10K run will be held at Spruce Meadows starting at 9:00AM. In support of KidSport Calgary, registration is open online until 24 hours before race start and available at the start/finish line until 8:30AM. No late fees apply. Don't miss the last three races part of the Spruce Meadows Run Series, presented by JLT & Cunningham Lindsey! Please visit www.sprucemeadows.com/runseries for registration and donation details.
Join us for the long weekend at Spruce Meadows – it's yours to enjoy!