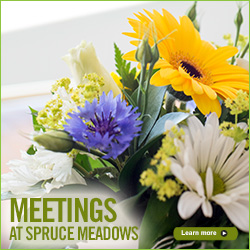 Media Releases
Kent Farrington and McLain Ward Win on Opening Day at Spruce Meadows 'Masters' Tournament
2015-09-09
For Immediate Release
Lauren Fisher for Jennifer Wood Media, Inc.

Calgary, AB, Canada – September 9, 2015 – The 2015 Spruce Meadows 'Masters' Tournament CSIO 5* got underway on Wednesday celebrating 40 years of outstanding competition at one of the world's most iconic venues. Top international horses and riders convened for opening day, which featured wins for Kent Farrington (USA) and Uceko in the $85,000 AKITA Drilling Cup 1.60m and McLain Ward (USA) aboard HH Carlos Z in the $35,000 TELUS Cup 1.50m.

The 'Masters' Tournament features five days of comeptition through Sunday, September 13, with highlights including Saturday's $300,000 BMO Nations' Cup and Sunday's $1.5 Million CP International, presented by Rolex. One of the most prestigious grand prix events in the world, the CP International is part of the Rolex Grand Slam of Show Jumping, where Scott Brash (GBR) will attempt to become the first rider to ever take the Grand Slam title. Brash already made history by winning two consecutive legs of the challenge with victories at CHI Geneva in December followed by a second victory at CHIO Aachen a few months later. An unprecedented €1 million in bonus money is on offer to any rider who can win all three grand prix events in succession.


Venezuela's Leopoldo Palacios is the course designer in Spruce Meadows' famed International Ring for this week's tournament. Palacios began competition on Wednesday with two fantastic events highlighted by a win for Kent Farrington and RCG Farm's Uceko in the $85,000 AKITA Drilling Cup. Thirty-seven entries jumped in round one, with a star studded jump-off of 17 to follow and seven double clear rounds.

In the jump-off, Richard Spooner (USA) and Show Jumping Syndication Intl.'s Cristallo set the early pace in 39.81 seconds to eventually finish fourth. Kevin Staut (FRA) upped the pace with his round in 39.75 seconds to take home third place honors aboard Haras des Coudrettes' Elky van het Indihof HDC. Farrington and Uceko soon stole the lead in an impressive 38.62 seconds to hold on for the win. Last to go, Roger Yves Bost (FRA) jumped into second place with a time of 38.99 seconds aboard Quod'Coeur de la Loge, owned by Equiblue et Bosty Jump.

Following his win, Farrington spoke of the exciting atmosphere and fantastic conditions starting off this year's event.

"The level of competition here is always very high, particularly at the Masters," Farrington stated. "These are the best riders in the world using their best horses, so there is no easy victory here. The conditions are fantastic. The field looks great and it is jumping great. That is nothing new here at Spruce Meadows. I think this is one of the best jumping fields in the world and today was as good as ever. My horse loves it here too, so that works out well for me. I always try to make a good schedule for him where he gets to compete a lot at Spruce Meadows."

A 14-year-old Dutch Warmblood gelding (Celano x Koriander), Uceko is very experienced and Farrington knows that the spacious field of the International Ring is one of his favorite venues.

"The course today was not super technical," Farrington said of the competition. "I think it was bigger fences, but a simpler course to get everybody going here the first day. There were a lot of horses in the jump-off, so you knew that it was going to be very fast. Richard Spooner and Bosty, those are some of the fastest riders anyplace, so the jump-off was quite fast. My horse is also typically very fast on a field, so I think if you looked at those top four horses, you knew that it was going to be very competitive today."

Speaking of where he made the time, Farrington added, "I think it was probably throughout the whole course, not necessarily in one line. I think the top few horses all did the same number of strides in the last line. I was very fast to the double across the middle of the ring, and Uceko is very experienced here, so I can turn quite short to the fences. I think I turned really short back on the skinny vertical and also to the second fence."

After winning the CSIO 5* grand prix at the Dublin Horse Show in August, Farrington is already pre-qualified for Sunday's $1.5 Million CP International Grand Prix, presented by Rolex, but plans to compete his other top mount, Voyeur. The CP International is one of the only major events that Farrington has yet to win in his inspiring career, and the rider admits that it is definitely on his To-Do list.

"I think every rider in the world would love to win that competition here. The Masters in Calgary is very special. It is the biggest prize money that we jump for all year and the courses are always massive, so I think that is something that we would all like to have on our resume," Farrington concluded.

Ward Wins On Opening Day

The $35,000 TELUS Cup 1.50m was the first competition held on Wednesday to kick things off at the Spruce Meadows 'Masters' Tournament. Course designer Leopoldo Palacios saw 53 starters, with 19 clear rounds and 17 entries that chose to return for the jump-off. McLain Ward (USA) and Double H Farm's HH Carlos Z were the winners in a speedy time of 39.46 seconds over Eric Lamaze (CAN) and Artisan Farms LLC's Fine Lady 5, who finished second in a time of 39.77.

Hardin Towell (USA) placed third aboard Jennifer Gates' Lucifer V in 40.70 seconds, and Beezie Madden earned fourth place honors with a time of 40.96 riding Abigail Wexner's Breitling LS.

HH Carlos Z has had an incredible season, including three CSI 5* wins during this year's Summer Series at Spruce Meadows. The 13-year-old Zangersheide gelding (Chellano Z x Voltaire) then had a short break before returning to win a $100,000 Grand Prix in Saugerties, New York, at the beginning of August. He competed once more last week before making the trip back to Calgary.

"Carlos is always a little winning machine. I was really pleased with him; he handled it well," Ward said of his opening victory. "He had a nice rest in August and feels fresh and ready to go. He loves this ring. He is a little, careful horse and you would think this ring would intimidate him, but he seems to really like it."

To those who know Ward well, some may have noticed that the rider was not in his usual attire Wednesday. Ward flew to Calgary from Newark, New Jersey, and his luggage had yet to arrive in the morning. Thanks to Rodrigo Pessoa (BEL) and Ben Asselin (CAN), the rider was able to piece together an outfit for the day.

"The clothing was a bit of a problem," Ward noted. "I am a little funny about my clothes; they are all pretty tailored. I was stressing a little bit this morning, but luckily a few riders lent me their wardrobes and I had my own boots, so everything went fine."

It went more than just fine as HH Carlos Z sped through the course fault-free for the win. The little horse is always a professional, and he was game no matter what his rider was wearing.

Commenting on his jump-off round, Ward detailed, "I didn't see Eric, but I know what he can do with that horse and I knew that he went into the lead. Carlos is just an incredibly fast horse and very careful. I thought jumps one, two, three and four were very fast. I actually made a bit of a mistake to jump number five in the jump-off. I added up late and it was not the right choice, but Carlos helped me out and the turn showed up good. Those rollbacks are always a little bit to chance on grass; the horses slip sometimes, but the ground held nicely for him. It was by a sliver, but we'll take it."

As the 'Masters' Tournament continues, Ward has his sights set on the $1.5 Million CP International Grand Prix, presented by Rolex, where he plants to compete young mount HH Azur. Ward is pre-qualified thanks to winning the individual gold medal in July's Pan American Games and feels good heading into the weekend.


"I am always confident in my horses and my team behind me," he stated. "We are aiming HH Azur to the grand prix. She had a nice schooling round today with some time faults, but she felt great. She will do one more competition before the big event. I have the luxury of being pre-qualified, which is a huge bonus. I believe she can win, but at the same time she is a nine-year-old horse and you have to have good perspective about that."

The 'Masters' Tournament continues on Thursday featuring the $35,000 ATCO Structures & Logistics Cup 1.50m followed by the $126,000 CANA Cup 1.60m. For a complete tournament schedule and full results, please visit www.sprucemeadows.com.


Final Results: $85,000 AKITA Drilling Cup 1.60m

1. $28,050 UCEKO Dutch Warmblood / G / 14 Celano x Koriander
KENT FARRINGTON (USA) WELLINGTON, FL RCG Farm: 0/0/38.62

2. $17,000 QUOD'COEUR DE LA LOGE Selle Francais / S / 11 Ideal de la Lodge x Tenor de la Cour
ROGER-YVES BOST (FRA) BARBIZON Equiblue et Bosty Jump: 0/0/38.99

3. $12,750 ELKY VAN HET INDIHOF HDC Belgian Warmblood / M / 11 Toulon x Thunder van de Zuuthoeve
KEVIN STAUT (FRA) LE CHESNAY Haras des Coudrettes: 0/0/39.75

4. $8,500 CRISTALLO Holstein / G / 17 Caretino x Cicero
RICHARD SPOONER (USA) AGUA DULCE, CA Show Jumping Syndication Intl: 0/0/39.81

5. $5,100 RADJA DARTEMIS Selle Francais / G / 10 Diamant de Semilly x Galoubet A
ALAIN JUFER (SUI) LOSSY Lutta Gian-Battista: 0/0/42.80

6. $3,825 GLENAVADRA BRILLIANT Irish Sport Horse / G / 12 Brilliant Lad x Powerswood Purple
WILLIAM WHITAKER (GBR) HUDDERSFIELD Ian Whitaker: 0/0/44.34

7. $2,550 CAPETOWN Dutch Warmblood / G / 12 Oklund x Carlino
WOUT JAN VAN DER SCHANS (NED) LUNTEREN, HP K.V. van den Berg & S.J. Kat: 0/0/45.32

8. $2,125 HELLO SANCTOS Warmblood / G / 13 Quasimodo x Nabe de Reve
SCOTT BRASH (GBR) GREAT BRITAIN Lord and Lady Harris & Lady P Kirkham: 0/1/48.32

9. $1,700 OTELLO DU SOLEIL Selle Francais / S / 13 Alligator Fontaine x Papillon Rouge
ROMAIN DUGUET (SUI) BERN Christiana Duguet: 0/4/39.20

10. $1,700 DYLANO Warmblood / G / 14 Cento Lano x Athlet Z
PIETER DEVOS (BEL) BEKKEVOORT Devos Stables: 0/4/40.69

11. $850 ELDORADO TN Belgian Warmblood / S / 11 Clinton x Toulon
WILLEM GREVE (NED) MARKELO Team Nijhof: 0/4/41.86

12. $850 EMILIE DE DIAMANT AS Belgian Sport Horse / M / 11 Diamant de Semilly x Flipper d Elle
JACK HARDIN TOWELL JR. (USA) CAMDEN, SC Jennifer Gates: 0/4/42.59


Final Results: $35,000 TELUS Cup 1.50m

1. $8,750 HH CARLOS Z Zangersheide / G / 13 Chellano Z x Voltaire
MCLAIN WARD (USA) BREWSTER, NY Double H Farm: 0/0/39.46

2. $7,000 FINE LADY 5 Hanoverian / M / 12 Forsyth x Hauptstutbuch
ERIC LAMAZE (CAN) SCHOMBERG, ON Artisan Farms, LLC: 0/0/39.77

3. $5,250 LUCIFER V Westphalian / G / 9 Lord Pezi x Grandeur
JACK HARDIN TOWELL JR. (USA) CAMDEN, SC Jennifer Gates: 0/0/40.70

4. $3,500 BREITLING LS Warmblood / S / 9 Quintero x Accord II
BEEZIE MADDEN (USA) CAZENOVIA, NY Abigail Wexner: 0/0/40.96

5. $2,450 EQUIPHARMA DAX VAN DABDIJHOEVE Belgian Sport Horse / G / 12 Desir du Chateau x Clinton
PIETER DEVOS (BEL) BEKKEVOORT Stal Devos DV: 0/0/41.43

6. $1,925 GAME BOY D Belgian Sport Horse / G / 9 Winningmood Van De Arenberg x Pavarotti V De Helle
OLIVIER PHILIPPAERTS (BEL) MEEUWEN-GRUITRODE Ludo Philippaerts: 0/0/41.50

7. $1,400 NIPPON D ELLE Selle Francais / S / 14 Scherif D Elle x Narcos II
ROGER-YVES BOST (FRA) BARBIZON Scea Haras D Elle et Equiblue: 0/0/41.70

8. $1,050 QODY DE ST AUBERT Warmblood / S / 11 Fidji du Fleury x Damoiseau DOr
ROBERT BREUL (FRA) FRANCE Yves Vilain & Domaine des Gonets: 0/0/41.87

9. $1,050 BABALOU 41 Oldenburg / M / 10 Balou de Rouet x Silvio I
TODD MINIKUS (USA) LOXAHATCHEE, FL Two Swans Farm: 0/0/42.24

10. $875 LILLI German Warmblood / M / 11 Lefevre x Diamir
GEORGINA BLOOMBERG (USA) NEW YORK, NY Gotham Enterprizes, LLC: 0/0/47.14

11. $875 SAXO DE LA COUR Selle Francais / G / 9 Dollar de la Pierre x Jelisco B
CEDRIC ANGOT (FRA) GAMBAIS Sandrine Schuwer: 0/0/48.14

12. $875 HELLO FOREVER Oldenburg / G / 9 For Pleasure x Nimmerador
SCOTT BRASH (GBR) GREAT BRITAIN Lord and Lady Harris & Lady P Kirkham: 0/4/41.12


Based in Calgary, Canada, Spruce Meadows is the creation of the Southern family who built a Show Jumping complex at the foothills of the Alberta Rocky Mountains. It was in 1976 that the first Spruce Tournaments were held, with annual spectator attendances reaching over 50,000 by the end of the decade. Today, Spruce Meadows boasts one of the greatest outdoor equestrian venues in the world and offers an incredible experience for riders and fans alike. Spruce Meadows focuses on the organization and hosting of show jumping tournaments of unmatched quality for junior, amateur and professional athletes in a manner that reflects basic family values in a clean, green and welcoming environment that celebrates the horse and encourages the breeding and training of quality sport horses and the teaching and development of athletes. For more information on Spruce Meadows, please visit www.sprucemeadows.com.


Photos © Spruce Meadows Media Services. They may only be used in relation to this press release and with photo credit.