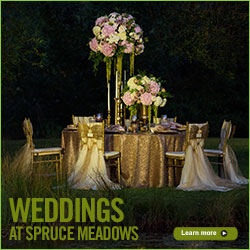 Media Releases
Gregory Wathelet and Algorhythem Win $126,000 CANA Cup at Spruce Meadows 'Masters' Tournament
2015-09-10
For Immediate Release
Lauren Fisher for Jennifer Wood Media, Inc.

Calgary, AB, Canada – September 10, 2015 – The 2015 Spruce Meadows 'Masters' Tournament CSIO 5* hosted its second day of competition with the world's best horses and riders Thursday. Belgium's Gregory Wathelet celebrated his 35th birthday as well as his first trip ever to Spruce Meadows with a win in the $126,000 CANA Cup 1.60m riding Algorhythem. Earlier in the afternoon, Canada's Eric Lamaze rode to victory in the $35,000 ATCO Structures & Logistics Cup 1.50m for the second year in a row aboard Fine Lady 5.

The 'Masters' Tournament features five days of competition through Sunday, September 13, with highlights including Saturday's $300,000 BMO Nations' Cup and Sunday's $1.5 Million CP International, presented by Rolex. One of the most prestigious grand prix events in the world, the CP International is part of the Rolex Grand Slam of Show Jumping, where Scott Brash (GBR) will attempt to become the first rider to ever take the Grand Slam title. Brash already made history by winning two consecutive legs of the challenge with victories at CHI Geneva in December followed by a second victory at CHIO Aachen a few months later. An unprecedented €1 million in bonus money is on offer to any rider who can win all three grand prix events in succession.
On Thursday, the $126,000 CANA Cup was the feature event, shown over a 1.60m track set by Venezuela's Leopoldo Palacios. Forty-seven entries contested the first round course, which yielded 14 clear rounds. Six entries were also able to clear the jump-off track without fault. Of the entries that were not able to clear the short course, two had refusals. An imposing wall set on a tight rollback turn became the bogey fence for the rest, dropping for six different pairs.


In the end, it was Gregory Wathelet and his ten-year-old Dutch Warmblood mount Algorhythem (Tampa x Calvados), who completed the fastest clear round in 43.70 seconds. The pair pushed Roger Yves Bost (FRA) into second place with a time of 44.90 seconds aboard Nippon d'Elle. France also finished third as Kevin Staut and Qurack de Falasie HDC clocked in at 47.42 seconds.

Wathelet captured the winning prize of $41,580 and hoisted the CANA Cup for his first win in Spruce Meadows' esteemed International Ring. Commenting on his victory, the rider smiled, "I feel really good. It is always good to win and it is very special for me to win here in Calgary because it is a tournament that I have wanted to do for many years. I am really happy that I could come this year. It is an amazing place with amazing facilities and everything is perfect. The people are really nice and winning makes it even better."

Algorhythem is a horse that is usually ridden by Wathelet's girlfriend and has not competed much at this level, but the rider feels that he has the potential to become a championship horse.

"He just started at the big level three or four months ago," the rider stated. "Normally my girlfriend rides him, but now she is studying and she does not have as much time, so lucky me I get to ride him for one more year."

"The first big grand prix he did was four weeks ago in Valkenswaard (NED) on the Global Champions Tour. He was fifth and double clear," Wathelet continued. "I really think it is a horse for the big level in the future, maybe for a championship I am sure. Now I am just working to build him up and bring him to the real top level and I think having him here is really a good step in that direction. It is really an easy horse. He has good mentalities. When you come in the ring, nothing is difficult. He does not spook at all. Yesterday I was maybe a little bit scared because I had to go straight in the big competition, but he acted like he had already jumped many times here. It was more me who had to get used to that ring and the big fences."

Wathelet knew that the only way he would win against the talented list of horses and riders in Thursday's jump-off was to go as fast as he could.

"When we go to the jump-off, if I know that I have a horse who can win and be in front, for sure I am going to try. That is the sport," he declared. "With that horse, even if it does not have the most experience and has not done that many speed competitions or jump-offs, I know that he can go fast. I took my chances and he did really well."

"I did not see the riders before me. I did not see Bosty; I just knew that he was in the lead and he is always really fast," Wathelet continued. "I saw the jump-offs yesterday and they were crazy fast. I did not know where I could win, but I knew that I needed to take all the risk and go full speed from the beginning. That was the only way to win and I think it will be the same every day for the competitions here."

With his first Spruce Meadows win under his belt, Wathelet now plans to compete Algorhytem on Belgium's team for the $300,000 BMO Nations' Cup. He is already pre-qualified for Sunday's $1.5 Million CP International, presented by Rolex, after winning the individual silver medal at this year's European Championships in Aachen with Conrad de Huis.

Lamaze Tops ATCO Structures & Logistics Cup for Second Year in a Row


The 'Masters' Tournament continued in the International Ring at Spruce Meadows Thursday morning with the $35,000 ATCO Structures & Logistics Cup shown over a 1.50m course set by Leopoldo Palacios (VEN). For the second year in a row, Canada's Eric Lamaze raised the trophy for a win aboard Artisan Farms LLC's Fine Lady 5, a 12-year-old Hanoverian mare (Forsyth x Drosselklang II).

"It is an event that is usually won by a really fast horse," Lamaze remarked on back-to-back victories. "Actually, all of the competitions here are won by a fast horse and she is very fast."

Thirty-eight entries jumped the first round course, with 21 qualifying for the jump-off and ten double clear rounds. Lamaze and Fine Lady 5 carved out a victory in 39.70 seconds over Lisa Carlsen (CAN) and WJ Partners' Worlds Judgement in 39.88. Chile's Samuel Parot jumped into third with a time of 40.24 seconds aboard Couscous van Orti, and Guy Williams (GBR) finished fourth riding Casper de Muze in 40.43 seconds.

"It is great to go in the ring when it does not matter what people tell you about how fast the person was before you. You know you always have a chance with her to win it," Lamaze stated. "Some horses you know it is not possible, but with her it is possible."

Commenting on his jump-off track, Lamaze continued, "I had a lot of help at the back gate telling me what Lisa had done. The word was that it was very fast. Fine Lady is a very quick turner and she is very quick at landing and going places, so she is not a difficult horse to go fast with."
The 'Masters' Tournament continues on Friday featuring the $210,000 Tourmaline Oil Cup 1.60m and the $75,000 ATCO ELECTRIC 'Circuit Six Bar. For a complete tournament schedule and full results, please visit www.sprucemeadows.com.


Final Results: $126,000 CANA Cup 1.60m

1. $41,580 ALGORHYTHEM Dutch Warmblood / G / 10 Tampa x Calvados
GREGORY WATHELET (BEL) COUTHUIM Louis Simmons: 0/0/43.70

2. $25,200 NIPPON D ELLE Selle Francais / S / 14 Scherif D Elle x Narcos II
ROGER-YVES BOST (FRA) BARBIZON Scea Haras D Elle et Equiblue: 0/0/44.90

3. $18,900 QURACK DE FALASIE HDC Selle Francais / G / 11 Jarnac x Fetiche du Pas
KEVIN STAUT (FRA) LE CHESNAY Armand Pette: 0/0/47.42

4. $12,600 RISSOA DAG BOIS MARGOT Selle Francais / S / 10 Quincy x Artichaud
PEDRO VENISS (BRA) LASNE SAS Haras Bois Margot: 0/0/48.73

5. $7,560 HELLO SANCTOS Warmblood / G / 13 Quasimodo x Nabe de Reve
SCOTT BRASH (GBR) GREAT BRITAIN Lord and Lady Harris & Lady P Kirkham: 0/0/52.70

6. $5,670 SIMON Dutch Warmblood / G / 16 Mr Blue x Polydox
BEEZIE MADDEN (USA) CAZENOVIA, NY Abigail Wexner: 0/0/52.91

7. $3,780 DYLANO Warmblood / G / 14 Cento Lano x Athlet Z
PIETER DEVOS (BEL) BEKKEVOORT Devos Stables: 0/4/43.30

8. $3,150 BABALOU AMOR Brazilian Warmblood / M / 11 Baloubet du Rouet x Ritual Imen
FELIPE AMARAL (BRA) CENTRO OSACO SP Marcello Ciavaglia: 0/4/43.48

9. $2,520 UCEKO Dutch Warmblood / G / 14 Celano x Koriander
KENT FARRINGTON (USA) WELLINGTON, FL RCG Farm: 0/4/43.93

10. $2,520 CALENO 3 Warmblood / G / 11 Calido Ass x Lancer II
GEORGINA BLOOMBERG (USA) NEW YORK, NY Gotham Enterprizes, LLC: 0/4/46.45

11. $1,260 H&M CHALLENGE VD BEGIJNAKKER Zangersheide / G / 13 Chellano Z x Palestro VD Begijnakker
NICOLA PHILIPPAERTS (BEL) GRUITRODE Bart Keisse: 0/4/46.61

12. $1,260 CHIVAS Z Zangersheide / G / 16 Cumano x Lord Gotthard
RICHARD SPOONER (USA) AGUA DULCE, CA Richard Spooner: 0/4/55.00

Final Results: $35,000 ATCO Power & Logistics Cup 1.50m
1. $8,750 FINE LADY 5 Hanoverian / M / 12 Forsyth x Drosselklang II
ERIC LAMAZE (CAN) SCHOMBERG, ON Artisan Farms, LLC: 0/0/39.70

2. $7,000 WORLDS JUDGEMENT Dutch Warmblood / M / 12 Judgement x Farmer
LISA CARLSEN (CAN) OKOTOKS, AB WJ Partners: 0/0/39.88

3. $5,250 COUSCOUS VAN ORTI Belgian Warmblood / G / 13 Nabab de Reve x Cash
SAMUEL PAROT (CHI) WELLINGTON, FL Samuel Parot: 0/0/40.24

4. $3,500 CASPER DE MUZE Belgian Warmblood / G / 13 Triomphe de Muze x Corsaire de Vauban
GUY WILLIAMS (GBR) KENT Guy Williams: 0/0/40.43

5. $2,450 QODY DE ST AUBERT Warmblood / S / 11 Fidji du Fleury x Damoiseau DOr
ROBERT BREUL (FRA) FRANCE Yves Vilain & Domaine des Gonets: 0/0/40.66

6. $1,925 COUP DE CHANCE Belgian Sport Horse / G / 9 Cardento x Darco
ELIZABETH GINGRAS (CAN) EDMONTON, AB B Gingras Equestrian Ltd: 0/0/42.08

7. $1,400 CORBINIAN Westphalian / G / 9 Cornet Obolensky x Pilot
STEVE GUERDAT (SUI) BERN Steve Guerdat: 0/0/43.83

8. $1,050 CAT BALOU Hanoverian / M / 10 Converter x Acord II
TAMIE PHILLIPS (CAN) CALGARY, AB Tamie Phillips: 0/0/44.40

9. $1,050 GELEDIMAR Zangersheide / M / 12 Grosso Z x Lord Z
HANNAH HEIDEGGER (USA) MALIBU, CA Monarch International: 0/0/47.53

10. $875 SAXO DE LA COUR Selle Francais / G / 9 Dollar de la Pierre x Jelisco B
CEDRIC ANGOT (FRA) GAMBAIS Sandrine Schuwer: 0/0/47.93

11. $875 THE DUDE Oldenburg / G / 9 Carry Gold x Argentinus
WILL SIMPSON (USA) WESTLAKE VILLAGE, CA Monarch International: 0/4/39.86

12. $875 CATALINA Warmblood / M / 8 Chacco Blue x Converter
EDUARDO MENEZES (BRA) CARLSBAD, CA Eduardo Menezes: 0/4/42.16

Based in Calgary, Canada, Spruce Meadows is the creation of the Southern family who built a Show Jumping complex at the foothills of the Alberta Rocky Mountains. It was in 1976 that the first Spruce Tournaments were held, with annual spectator attendances reaching over 50,000 by the end of the decade. Today, Spruce Meadows boasts one of the greatest outdoor equestrian venues in the world and offers an incredible experience for riders and fans alike. Spruce Meadows focuses on the organization and hosting of show jumping tournaments of unmatched quality for junior, amateur and professional athletes in a manner that reflects basic family values in a clean, green and welcoming environment that celebrates the horse and encourages the breeding and training of quality sport horses and the teaching and development of athletes. For more information on Spruce Meadows, please visit www.sprucemeadows.com.

Photos © Spruce Meadows Media Services. They may only be used in relation to this press release and with photo credit.