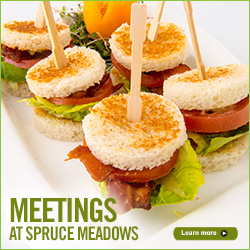 Media Releases
Oktoberfest Tournament
2015-10-20
Oktoberfest I & II Tournament
The only place to experience Oktoberfest and show jumping is at Spruce Meadows! The Equiplex sand ring has been transformed into a stadium of steins, blue and white ribbons and festive décor. Bratwurst and beer are available at the concession, and European-themed lunch buffets are served daily including ringside seating to watch all of the action.
The first week of the Oktoberfest Tournament welcomed 225 jr/amateur riders and 313 horses and from Canada and the United States to compete in 0.5m-1.40m divisions. After an opening day of clear round competitions, Nicole Gergely (CAN) and Vianda took home first place in the 1.30m $10,000 Cal-frac Cup on Thursday Evening.
Following a successful Summer Series and 'Masters' Tournament, course designer Peter Grant (CAN) prepared each course for Oktoberfest I to challenge both horse and rider who entered the competition arena; featuring a week of clear rounds, one-round and jump off competitions.

Photo credit: Spruce Meadows Media
The highlights from Friday included the $15,000 O'Tannenbaum Cup Four Bar competition. Four jumps were set in a row ascending in height and John Anderson (CAN) aboard Granit S jumped the final round clear as the rails were set higher and higher between each round. Ten other horse/rider combinations entered the O'Tannenbaum cup and as such also entered the Christmas-themed costume contest. Laura Mackay and her mount Ganesh dressed for success in their safari Santa and giraffe ensemble receiving the $1,000 costume contest winnings.

Photo credit: Spruce Meadows Media
Saturday's $15,000 Birchcliff Cup 1.20m one round competition saw Mary Jones (CAN) aboard Cosmic Dream take the first place ribbon. The 1.40m division Pason Cup offered a $10,000 prize purse for Chelsea Walsh (CAN) and Phlush to take home its first place winnings with a clear and fastest time in the jump off against eight horse/rider combinations.
Marion Ostmeyer riding for Germany aboard her mount Beau Soleil took home victory in the 1.30m $10,000 Matco Cup. Returning to Spruce Meadows on a different stage, AltaGas welcomed 16 entries into the 1.40m AltaGas Cup to vie for $15,000. Eric Martin (CAN) aboard Kumano placed first against one other rider in the jump off, Shawna Cook (CAN) aboard Carousel's Bling.
The Oktoberfest II Tournament begins Wednesday October 21, to welcome a second week of world class show jumping competition for junior/amateur riders. There are 193 horses and 148 riders expected to compete. Course designer Joey Rycroft (CAN) will set the courses for veteran riders such as Lisa Carlsen, Brian Morton, and Elizabeth Gingras from Canada who ride to develop young horses and eager students. There will also be new riders to Spruce Meadows who may be competing for their first time.
Parking and admission is complimentary, so no tickets are required. For a complete calendar of events please visit, www.sprucemeadows.com.
Connect With Us!
Spruce Meadows is active on many social media platforms. We invite the public and media to connect with us and share how you #ExperienceSM. Whether it's in the show jumping ring, barns, shopping galleries, or family fun and entertainment at Spruce Meadows, please find below where you can connect with Spruce Meadows all year-round!
Hashtags
#ExperienceSM
#ShopSM
#RunSM
#WeddingsSM
Facebook: www.facebook.com/OfficialSpruceMeadows
Twitter & Instagram: @Spruce_Meadows
YouTube Channel: SpruceMeadowsTV
Pinterest: www.pinterest.com/sprucemeadows