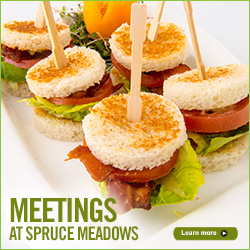 Media Releases
Spruce Meadows in 2016
2016-03-02

Spruce Meadows 2016!
Dear Competitor -

Spruce Meadows is pleased to have been reviewed by the North American Riders Group once more, and subsequently recognized as North America's number one venue for the sixth consecutive year.

We genuinely appreciate the reasoned and valid critique from the athletes, owners and trainers. Once again we have listened. Your feedback was mainly centered on capacity, the over-subscription of the stalls, the cleanliness in the stabling area, and the footing.

Therefore in 2016 Spruce Meadows will focus on, and be dedicated to, continuing to organize and deliver the very best experience for you, both in and out of the tournament ring.
With your input in mind, Spruce Meadows will be going forward with the following modifications and initiatives:
LIMITED ENTRIES: Spruce Meadows will be limiting the entries accepted for our Summer Series and respecting our maximum permanent stabling capacity of 1,000 stalls. Stalls will be available on a first-booked basis, for the five week commitment – FEI horses will get first priority.

Please be sure to book your 2016 stalls by filling out the stall form (see link below) and providing a $250 non-refundable, non-transferable deposit per stall (horse and tack stalls) by April 1, 2016 (5pm MST).
Download Stall Request Form

NEW STALLS: When horses are not under saddle, much of their time is spent in their stalls. This year we will introduce 116 brand new oversize stalls in E barn. These stalls will offer 20 square feet more room for horses and we are sure they'll be very popular.

NEW HITCHING RING FOOTING: The Spruce Meadows hitching rings will be undergoing a full refurbishment with arena base and drainage upgrades and installation of geotextile/fiber footing. This project represents an investment of over $ 1 million and is aimed at providing the very best to our equine athletes that spend the vast majority of their time under saddle in these rings.

GRAND PRIX PRIZE MONEY: We are thrilled to be able to announce that, with the compression of the Spruce Meadows Summer Series, we are able to increase our Grand Prix prize money – offering a total of $1,750,000. As well, athletes will be jumping for category AA of the FEI world ranking points at all four of our CSI 5* tournaments. This year we will also be offering two Grands Prix with prize money of $500,000 and two Grands Prix at the $375,000 level.

U25: Spruce Meadows will be offering four FEI world ranking category "D" – Under 25 events during the Summer Series.
We are excited about our ability to continue to offer top tournaments steeped in the traditions that our Founders, Marg and Ron Southern, built: all the while focusing on quality for the athletes of the world.

We look forward to you joining us in 2016!
Team Spruce Meadows