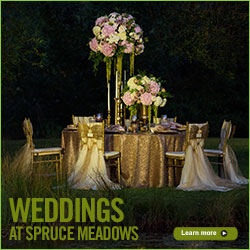 Media Releases
Ben Asselin Shines for Canada in Mexico
2016-05-03
It was a thrilling finish for Canadian show jumping fans today, at the final event of CSI 4* Coapexpan Mexico Tournament.
Past nations cup team representative and Olympic hopeful, Ben Asselin, rode the 10 year-old Holsteiner Stallion by Contender, Veyron, to victory in Sunday's CSI 4* Grand Prix Veracruze.
Asselin (CAN) aboard Veyron win the CSI 4* Grand Prix Xalapa, Mexico
Photo Credit: Anwar Esquivel
With a veteran starting field that included Eric Lamaze and many others focussed on Rio from North and Central America entered in Sunday afternoon's competition, only eleven Horse/Rider combinations were eligible to return for the second round over 2016 Olympic course designer Guilherme Jorge (BRA) course. Of the eleven returning, seven competitors were tied for 1st place having all achieved a faultless round one. Round two proved a more difficult track, as it was 22 year-old Asselin who delivered the un matched double clear performance.
"The entire facility at Coapexpan is second to none, the footing is perfect, the people are so kind and accommodating and the sport was very exciting", said Asselin after accepting his gold medal a top the winners' podium. "I have an incredible group of horses underneath me thanks to the team at Attaché Stables and with Veyron I feel that I have another incredible Grand Prix horse. He has answered every call I have asked of him and he just never quits. I'm so excited to the future with these incredible horses."
Asselin (CAN) aboard Veyron win the CSI 4* Grand Prix Xalapa, Mexico
Photo Credit: Anwar Esquivel
Spruce Meadows looks forward to the return of it's Canadian athletes to home soil, when they arrive in June for the 2016 'National' Tournament, presented by ROLEX and set course on the road to Rio.
Asselin (CAN) Honoured with the Canadian National Anthem at the CSI 4* Grand Prix Xalapa, Mexico
Photo Credit: Anwar Esquivel
-------
Based in Calgary, Canada, Spruce Meadows is the creation of the Southern family who built a Show Jumping complex at the foothills of the Alberta Rocky Mountains. It was in 1976 that the first Spruce Tournaments were held, with annual spectator attendances reaching over 50,000 by the end of the decade. Today, Spruce Meadows boasts one of the greatest outdoor equestrian venues in the world and offers an incredible experience for riders and fans alike. Spruce Meadows focuses on the organization and hosting of show jumping tournaments of unmatched quality for junior, amateur and professional athletes in a manner that reflects basic family values in a clean, green and welcoming environment that celebrates the horse and encourages the breeding and training of quality sport horses and the teaching and development of athletes. For more information on Spruce Meadows, please visit www.sprucemeadows.com.

Photos © Spruce Meadows Media Services. They may only be used in relation to this press release and with photo credit.