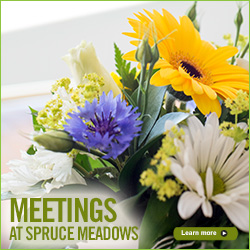 Media Releases
Great results in Bratislava for an emerging Team Canada
2016-07-25
A young Team Canada have made their way to the spotlight in Slovakia last week for the CSI3* Tournament in Bratislava.
It proved a fantastic week of show jumping in Bratislava, Solvakia last weekend, for emerging Canadian Show Jumping athletes, Chris Surbey, Brian Morton, Ali Ramsay and Jaclyn Duff. With multiple top 5 placings including many wins, these athletes will be carrying on their tour of Slovakia with all the confidence to bring home a medal for Canada.
The young Canadian team will now pack up for a breif road trip, landing in Samorin, Slovakia this week, for the CSIO 3* Nations' Cup event.
Check out these results from this young thundering herd:
Brian Morton
Big Tour:
· 1st place | Double Clear Round in 33.74sec | Atlantis T | Competition 03
Christopher Surbey
Big Tour:
· 5th place | Double Clear Round in 34.56sec | Carnaval | Competition 03
· 9th place |4 fault Round in 85.88sec | Carnaval | Competition 10

Medium Tour:
· 10th place |8 fault Jump Off in 29.25sec | Artistic | Competition 05
· 2nd place | Double Clear Round in 36.37sec | Quetchup de la Roque | Competition 09
Ali Ramsay

Big Tour:
· 3rd place | 4 fault Jump Off in 50.38 |Hermelien VD Hooghoev | Competition 10

Medium Tour:
· 6th place | Double Clear Round in 33.53 |Hermelien VD Hooghoev | Competition 05
Jaclyn Duff

Big Tour:
· 10th place |Double Clear Round in 35.74sec | Eh All or Nothing | Competition 03
· 1st place | 1 fault Jump Off in 48.38sec | Eh All or Nothing | Competition 06
· 1st place| Double Clear Round in 55.71 | Pater Noster | Competition 10

Medium Tour:
· 4th place | Clear round in 64.74sec | Cesar Z | Competition 02
· 5th place | Double Clear Round in 31.47sec | Cesar Z | Competition 05
Photo Credit: Grand Prix Bratislava; Spruce Meadows Media