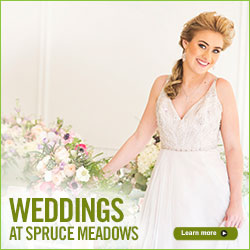 Media Releases
Farrington Flies to the Finish with Gazelle in the ATB Financial Cup
2017-06-08
Farrington Flies to the Finish with Gazelle in the ATB Financial Cup
Day two of the Spruce Meadows 'National' Tournament presented by ROLEX did not disappoint in its level of excitement. The ATB Financial Cup competition had a robust entry of top horse rider combinations ready to tackle the 1.55m course set by 2016 Olympic Games course designer Guilherme Jorge of Brazil.

The first round of competition saw fantastic sport with both horse and riders showing great athleticism and ability over the fences though clear rounds were hard to come by – as intended – with high stakes on the line including top prize money, world ranking points and a guaranteed ticket to Saturdays Grand Prix.

FEI world number one ranked rider Kent Farrington took his place atop the podium in tonight's competition defeating 6 other athletes in a thrilling jump off that was not only exciting for the level of talent but for the rapid turn in weather that took place at the commencement of the jump off. A severe wind storm blew through the International ring, to stall the competition for a short microburst of intense wind accompanied by lightening and rain. "Going early was absolutely to my advantage today, these are sensitive animals which is part of what makes them so great at their job – they are very alert and that makes them careful. So when you add wind and having things move its very different or distracting for the horse, which makes it much more difficult for sure."

Finishing second in tonight's competition was Ashlee Bond (USA) who was thrilled to be back in the winners' circle at Spruce Meadows with her chestnut mare Chela LS. "I really liked the course tonight, there was a lot of open field where I could just let her go and flow to the fences and to my advantage in the jump off – she is sensitive but incredibly brave – so the weather didn't really affect her too much in the ring."

Coming off a great Nations' Cup finish for Team Canada, Keean White took home third tonight with For Freedom Z who looks to be in great form in the early goings of the Spruce Meadows 'National' tournament. "My plan is to use him in the Grand Prix this week. We rested him after the Nations' Cup last week in Langley, BC and my plan was to come with a fresh horse to really target this week at the Spruce Meadows 'National'."
Kent Farrington Hoists the Championship Hardware with Dave Mowat, President and CEO, ATB Financial.
Young Deslaurier Makes Her Mark with First Win in the International Ring at Spruce Meadows
The ATCO Challenge took place Thursday afternoon under the beautiful Alberta Sunshine and was a competition that certainly lived up to its name. A challenging course designed by Brazilian course designer Guilherme Jorge saw an entry of 45 riders in its first round. With a time allowed of 72 seconds and 12 jumping obstacles set at a 1.50m, athletes showed that they came to play putting forth great effort to achieve the time allowed.

The first clear round came at sequence 11 for Team Spruce Meadows rider Chris Surbey and Carnaval who showed the remaining riders to follow how to maneuver a faultless round over the 480m track. From there, 9 horse rider combinations would follow suite to qualify for the jump off.
Of those qualified riders, the jump off saw great talent including last night's winner of the 1.50m competition McLain Ward (USA), Tiffany Foster (CAN) and Cameron Hanley (IRL) but punching in above her weight division was 17 year-old Lucy Deslauriers (USA) with her incredibly athletic mount Hester.

Lucy stepped up after finishing second last night in the to World Cup Champion McLain Ward and HH Callas to lay down an incredibly efficient jump off round. A round the would end up untouchable by the competition securing her and the 12 year-old Belgian Gelding Hester. "I think after a year of experience at the 1.50m level I feel quite comfortable with this horse so I really wanted to move that forward in the first Tournament of the Spruce Meadows Summer Series and I think we proved that today." Exclaimed a beaming Deslauries "I will continue with the Winning Round competition tomorrow but after today I feel really confident that we will get to step up to the next level – I think after this week I wont feel the need to ensure I feel comfortable in the ring early in the week and I'll be ready move up right from where we left off."

Our 'National' Tournament, presented by ROLEX continues tomorrow afternoon beginning at 12:00pm on the International ring with the Encana Cup 1.45m.
Lucy Deslauriers celebrates her big win with Jason Sharpe, Senior Vice President & General Manager, Gas Transmission at ATCO.