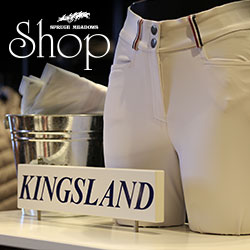 Media Releases
Richard Spooner Makes it a Hat Trick and History in the CNOOC Nexen Cup Derby
2017-06-11
Richard Spooner Makes it a Hat Trickand Historyin the CNOOC Nexen Cup Derby
The conditions could not have been better for Derby day Sunday at the Spruce Meadows 'National' Tournament, presented by ROLEX. The stands were full as fans, corporate partners and manySpruce Meadowsfirst timersmarveled over the magnificence of the horses as athletes from around the globe directed their mounts over one of the most challenging events in Show Jumping.
The course, first designed by the late Pamela Carruthers(UK) and later modified by Course Designer Leopoldo Palacios(VEN) in 2007, is a true test of stamina with 19 obstacles spread across 1,100m of the pristine International Ring field. The CNOOC Nexen Cup Derby includesallofthe natural elements of the International ring including the Bank measuring five meters in length, a double of liver pools, three-meter open water, table top, dry ditch and devils dyke with three elements set at 1.45m.
Over the history of the 'National' Derby there have been two great horse/rider combinationsthat havesuccessfullyscoreda true hat trick in winning three times in a row, those show jumping heroes include Ian Millar with Big Ben and Beezie Madden with Judgment. Today we once again saw history made as Richard Spooner(USA) with the 19 year-old Cristallo added themselves to this roster.
When asked what had made Cristallo such a great derby horse, Spooner remarked, "He fears nothing, he is incredibly brave and he just kind of drags me around – the whole course – I don't know if you can tell but I'm just saying whoa, asking his to slow down! I always try to go deep in the corners – you know after every jump, it's like I'm throwing a parachute out the back of a funny car to try and get some drag to actually slow us down," helaughed. "He is an incredible animal – maybe once or twice now I've been lucky but he really is a once in a life time kind of horse."
The second place finisher was no stranger to the Spruce Meadows Summer Series, but a newcomer to the medal podium of the International Ring. Luis Alejandro Plascencia(MEX) aboard his horse Salamera De La Nutria. Luis had competed in the Spruce Meadows derbys before but never on this 11 year-old Selle Francais Mare. Placencia,excited with his top finish,mentioned, "I have competed in the derby five times now – but because It was the first time on this mare, I was very surprised to be second. I knew she was brave, but sometimes in the derby they just don't want to go, in many places you just expect them to say no!", he laughed. "When I saw Richard go I just knew he was going to be clear so I was almost happy because I really didn't want to have to jump off. You know when I ended up second I was so happy and it was a really – really good day for me."
Finishing thirdin the derby after a fantastic week at the 'National' was Team Spruce Meadows'Chris Surbey(CAN). He had two horses entered. FirstherodeArtisitic, a bay mare by Chin Chin early. Surbey commented, "this was her first derby so I was very please with her bravery, a few mistakes, but overall I was happy with the round." Later in the order of go was his second mount, the chestnut gelding Carnaval by Chacco Blue. Surbey, enthusiastic about his performance this week said, "I was lucky to have had a really good week and today was just super. Carnaval was fantastic - I mean,when I was walking up to the in-gate Richard was jumping clear so that certainly put the pressure on - jumping clear is a very hard thing to do in the Derby." Chris commented, "I am normally a bit slow on Carnaval so right from the start I knew I had to get on the time in case I made a mistake I would be further up the line – closer to Richard."
All in all the fans left the stadium ecstatic with the level of sport they witnessed today, comments could be heard throughout the packed stadium of over 35,500 fans exclaiming "what an exciting day." It truly was. ​
Richard Spooner (USA) is all smiles after winning the CNOOC NEXEN Cup Derby with Jeff Pendrel , Vice President, Marketing & Assistant General Council
McLain Ward Turns and Burns in the ATCO Classic Cup, part of the Canada 150 Speed Challenge
The ATCO Classictook place under beautiful conditions todayat Spruce Meadows. This true speed competition,where faults are converted into time,was the first legof a four part series in celebration of Canada's 150thanniversary.
The course was designed by Leopoldo Palacios of Venezuela who was tasked with creating a competition track that would fit in both the famed International Ring and Meadows on the Green ring. The 12 obstacles set on the field were all made up of Canadian inspired jump material, a collection obtained by Spruce Meadows throughout the decades.
Winner of the competition, McLain Ward(USA),rode with his usual poise and composure and yet produced the most efficient time with Tina La Boheme, a 10 year-old Selle Francais mare owned by Susan Heller.
With 61 total entries startingto compete, the competition was split into two phases where both first and second place finishers fell in the order of go. Ward commented after his win, "It's great for this Mare to win the class today, she's up and coming – she has a bit of a special story, she was owned by a very dear friend of my family's, Arty Hawkins, he passed away last year and my god mother bought him out. So she's quite a bit more of a special horse to me and it's a lot of fun to have some success on her."
When asked about the conditions and his plan of attack on the International ring today Ward said, "You know, as the footing began to dry up, it got a little bit more slippery there at the end, but not bad for sure. I didn't feel that really affected either one of my horses in the competition today. I should have taken a different route with HH Carlos to the double on the side, I should have gone around the flag pole like I did with Tina, so that was a mistake. Then at the ATCO Jump – I didn't want to take to hard of a cut on the back side because those standards are quite wide and funky – I've done that to my knee already."
With a stellar week so far, Daniel Coyle(IRL) continued his top resultsstreak with a second and third place finish in the ATCO Classic. The difference between first and second place was an astonishing 0.01 seconds to finish behind Ward. Simba De La Roque, an 11 year-old Selle Francais Gelding was the first horse to carry the young Irishman to the finish line holding on to that upper finishing time for nearly the entire competition as sequence three in phase 1. The second horse for Coyle in Phase 2 was Cita, an 11 year-old Holstein Mare by Casall. Coyle plan of attack for the course was consistent on both horses as he arrived to the finish with Cita only 0.33 seconds behind himself to take home both silver and bronze in the opening series event.
The 'National' Tournament, presented by ROLEX is now complete, but there is so much more great show jumping sport to come with next week's 'Continental' Tournament, beginning on Wednesday, June 14th2017. This event is complimentary all weekend long and we invite you and your family to come out and enjoy the events on the Meadows on the Green Ring. ​
Mclain Waed hoists the Atco Classic hardware with Stephen Lockwood, President & COO, ATCO Structures & Logistics