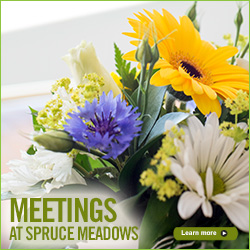 Media Releases
World Number One Kent Farrington Hustles the Competition in the Husky Energy Cup
2017-06-15
18011 Spruce Meadows Way SW, Calgary, Alberta T2X 4B7
Phone: 1.403.974.4240 | Email: Media.Services@sprucemeadows.com
World Number One Kent Farrington Hustles the Competition in the Husky Energy Cup
The Opening day of the Spruce Meadows 'Continental' Tournament presented a three-man showdown with World #1 ranked rider Kent Farrington (USA) taking the champion's title in the Husky Energy Cup.

Only three riders of the 46 total starting entry would master the first round course set by Leopoldo Palacios of Venezuela which presented intricate turns, tight distances and delicate fences. An intense jump off followed with riders representing Uruguay, Canada and the USA qualifying to test their horses speed and agility.

Kent Farrington aboard his agile, careful and consistent 16 year-old grey gelding Uceko would prove his deserved World #1 ranking once again at the Spruce Meadows Summer Series, challenging the defending champion of the 2016 Husky Energy Cup, Canada's Eric Lamaze aboard Coco Bongo.

When Farrington(USA) was asked how he manages his grey gelding, He answered, "Well that's easy, I plan his year around Spruce Meadows, then a pick and choose the other shows for him around it. I tend to show him very little and I like to go to the places he likes – he loves the grass, and he has always done well here." When commenting on the course tonight, Kent mentioned, "Leopoldo is known for his tight time allowed and I think that played a big factor today, a couple very delicate fences and when you jump to try and make the time you tend to run into mistakes."

Arriving close behind Farrington for second place was fan favorite, Eric Lamaze(CAN), aboard the horse he won this competition on last year, Coco Bongo. It had been a little while since fans had seen the partnership in the competition ring, Lamaze commented, "Coco Bongo had quite a bit of time off, he is now an ex-stallion, a gelding, so we have been bringing him back slowly. He is a very careful horse and with Kent was in the running, I know Coco Bongo is not an overly fast horse – if I push him too much to go fast he becomes too careful and starts to jump too high. So I was just looking to ride a fairly careful jump off and I'm very happy with his result."

After a great early result for Uruguay's Juan Manuel Luzardo in the 1.45m competition finishing second he continued a fantastic Thursday at the 'Continental', with a third place finish in tonight's 1.50m Husky Energy Cup. Luzardo stated, "It is only my second year competing at Spruce Meadows, so I am really happy to be able to compete with this calibre of riders. I'm thrilled with my horse; he doesn't have much experience jumping this height especially at CSI5* level shows - so I'm really happy to be in this position!"
The Husky Energy Cup 1.50m
By The Numbers:
- 46 Entries
- 3 Clear Rounds
- 8 Clear with Time Faults

Course Stats:
- Table 238 2.2
- Designed by Leopoldo Palacios(VEN)
Round 1
- 11 Obstacles
- 13 Efforts
- 67 Seconds Time Allowed
- 435m Distance
- 400m/min Speed
Jump Off

- 6 Obstacles
- 7 Efforts
- 42 Time Allowed
- 280m Distance
Kent Farrington(USA) Hoists the Husky Energy Cup with Rob Peabody, President and CEO at Husky Energy
Gonzalo Azcarraga Finds Victory Among Massive Entry in the Friends of the Meadows Cup
With 96 entries competing in the Friends of the Meadows Cup 1.45m competition, Gonzalo Azcarraga Riviera Torrez(MEX) finished on top with an exceptionally fast round of 60.63 seconds aboard his 11 year-old Mare Quite Nice 5.

With a challenging course set by Leopoldo Palacios (VEN) to start the 'Continental' Tournament at Spruce Meadows, the 26 year-old was able to mark his first major FEI win at Spruce Meadows, arriving to the finish nearly a full second ahead of the second place finisher. When commenting about his horse, Azcarraga stated, "We've been together since she was 6, she's a very careful mare and we've won a lot together – which is not always so easy at the International level because she is so careful." With a tight time allowed and many rounds in the 1.45m competition, Azcarraga was asked where he found his edge on course. Ecstatic with his round, Gonzalo said, "I think I stuck to an efficient track, I did similar strides to the other top placed riders but was able to stay on a straight approach, I was then really able to open up in the last line to get the 6 strides - and that was it!"

Finishing second was the lone athlete representing Uruguay in the event, Juan Manuel Luzardo. Luzardo(URU), aboard the 9 year-old Hanoverian gelding Quidandro, was an early contender in the competition. As second in the starting order, Luzardo was able to maintain his impressive lead with the time to beat of 61.51 seconds over more than 80 entries that followed him in the order.

Join us tomorrow for what is forecast to be a beautiful day at Spruce Meadows. The 'Continental' Tournament is complimentary for family to attend with great sport, shopping and so much more.
The Friends of the Meadows Cup 1.45m
By The Numbers:
- 96 Entries
- 23 Clear Rounds
- 27 Clear Jumping with Time Faults

Course Stats:
- Table 238 2.1
- Designed by Leopoldo Palacios(VEN)
- 11 Obstacles
- 13 Efforts
- 71 Seconds Time Allowed
- 470m Distance
- 400m/min Speed
Gonzalo Azcarraga Riviera Torrez(MEX) enjoys his victory gallop as Champion of the
Friends of the Meadows Cup